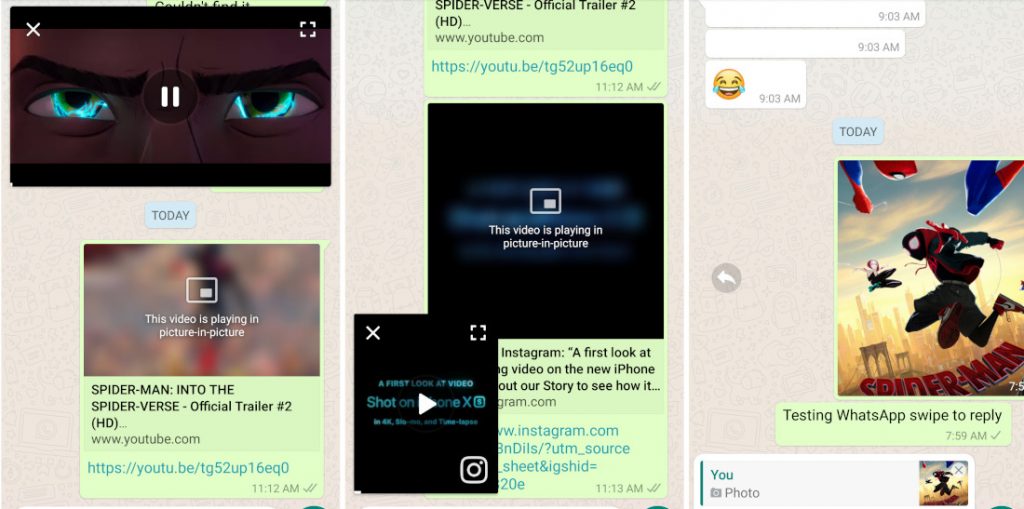 Whatsapp has recently rolled out a new Beta update for the users in which they brought a new feature called "Swipe to reply". Today they've released yet another update which carries the version 2.18.301. You should be aware of the fact that this version is still in Beta stage which means a user might face some difficulties. This new update brings PIP(Picture in Picture) mode which is very helpful.
This new PIP(Picture-in-Picture) mode allows a user to play YouTube, Facebook, Instagram videos within the Whatsapp application. This feature was spotted a long time back in the month of August but finally, the anticipated feature is in Beta stage. From now whenever a user receives the link of some YouTube, Instagram, Facebook videos then you can play it within the Whatsapp application. Using this there is no need to leave the conversation. Post the update, when you tap the play icon, WhatsApp will show you the video in Picture in Picture mode, so you can continue to navigate in the chat while the video is playing in the background.
When tapped on the link Whatsapp will trigger the videos in PIP mode. However, this will stop working if you exit the chat with a person. The similar feature was introduced for the Apple devices back in November 2017.