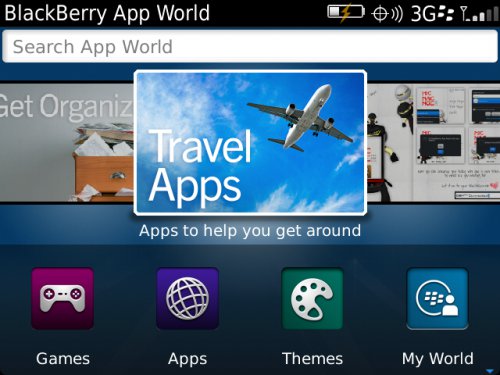 BlackBerry is a line of mobile email and smartphone devices developed and designed by Canadian company Research In Motion (RIM) since 1999.
BlackBerry devices are smartphones, designed to function as personal digital assistants, portable media players, internet browsers, gaming devices, and much more. They are primarily known for their ability to send and receive (push) email and instant messages while maintaining a high level of security through on-device message encryption. Blackberry devices support a large variety of instant messaging features, including BlackBerry Messenger.
BlackBerry accounts for 3% of mobile device sales worldwide in 2011, making its manufacturer RIM the sixth most popular device maker (25% of mobile device sales are smartphones). The consumer BlackBerry Internet Service is available in 91 countries worldwide on over 500 mobile service operators using various mobile technologies. As of October 2011, there were seventy million subscribers worldwide to BlackBerry. At present the Caribbean and Latin America, have the highest penetrations of BlackBerry smartphones worldwide – with up to about 45 per cent in the region having a RIM device.
Modern GSM-based BlackBerry handhelds incorporate an ARM 7, 9 or ARM 11 processor, while older BlackBerry 950 and 957 handhelds used Intel 80386 processors. The latest BlackBerry models (Torch 9850/9860, Torch 9810, and Bold 9900/9930) have a 1.2 GHz MSM8255 Snapdragon Processor, 768 MB system memory), and 8 GB of on-board storage.All BlackBerrys after OS 5 support up to 32 GB microSD cards.
History
The first BlackBerry device, the 850, was introduced in 1999 as a two-way pager in Munich, Germany. The name BlackBerry was coined by the marketing company Lexicon Branding.
In 2003, the more commonly known smartphone BlackBerry was released, which supports push email, mobile telephone, text messaging, Internet faxing, Web browsing and other wireless information services. It is an example of a convergent device. The original BlackBerry devices, the RIM 850 and 857, used the DataTac network.
BlackBerry first made headway in the marketplace by concentrating on email. RIM currently offers BlackBerry email service to non-BlackBerry devices, such as the Palm Treo, through its BlackBerry Connect software.
The original BlackBerry device had a monochrome display, but all current models have color displays. All models, except for the Storm series and the all-touch Torch 9850 had a built-in QWERTY keyboard, optimized for "thumbing", the use of only the thumbs to type. The Storm 1 and Storm 2 include a SureType keypad for typing. Originally, system navigation was achieved with the use of a scroll wheel mounted on the right side of phones prior to the 8700. The trackwheel was replaced by the trackball with the introduction of the Pearl series which allowed for 4 way scrolling. The trackball was replaced by the optical trackpad with the introduction of the Curve 8500 series. Models made to use iDEN networks such as Nextel and Mike also incorporate a push-to-talk (PTT) feature, similar to a two-way radio.
Operating system
The operating system used by BlackBerry devices is a proprietary multitasking environment developed by RIM. The operating system is designed for use of input devices such as the track wheel, track ball, and track pad. The OS provides support for Java MIDP 1.0 and WAP 1.2. Previous versions allowed wireless synchronization with Microsoft Exchange Server email and calendar, as well as with Lotus Domino email. OS 5.0 provides a subset of MIDP 2.0, and allows complete wireless activation and synchronization with Exchange email, calendar, tasks, notes and contacts, and adds support for Novell GroupWise and Lotus Notes. The Blackberry Curve 9360, Blackberry Torch 9810, Bold 9900/9930, and Torch 9850/9860 feature the most recent Blackberry OS 7 as of October 2011).
Third-party developers can write software using these APIs, and proprietary BlackBerry APIs as well. Any application that makes use of certain restricted functionality must be digitally signed so that it can be associated to a developer account at RIM. This signing procedure guarantees the authorship of an application but does not guarantee the quality or security of the code. RIM provides tools for developing applications and themes for BlackBerry. Applications and themes can be loaded onto BlackBerry devices through BlackBerry App World, Over The Air (OTA) through the BlackBerry mobile browser, or through BlackBerry Desktop Manager.
BlackBerry Messenger
BlackBerry devices use the proprietary BlackBerry Messenger, also known as BBM, software for sending and receiving encrypted instant messages, voice notes, images and videos via BlackBerry PIN. Some of the features of BBM include groups, bar-code scanning, lists, shared calendars, BBM Music and integration with apps and games using the BBM social platform.
BlackBerry Enterprise Server
BlackBerry smartphones can be integrated into an organization's email system through a software package called BlackBerry Enterprise Server (BES). Versions of BES are available for Microsoft Exchange, Lotus Domino and Novell GroupWise. Google has made a Connector for BES which makes BES available for Google Apps as well. While individual users may be able to use a wireless provider's email services without having to install BES themselves, organizations with multiple users usually run BES on their own network. Some third-party companies provide hosted BES solutions. Every BlackBerry has an ID called a BlackBerry PIN, which is used to identify the device to the BES. BlackBerry now provides a free BES software called BES Express (BESX).
BES acts as an email relay for corporate accounts so that users always have access to their email. The software monitors the user's local Inbox, and when a new message comes in, it picks up the message and passes it to RIM's Network Operations Center (NOC). The messages are then relayed to the user's wireless provider, which in turn delivers them to the user's BlackBerry device.
This is called push email, because all new emails, contacts, task entries, memopad entries, and calendar entries are pushed out to the BlackBerry device automatically and instantaneously (as opposed to the user synchronizing the data manually or having the device poll the server at intervals). BlackBerry also supports polling email, through third party applications. The messaging system built in to the BlackBerry only understands how to receive messages from a BES or the BIS, these services handle the connections to the user's mail providers. Device storage also enables the mobile user to access all data off-line in areas without wireless service. When the user reconnects to wireless service, the BES sends the latest data.
An included feature in the newer models of the BlackBerry is the ability for it to quickly track your current location through trilateration without the use of GPS, thus saving battery life and time. Trilateration can be used as a quick, less battery intensive way to provide location-aware applications with the co-ordinates of the user. However, the accuracy of BlackBerry trilateration is less than that of GPS due to a number of factors, including cell tower blockage by large buildings, mountains, or distance.
BES also provides handhelds with TCP/IP connectivity accessed through a component called MDS (Mobile Data System) Connection Service. This allows for custom application development using data streams on BlackBerry devices based on the Sun Microsystems Java ME platform.
In addition, BES provides network security, in the form of Triple DESor, more recently, AESencryption of all data (both email and MDS traffic) that travels between the BlackBerry handheld and a BlackBerry Enterprise Server.
Most providers offer flat monthly pricing for unlimited data between BlackBerry units and BES. In addition to receiving email, organizations can make intranets or custom internal applications with unmetered traffic.
With more recent versions of the BlackBerry platform, the MDS is no longer a requirement for wireless data access. Starting with OS 3.8 or 4.0, BlackBerry handhelds can access the Internet (i.e. TCP/IP access) without an MDS – formerly only email and WAP access was possible without a BES/MDS. The BES/MDS is still required for secure email, data access, and applications that require WAP from carriers that do not allow WAP access.
BlackBerry Internet Service
The primary alternative to using BlackBerry Enterprise Server is to use the BlackBerry Internet Service. BlackBerry Internet Service, or BIS is available in 91 countries internationally. BlackBerry Internet Service was developed primarily for the average consumer rather than for the business consumer. BlackBerry Internet Service allows POP3 and IMAP email integration for an individual personal user. However, the integration features only one-way synchronization; changes to messages on the device are not reflected back to the email server. BlackBerry Internet Service allows up to 10 email accounts to be accessed, including many popular email accounts such as Gmail, Hotmail, Yahoo and AOL. BlackBerry Internet Service also allows for the function of the push capabilities in various other BlackBerry Applications. Various applications developed by RIM for BlackBerry utilize the push capabilities of BIS, such as the Instant Messaging clients, Google Talk, Windows Live Messenger and Yahoo Messenger. Social Networks Facebook, Myspace and Twitter's notification system is accessed through BIS, allowing for push notifications for them.
BlackBerry PIN
BlackBerry PIN is an eight character hexadecimal identification number assigned to each BlackBerry device. PINs cannot be changed manually on the device (though BlackBerry technicians are able to reset or update a PIN server-side), and are locked to each specific BlackBerry. BlackBerrys can message each other using the PIN directly or by using the BlackBerry Messenger application. BlackBerry PINs are tracked by BlackBerry Enterprise Servers, and the BlackBerry Internet Service, and are used to direct messages to a BlackBerry device. Emails and any other messages, such as those from the BlackBerry Push Service, are typically directed to a BlackBerry's PIN. The message can then be routed by a RIM Network Operations Center, and sent to a carrier, which will deliver the message the last mile to the device. Example 2732E6DB
BlackBerry App World
BlackBerry App World is an application distribution service and application by Research In Motion (RIM) for a majority of BlackBerry devices. The service provides BlackBerry users with an environment to browse, download, and update third-party applications. The service went live on April 1, 2009. Of the three major app providers, it has the largest revenue per app at $9,166.67 compared to $6,480.00 and $1,200.00 by the Apple App Store and Android Market, respectively.
On October 21, 2008, RIM announced at the BlackBerry Developer Conference that the company would open an application store for their devices. It was also announced that the store was scheduled to be open in March 2009, and would work in conjunction with PayPal's services. On January 19, 2009, RIM began accepting submissions of applications from developers.[4]
On March 4, 2009, RIM officially named the store "BlackBerry App World" (previously called the BlackBerry Application Storefront). It was also confirmed that the service would not initially be available for desktops, and only a web-based catalog would be accessible from non-BlackBerry devices.
On April 1, 2009, at CTIA's trade show, RIM announced that App World had gone live.
At the BlackBerry sponsored Wireless Enterprise Symposium (WES), it was announced that an average of 1 million apps were being downloaded each day.
On August 19, 2010, BlackBerry App World 2.0 was released. This new version introduced BlackBerry ID – a single sign, account system that can be used on both the BlackBerry client and the BlackBerry App World desktop storefront. In addition to BlackBerry ID, BlackBerry App World 2.0 also introduced direct credit card billing and carrier billing for AT&T Wireless subscribers.
On December 3, 2010, Research in Motion announced that daily downloads were 2 million apps per day.
On February 2, 2011, BlackBerry App World 2.1 was released. This version introduced in-app purchases of digital goods, allowing for add-ons to be purchased within applications.
Also Read: