After a long wait, HTC One is now finally available for sale in India. HTC One was announced globally on two days before MWC and was launched in India on 9th April 2013. The retail units were supposed to get to the market by 22 April 2013 but was delayed due to limited stocks.
HTC India pumping up the devices along with bollywood diva Jacqueline Fernandez has started its sales across its concept stores in the country. Jacqueline unveiled the phone and handed-over the devices to select customers at HTC Concept Store in New Delhi yesterday and a day before in Mumbai.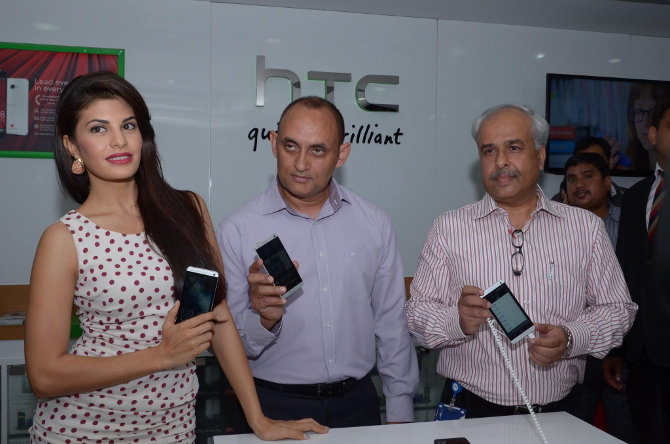 Commenting on the occasion Jacqueline Fernandez said, "I am very elated to be associated with the event, having experienced the new HTC One, I believe that HTC truly represents the blend of innovation and Style in Mobile devices"
"People today immerse themselves in a constant stream of updates, news and information. Although smartphones are one of the main ways we stay in touch with the people and information we care about, conventional designs have failed to keep pace with how people are actually using them," said Faisal Siddiqui, Country Head, HTC India.
"A new, exciting approach to the smartphone is needed and with the new HTC One, we have re-imagined the mobile experience from the ground up to reflect this new reality," he added.
Commenting on this launch, Nilanjan Mukherjee, Chief Revenue Officer, Reliance Communications Limited said, "We are happy to exclusively partner with HTC to bring the new HTC One in India. With our superior 3G network across major metros in the country,
HTC One buyers can enjoy a compelling experience as we have bundled the device with exciting offers. The partnership will ensure that our seamless network coupled with capability and features of HTC One provide a great mobile experience."
"Every Reliance GSM subscribers can now avail 1GB of 3G data free for 3 months along with free sharing of unlimited text, music, pictures and videos through WhatsApp and Facebook for 3 months. We are also offering free BigFlix subscription for 3 months that will enable Reliance 3G users to watch the latest movies on the go without having to worry about any additional data charges," he further added.
Here is a short video showcasing HTC One features when we first got our hands-on the device before India launch.