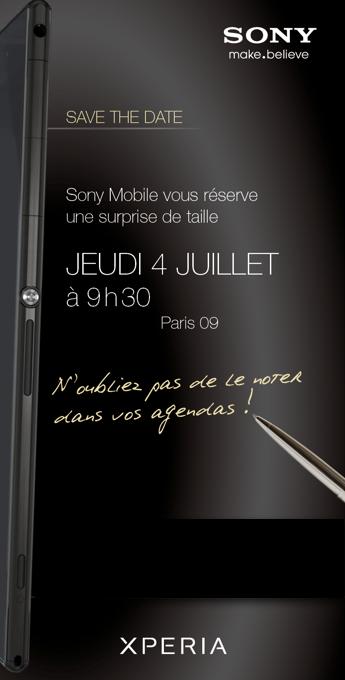 The news and rumours of Phablets had their share of attention last week and now seems a good time to wrap up and make way for official announcements. It's almost time when everyone is on their toes expecting the new phablet from Samsung to add to their Note line of devices.
The invitation which Sony sent across shows a huge Xperia Z like device with a stylus. No points for guessing we are just about to get the first huge Xperia Phablet – the Xperia ZU (Z Ultra).Sony promises a "big surprise" for July 4, and the combination of that tall, slim device profile and the impossible-to-ignore presence of a stylus (adding that we should remember to mark our calendars) does clearly pave the way for the ZU.
Moving to what hardware it could pack , The Xperia ZU would apparently be sporting a SnapDragon SoC and 1080p "Trluminos" 6.44 inch display and there are virtually other rumours to create a difference in opinions but that is pretty much it for now. The latest leak of the Xperia ZU is tagged below.