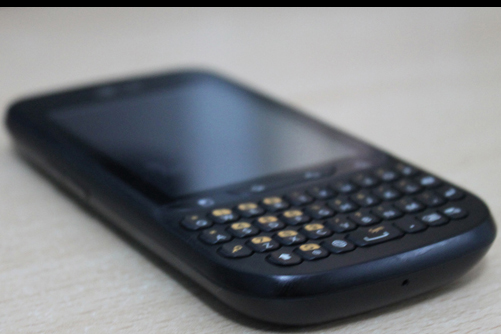 Today we have a phone with a rather new form factor, which gives the best of both worlds. It's a combination of touchscreen with physical keyboard. The LG Optimus Pro houses a 2.8-inch LCD touchscreen and full QWERTY keyboard with Android. The Optimus Pro looks like another attempt to bait BlackBerry fans over to Android, akin to HTC 's ChaCha and Samsung's Galaxy Pro. How does this device fare? Check the full review after the break to find out.
[tab name="About"]
Feature Overview
119.5 x 59.7 x 12.9 mm , 129 g

Li-Ion 1500 mAh

Talk time up to 4 hours (3G), 5 hours (2G)

Android 2.3 Gingerbread

800 MHz processor

2.8-inch LCD Touchscreen

240 x 320 pixels

143 ppi

256 k colors

3 megapixel camera

External storage microSD, up to 32GB

256 MB RAM
[/tab]
[tab name="Our Take"]
Design
The phone itself feels very good in terms of proportions and does have a compact-yet-solid feel to it. The best part of the design is the larger-than-usual 2.8-inch LCD touchscreen.
Below the screen are the four standard physical android keys, which feel a bit stiff. The QWERTY keyboard, under the buttons, is slightly raised.  But, the keys are mostly flat, unlike those on the newer BlackBerry devices.
Around back there's an ordinary 3-megapixel camera without a flash. The back cover has a very smooth plasticky feel. Underneath, there's a 1500 mAh battery, SIM card, and SD card. The left side includes a microUSB port and volume rocker. Up top, there's the power key and 3.5-millimeter headphone jack.
Hardware
This phone, like its competition, is powered by an 800 MHz single core MSM7227T processor alongside 256 MB of RAM and 512 MB of internal storage space. LG could have upgraded the RAM, as both the ChaCha and the Galaxy Pro have double the RAM. There is a microSD card slot on the Optimus Pro with which can fit external memory up to 32 GB.
Software
Android 2.3 Gingerbread on the Optimus Pro is overlayed with the Optimus UI from LG. I found it too simple for my liking, and would have liked a little more customization by LG in regards to their UI. Perhaps they need to learn a thing or two from HTC and Samsung about their respective UIs on Android phones.
The thing I really liked about the software on the Optimus Pro was the fact that the interface rotates in landscape mode, which is more suitable for watching movies. There is also an on-screen keyboard in landscape mode, which is mostly useless.
The main menu is scrollable downwards by default, instead of sideways in the form of pages, but this can be changed.
Screen
The LG Optimus Pro comes with a generous (for this form factor) 2.8-inch LCD touchscreen which makes it very easy to operate with one hand during the times you don't need the keyboard. The resolution is disappointingly low at 240 x 320 pixels, which rings in ~142ppi density – pretty average if not bad. Viewing angles are average, and the screen does not do well in bright sunlight during outdoor use. The colors are dull, without much contrast or vibrance. The ChaCha and Galaxy Pro certainly have better screens.
Browsing
The stock Gingerbread browser on the Optimus Pro isn't the best when it comes to speed, but it will do a basic job. The low resolution makes a great looking site look pale and ordinary on the Optimus Pro, and the text reflow feature isn't the best. The chipset on the Optimus Pro does not support Flash, so you might want to consider all these facts if you are looking for a true web browsing experience.
Media
The music player is fairly basic as well. LG Optimus Pro's sound quality is average, but the volume is not loud enough. Video playback isn't bad, since the DivX/XviD codecs are supported. It also ran MPEG-4/DivX/Xvid videos up to 720 x 480 resolution without any stalls.
Camera
The camera on the Optimus Pro is extremely weak. The fact that it lacks flash, and the interface is just the bare Android one, with a few tweaks makes it even worse. The pictures lack focus, detail, and correct color saturation.
Video quality isn't better than ordinary, it can be done at 640×480 VGA resolution with 24 frames-per-second. The videos too lacked detail; focusing was a pain.
Battery
I expected a lot more from the fairly large 1500 mAh battery which comes with the Optimus Pro. It barely lasted ten hours with moderate usage on 3G. It claims to have a four hour talk time on 3G, which is very poor compared to the competition. It's a good idea to keep a spare battery on-hand if you purchase the Optimus Pro.
[/tab]
[tab name="Install or Not"]
LG's Optimus Pro is quite a mixed bag of pros and cons, it performs well when it comes to messaging and basic things like making calls, sending texts and listening to music. It also offers a fairly large 2.8-inch screen that is good when browsing or for social networking.
Still, it chokes in other areas. The biggest reason not to buy this device must be the camera and the below par image quality. The screen resolution was unimpressive. Yes, it does have the advantages of Android that BlackBerry operating systems don't offer – but is it worth it?
It would rank third amongst the three Android phones of this form factor, that is the HTC ChaCha, Samsung Galaxy Pro, and the LG Optimus Pro itself. The bottom line is LG has to work hard to catch up with the giants like HTC and Samsung, especially in the low-end smartphone market.
[/tab]
[end_tabset]
[easyreview title="Install or Not Scorecard" cat1title="Design" cat1detail="" cat1rating="3″ cat2title="Ease of Use" cat2detail="" cat2rating="3″ cat3title="Performance" cat3detail="" cat3rating="2.5″ summary=""]