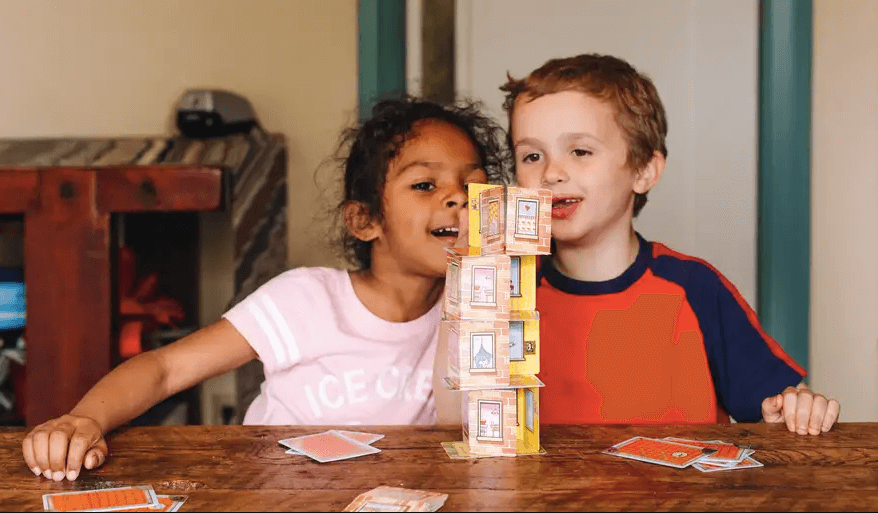 While we're all busy following social distancing measures, kids are getting fidgety and looking for new ways to spend time at home. Parents are on the lookout for buying new board games, but it's not feasible to stock up on physical purchases since we cannot go out much.
Online board games bridge the gap and let families choose and play from a wide collection of board games. While traditional board games may be out of the question, it's possible to play the classics online. And if you're bored of one game, you can always switch over to the next.
Here are a few of our favorite online board game options out there. Enjoy!
Scrabble
Scrabble involves a board consisting of 225 squares where players place tiles to form letters. It's an engaging game for kids since it stimulates creative imagination and helps build vocabulary. Players have to guess the words correctly and fill up the tiles. The words interlock and form crossword puzzles of sorts. The game can be played for free online and is downloadable on the Google Play Store.
UNO
UNO is a fast-paced card game that's similar to the Crazy Eights. It's ideal for kids above the age of 7, and the only rule is to make sure that the winner is down to the last card. The player with the lowest score loses.
There are special and wild cards and all the cards in the deck look unique. Rules about how to play the game can be found on the back of the pack. And for those who are playing the online edition, instructions will be mentioned in the help and support section. You can play UNO for free online by downloading the app from the Google App Store.
Jigsaw Puzzles
There are many multiplayer jigsaw puzzle games on the Apple and Google Play store, respectively. Kids can pick their favourite and start playing with their friends by downloading the app. What's interesting about virtual jigsaw puzzle games is how they have different levels and themes to them.
From picture-based to word-based jigsaw puzzles games, the varying levels of difficulty and challenges put a creative spin to the classic board game.
The Game of Life
Remember the good old Game of Life? Hasbro has reinvented it and released a brand new version of it online. It's available for $2.99 and retells the classic in a 3D animated world. Multiplayer modes are available, and players comment saying the interactive minigames are really fun.
The biggest pro is that the online board game is cheaper than buying the physical one. And you don't have to worry about losing any pieces or missing them while playing after every session.
Ludo
Ludo is a classic that's based on the ancient game of Pachisi. It has been played for hundreds of years and has its history deeply rooted in Indian culture. The cool part about Ludo is that it's gaining international popularity too. There are players who participate in online ludo globally and take part in tournaments. Many ludo games are offering big cash prizes and rewards to those who take part in these and win. You can check here for more details.
There is a free ludo game download available for Android devices, and you can register for these contests from your desktop, tablets, and Android mobile devices.
Snakes & Ladders
Snakes and Ladders is an online board game where players roll the dice and get their pieces moving up ladders. There are snakes sprawling across the squares, and the goal is to avoid them and make it to the top. The piece that reaches the last square on the board wins. The others get second, third, and fourth place depending on who reaches the ending point after that. This board game is more approachable to kids with short attention spans.
Drawful 2
Do you have kids in the house who love drawing and can't stop doodling on the walls? Get them a tablet, download the Drawful 2 app, and watch the magic happen!
Drawful 2 has many creative drawing prompts that get young minds working and having fun. You can get the game from the app store for just $10.
Chess
Chess isn't exactly for the youngest of minds but ideal for kids ages 8+ and up. However, it's the perfect game for children who love to think and exercise their brains. The game involves moving pieces across a chequered book and trying to corner the opponent's king. According to Indian history, there have been records of chess having been played in the Mahabharata during the 500 B.C.
This is an excellent online board game for sharpening analytical thinking skills and logic. There are multiplayer chess games available online, and you can find various versions of the board game available as a free download. If your kids have never played chess, you don't have to worry since most of these board games include instructions on how to play them inside the apps. You can also play chess against AI opponents and compete with players globally to increase their rankings.
Conclusion
There are tons of more online board games available for the kids. Each one is just as exciting as these and takes interesting turns. There are new levels to explore, unique themes, and gameplay layouts for players who like to keep playing. The biggest reason why online board games are a huge hit among the kids is that they keep evolving.
Unlike traditional board games where the rules are set and done, online board games take on a different spin, the more you keep playing. For example, Ludo Supreme Gold unlocks new features and has short 10-minute rounds for those who don't have a lot of time.
You won't get this with offline games. And also, there's no setup and arranging pieces involved since all you have to do is turn on the device, open the app, and get started!