Android's evolution in the recent times has been very significant. With the launch of Android 4.1 Jelly Bean the mobile operating system have tried to achieve fluidity, remember project butter?
Android has a lot of options to enhance the user experience. Some of the tweaks require root access to get in the operating system while others just work perfectly fine with what Android offers out of the box. We have been testing this resourceful from a long time. The lock screen app is still in beta as it is yet to reach it's final stage. Since it's launch it has improved a lot and have got even smarter.
Features
Cover is a smart lock screen which is based on machine learning principle. It identifies your location whether you are at home, or work, or traveling by car etc. Using the GPS, it adjusts the lock screen according to that. It not only changes the lock screen wallpaper but also suggests applications based on your usage which it learns gradually. It has easy swipe to unlock feature which replaces the factory lock screen and have a task switcher, an awesome way to switch recently closed apps just like Alt+Tab on your computer.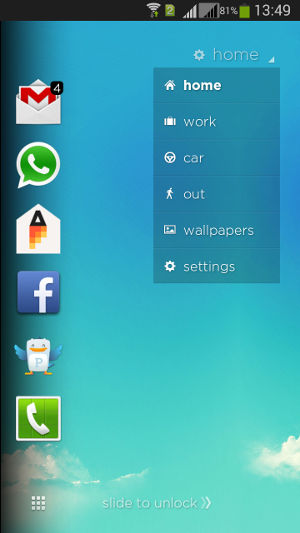 It's four key features are:
The right apps at the right time: whether you're at home, work or in your car, Cover learns which apps you use and puts them right on the lock screen.
Peek: quickly see what's new and launch apps with a swipe.
Switch between apps: jump directly between apps, skipping the steps in between with Cover's app tray.
Smart settings: set different ringer volumes and wallpapers for each place: home, work, car and out.
Conclusion
These smart apps which are programmed to get artificial intelligence are designed to observe user's activity and learn to provide an experience which no other app can match to. SwiftKey, Google Now and Aviate Launcher are also based on the same principle and we might see more of such apps coming up in future. Cover lock screen's app switcher is one of the feature I personally like the most. Smart settings also make it better and a combination of Aviate with Cover makes your smartphone even more smarter. The app is available as free download on the Google Play Store only for Android 4.1+ in US/Canada/Europe. Others can get the official APK from http://bit.ly/coverunsupportedapk.
Check out the complete gallery:

[easyreview title="Install or Not Scorecard" cat1title="User friendly" cat1detail="" cat1rating="3.5″ cat2title="Performance" cat2detail="" cat2rating="4.0″ cat3title="Appearance" cat3detail="" cat3rating="4.5″]