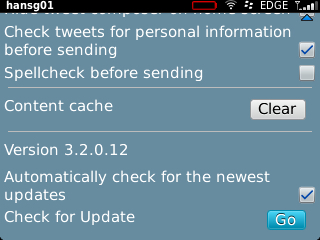 We all know about Twitter for BlackBerry, but do you know it has recently been updated to version 3.2?
Twitter is generally used to stay connected to the people, browse information and read news you care about but what makes this experience better is all dependent on the client you use.
Twitter for BlackBerry is an awesome, free twitter client developed by RIM itself for its users to give high quality experience which they expect. But what's new in this 3.2 version? Lets find out.
Twitter for BlackBerry with version 3.2 helps to find and connect with friends more easily than ever. The enhancements included in the new version are:
Expanded tweet details :
See a preview summary of a tweet link or photo. Previews may include a preview the headline, a quick snippet, as well as the publisher and the author.
Find friends button :
See who else amongst your friends and contacts are now on twitter.
Quick follow button :
See a user that you want to follow from a friend's follower list or from your own follower list. Now follow a user in one click.
The new version is supported by BlackBerry OS 5 and later and is available for free from the BlackBerry App World.
[easyreview title="Install or Not Scorecard" cat1title="User friendly" cat1detail="" cat1rating="4.5″ cat2title="Performance" cat2detail="" cat2rating="4.5″ cat3title="Appearence" cat3detail="" cat3rating="4.0″ summary=""]