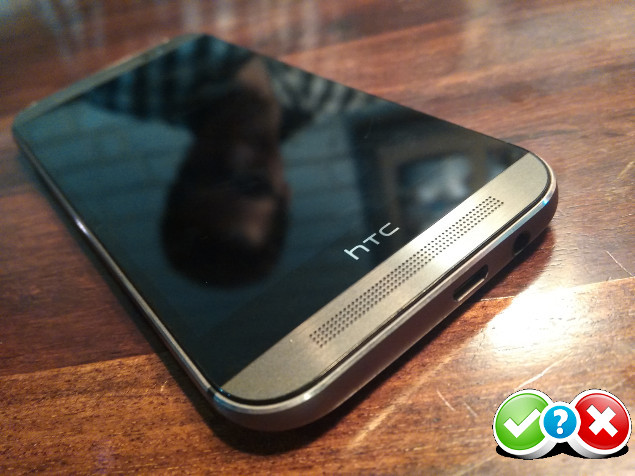 HTC which was formerly known as High-Tech Computer Corporation, headquartered in Taiwan, is one of my favorite smartphone firms, honestly. They have been launching smartphones since ages all of which feel premium in all segments from the low-end to the high-end. If you remember the first Android smartphone was by HTC, the Dream G1. They are the real masters at this, which has been proved time and time again. The latest proof of this is smartphone of the year 2013, HTC One M7.
HTC is innovating with the design and launched an all metal smartphone series, which has to be one of  the most awesome looking Androids one can buy. This groundbreaking series let all flagship smartphone designs outdated. With the flagship 'One' series which initiated after 2010. Starting with the One X which received a lot of appreciation to the HTC One which has been awarded with the title smartphone of the year 2013.
HTC One was refreshing for consumers as well as the firm. It let the admirers drooling, we know because we were one of them. This year HTC made it even better. At an event in New York after the Mobile World Congress in Barcelona, they launched the HTC One M8 which is an iteration to the smartphone of the year 2013. With better specs, better design, loud BoomSound and fancy camera features we think it is a deserving flagship. To early to digest the facts? Read our detailed review below.
Design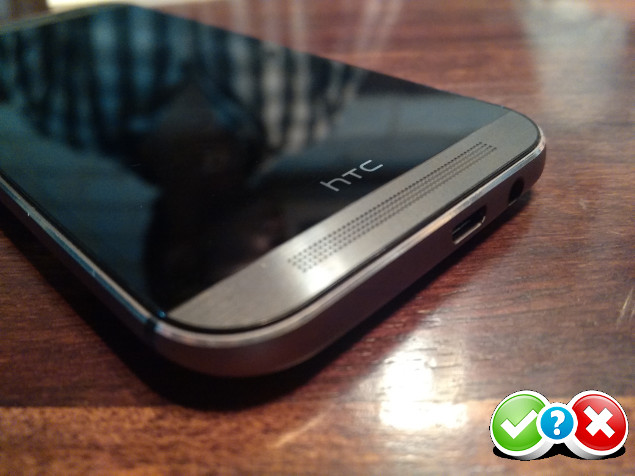 HTC had launched the One last year which was their best selling smartphone till date in-spite of many delays in production and shipping in several countries. HTC One was 70 percent Aluminum fused with polycarbonate plastic considering the overall build. With the iteration, human nature expects the next generation to be better and so it is. HTC One M8 is made up of full metal construction with 90 percent aluminum and the rest 10 percent plastic.
M8 comes in three different models, the gunmetal grey which is our favorite, amber gold as gold smartphones are now trending and the last glacial silver which looks a lot like last year's HTC One. The only problem with gunmetal grey is that it is glossy but the brushed soft metal look and feel makes up for it. Leaving out to pictures for you to better understand, the smartphone feels a little taller for a 5-inch display courtesy BoomSound stereo speakers. The capacitive buttons have been removed from this year's flagship device which leaves just the black strip with the HTC logo looking oddly placed when there is no use. Getting in touch with HTC tells us that there are sensors beneath that black strip which constantly work to provide services which we want. This proves that there is nothing on this smartphone which has been done unnecessarily.
The front has the full HD 5-inch display, 5MP front-facing camera and the HTC stereo BoomSound speakers. The back is clean with HTC branding in the middle and Duo Camera setup. The sides have volume rocker while the top has power button and secondary microphone. At the bottom there is microUSB port and primary microphone.
Hardware
HTC One M8 packs the smartphone specifications of 2014 with the Qualcomm Snapdragon chipset. To get into the details, it is powered by Snapdragon 801 chipset with 2.3GHz quad-core processor. Talking with respect to a consumer's perspective, they might use read or hear these specifications as benchmarks to measure but more importantly they make up their decision when they get to use it in-person. The final judgement obviously is made after one has used it and believe me it will never fail to surprise. It is fast, stunning fast and more important the touch response latency is immensely low even lower than the iPhone. Touch response latency means the delay which the tap on the screen results in a response. On the M8 it is 46ms while the closest one is iPhone with 75ms.
The smartphone comes with a microSD card slot which can support up to 128GB of memory with an internal 16GB memory. It supports nano SIM cards and come with top notch connectivity features like dual-band WiFi 802.11 AC, Bluetooth v4.0 etc. It comes with Adreno 330GPU and 2GB of RAM.
Software
There is a lot to talk about here. Gone are those days when HTC Sense used to heavy bloatware which was just fancy with loads of graphics. Now starting with Sense 5, HTC have been optimizing their user interface layer with lots of interesting features. There is BlinkFeed, minimal interface which is flattened design and this is quite accepted by the user as well.
People have been trying to get the HTC skin on their Android phones because it looks different. We had made a video highlighting some of the software features which we thought are worth mentioning. You can watch the video below.
The HTC One M8 runs on Android 4.4.2 KitKat which is now been upgraded to Android 4.4.3 which is actually Android 4.4.4 updates. There are motion gestures like wake to unlock, three or two finger swipe which add-on to the use case once you are fully educated. There are apps segregated on color themes with groups divided on the bases on their utility given a specific color. Unfortunately this is only applicable for system applications but we hope HTC might include this on future updates. Summarizing, Sense 6.0 on the HTC One M8 is modern and straight forward which makes it easy to use by anyone.
Camera
HTC has put in great efforts when it comes to camera unfortunately not everything they have invested has been that fruitful. Since the leaks of the HTC One M8 there has been a lot of buzz about the duo camera it features. The 'UltraPixel' it features which is roughly twice the size of a regular sensor allowing more light to enter the camera sensor.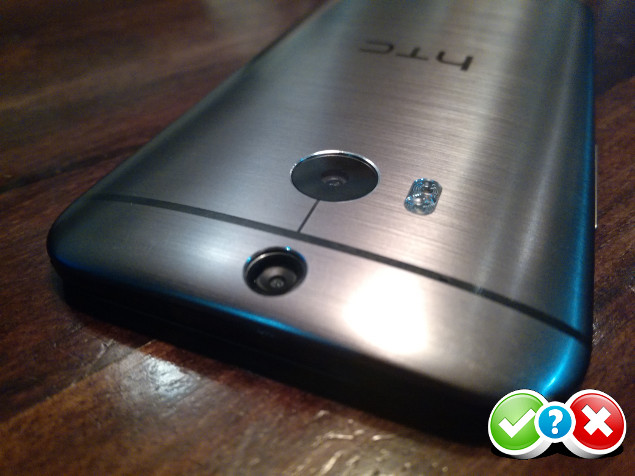 Talking more technical, rear camera on the new HTC One M8 records image information using a duo with main sensor being a 1/3-inch 4MP CMOS sensor assisted by a secondary sensor which was actually the one which was there on the previous model. This duo setup facilitates capturing depth information allowing the trending bokeh effect. Being the hardware information, it obviously is better than what other manufacturers offer with algorithms tuning the image seen as on Google Camera and Sony's Background Defocus.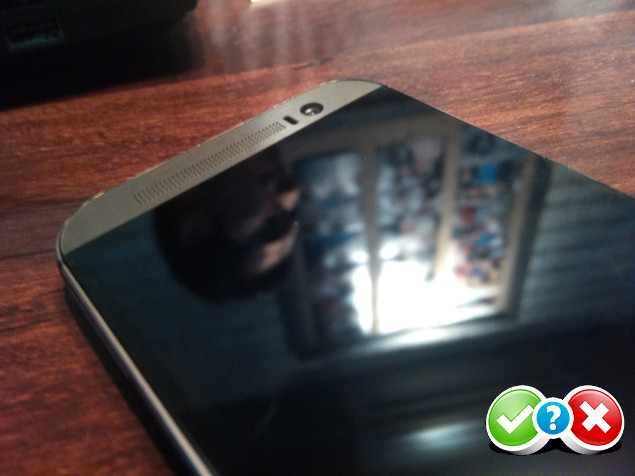 The front-facing camera is actually captures pictures with more resolution than the rear camera. The front has a 5MP F2.0 wide angle sensor which is capable to capture great selfies. In fact, the camera app itself has a Selfie mode which is dedicated for the purpose.
The duo camera features include, UFocus, 3D image, sketch and cartoonish effects. UFocus makes the Nokia's refocus kinda effect which allows focusing on parts of the image after clicking a picture. There is also an 3D image effect as well which results in an image just what tilts on moving on changing the position of the phone.
The HTC One M8 shoots full HD videos @30fps and slow-motion videos. The video recording is appreciable and the results in good results.
Key Camera Specification:
4MP 1/3-inch CMOS sensor, 2.0 um pixel pitch
F2.0 aperture
28mm equivalent focal length
1080p video
Slow-motion video
5MP, F2.0 front camera
Performance
The HTC One M8 is one hell of a smartphone. Undoubtedly the best looking Android smartphone ever. As mentioned above, it runs on Android 4.4.2 KitKat with the latest version of Sense which is Sense 6.0. It is powered by the latest Qualcomm Snapdragon 801 processor with 2GB DDR3 RAM in 16 or 32GB storage models. There is no 64GB model this time but HTC have introduced expandable storage up to 128GB via a microSD card. It supports nano SIM and comes with BoomSound stereo speakers. We know HTC have ended their partnership with Beats but still they have managed to make it 25% more louder. This is not just a hardware implementation but it also have its software enhancements which make the audio less muddier.
The battery has now 13 percent more comparing to the previous model with 2600mAh. It also comes with Qualcomm's Fast charge 2.0 which enables fast charging using the processor with the same current flow. More studies have revealed that the 1.5A charger packed in the retail box does not activates this feature because it needs atleast 1.67A current flow.
The camera though cutting down resolution has implemented more features. The duo combination and the camera app allows to take some stunning shots at 4MP resolution. The front-facing camera is perfectly fine and is appropriate for it does. We feel that the camera is the only thing which might make people choose other smartphones apart from the price, unless they are educated about its features and what it can do with its 2um pixel thickness.
Conclusion
HTC One won the title of smartphone of the year 2013 and this year's iteration truly justifies that. Innovating with better design and features, HTC One M8 is capable to win the smartphone of the year 2014 title as well. We tested the review unit for almost 3 three weeks, which is very grateful of HTC for allowing us to do so. The smartphone is blazing fast, no matter what you throw at it. We don't have any words for it's design. It is exceptionally beautiful. It comes in three variants but the gunmetal grey is our favorite. How can one leave THAT brushed metal look for anything else. Though being slippery we would suggest to use a case unless you don't want any dents on your phone. The best case is from HTC itself, which is the HTC Dot view case. It is stylish and useful at the same time having more than one use case. not just protection it allows users to have a different look of their smartphone.
We shall definitely recommend HTC One M8 if you are willing to and looking for a high end smartphone this year. There are other options as well, but no one is as ergonomic and awesome in looks as the M8. That design, those features, such awesomeness.
[easyreview title="Install or Not Scorecard" cat1title="Hardware" cat1detail="" cat1rating="4.5″ cat2title="Performance" cat2detail="" cat2rating="4.5″ cat3title="Design" cat3detail="" cat3rating="5.0″ cat4title="Value for Money" cat4detail="" cat4rating="4.0″]