HTC has been quite popular in the smartphone market about their build quality and engineering design considering Butterfly, One X and One S before. But this time they have nailed it themselves with their latest flagship HTC One. HTC had recently announced One as their new flagship for the year 2013 and let me tell you they did a pretty good job this time. HTC One is way out of league comparing to any smartphone out there. The brilliant design, new innovative features and the UltraPixel camera altogether has done been right and now HTC just needs a perfect pricing to make One a winner. We got lucky to get our hands-on with the new HTC One and here are our thoughts.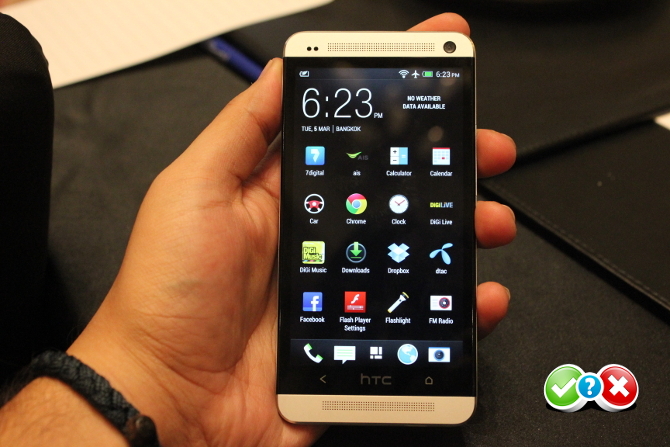 HTC One has no-doubt again won the best build on a smartphone title with the crafted metal construction unibody on the HTC One. One single block taking approximately 150 minutes of machinery work to get this zero gap construction leaves no competitor out there to stand even close to the HTC One. Sorry Apple but you just got pwned.
The lines on the back do serve as various antennas and at the same time are an addition to the design. All those rumors which showed resemblance to the BlackBerry Z10 still are rumors because they look unique in themselves when seen in reality.
HTC has also completely revamped their Android layering with the Sense 5. A new prominent feature of the new Sense 5 UI is the BlinkFeed where your home screen is the feed for all your news, social networks and phone's calendar and other lists which can be customized accordingly to variety of content sources which are now partners with HTC to provide users a wide range of options to choose from. There is the old traditional Android homescreen with icons and widgets too for those who don't find this change appealing.
Now the UltraPixel camera which we found was worth the hype. Rather than going for quantity that is higher megapixel count, they have gone for quality where the pixel is about 300 percent larger than the regular ones which is an innovation by HTC and they call it the 'UltraPixel'. It allows 300 percent more light to enter the aperture thereby performing better a lot better in low light conditions. Adding to this, a new camera mode has been added to the traditional ones which captures full HD 1080 pixels 30 seconds video with sound allowing the users to capture any shot from the Zoe in that 30 seconds time-frame later on. Other tools like timeshift and remove unwanted things from the clicked picture are also there which we will better review when we get the device.
The front dual audio speakers with BOOM sound creates a totally new audio experience which surprisingly has been never been on any smartphone before.
We were very much impressed by the One and let's hope HTC does not mess up with the pricing. This was just a hands-on and we will be posting the detailed review as soon as we get the device. One more news for India, expect HTC One to arrive in Q2 by April.