When it comes to Active Noise Cancellation Headphones, Sony has been the new king recently with the Sony WH-1000XM3 and dethroning Bose which used to be great at ANC headphones. But apparently there were not many great options when it comes to budget headphones. We might get great-sounding headphones but ANC is something that's missing from this segment.
Sony filled this void with the launch of Sony WH-CH710N that offers Active Noise Cancellation and great sound at a budget price. We still don't like the way Sony names its headphones and the WH-CH710N, a predecessor to the CH700N is no exception. A weird name right? But the product is not at all weird as the name is. They come at a price of ₹14990. For starters, they're priced at less than half of what the WH-1000XM3 costs, and the Indian pricing is kept way below those of the US and UK market. So are these headphones worth your money? Here's Our Sony WH-CH710N Review.
Design & Build
The first thing that you notice once you unbox the WH-CH710N is that these headphones are impressively light. I was expecting these to be somewhat the same weight as of the 1000XM3 but this was surprising. At 218 grams they don't weigh much at all, and you don't feel like you're wearing a giant gadget on your head when you put them on.
These headphones are made of plastic and that too of very high-quality plastic, and this is not bad in any way considering these are budget headphones that bring a lot to the table at the price. Also, plastic tends to amplify the sound, so if you accidentally bang the side of the headphones into something or slightly scratch the outer cups, you shall hear it immediately.
The earcups are covered in plush memory foam padding and these are comfortable enough for long-wearing sessions but cannot be worn on for long gym sessions as you tend to sweat near the ears. Casual workout, walking, and cycling with the headphone on should be fine. Also, there's padding across the headband too, and it generous enough and it's just fine, the 100XM3's have even thicker padding and that feels great.
To control the Sony WH-CH710N headphones, you get a total of six buttons. On the right, you get volume controls, a play/pause button that can also be used to pick/reject calls. Long pressing this button will also activate Google Assistant os Siri on your device. Although this functionality does not work on the iOS devices to active Siri.
You also get a multi-function button on the right side which can enable/disable the ambient sound and activate noise cancellation. Towards the left, you have a Type-C port for charging, a 3.5mm headphone jack, and a power button which on long pressing can also be used to pair with a new device. You also get NFC on the left ear-cup for faster pairing.
Overall the headphones are quite great in terms of usability, the only issue here is that I don't feel like the earcups are deep enough and if you have big ears (like myself) I can actually feel the drivers pressed up against my ear and after a few hours of listening that's the only part that became uncomfortable.
The headphones come in two color options, Dark Blue and Black. You get all the buttons on the right side of the ear cup and on the left, you have the 3.5mm jack to connect your device through a wire and also the USB Type-C charging port, to charge.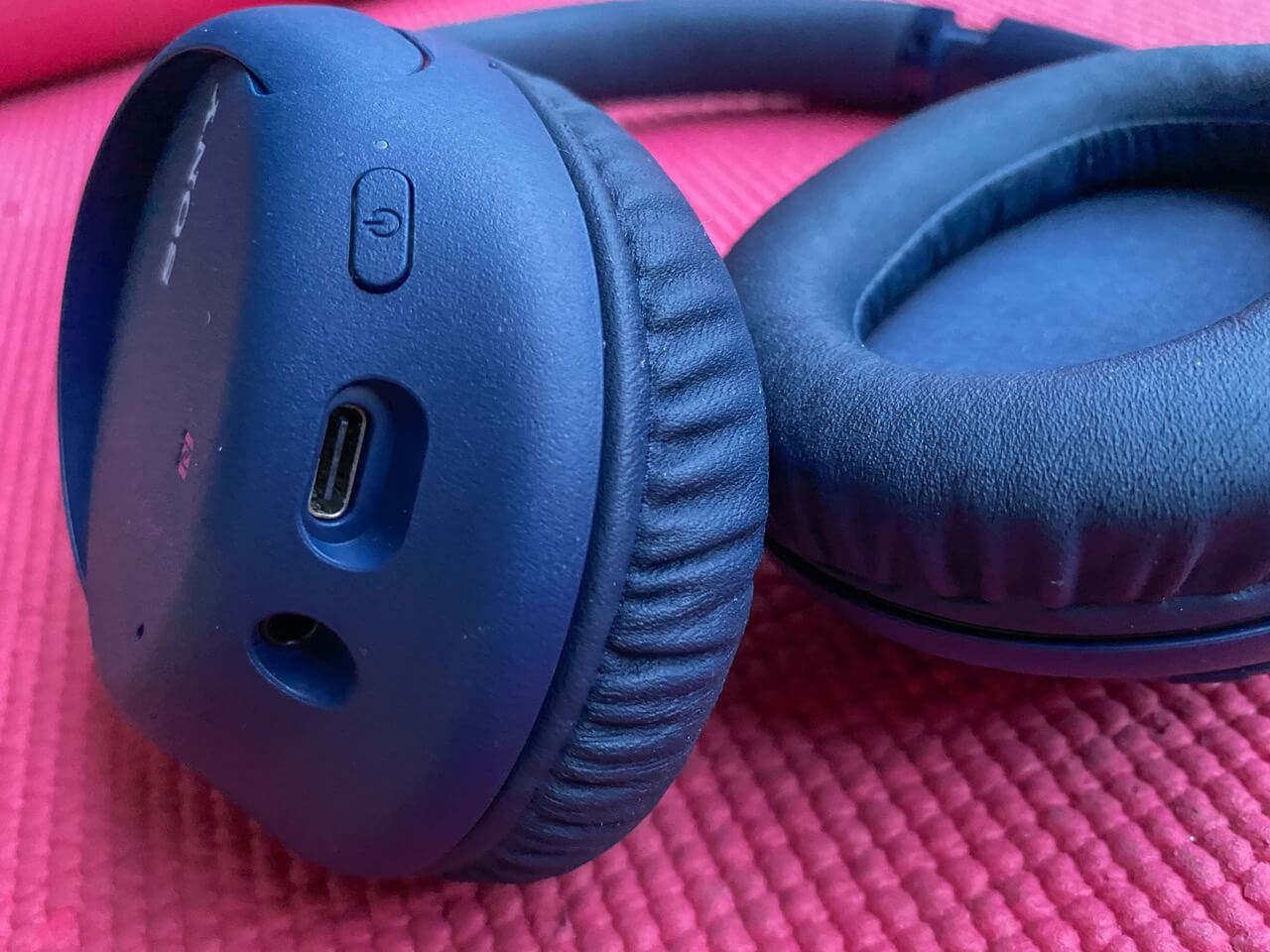 Although the headphones themselves are not foldable, the ear-cups rotate 90-degree so that you can place them flat on the table. The Sony WH-CH710N features NFC for quick pairing. Just turn on NFC on your phone, tap it and you are good to go.
Performance
The Sony WH-CH710N is entry-level noise-canceling headphones that provide a rich sound experience along with Noise Cancellation. The headphones have a feature called the Artificial Intelligence Noise Cancelling (AINC) using which the headphones scan for the ambient noise around the area and automatically adjust the level of noise cancellation. You have the option to adjust the ambient mode to customize the Noise Cancellation feature, to let a few sounds in while canceling the unwanted ones. This feature comes in handy when you are at the metro station and want to hear the announcements of the train coming in or you are with your friend and want to hear what they are talking about.
The headphones harness the Bluetooth 5.0 technology and there is no support for Hi-Res audio like the in-house LDAC codec or aptX. You only get SBC and AAC audio codec support. This is still great and a casual user would never face any issues with generic use cases like media experience, gaming, and phone calls.
How do these Sound?
The headphones in typical Sony fashion are more emphasized on Bass and Vocals. The lows are quite clear, and the highs are precise with great instrument separation. The highs were a little muffled but the mid's and low's makeup for it. Overall, the music was enjoyable and loud. The vocals were good too. You do get a good amount of bass but it might not be enough for Bollywood tracks with loads of thump. They are not bass-heavy headphones for sure and the audio profile is more of a balanced profile. It is also worth mentioning that the audio gets leaked at 100% volume and can be heard by others in the room too.
It is also integrated with the assistant. Calls were also fine on these, but at times our voice felt more unnatural. Conversation flows freely with easy, hands-free calling allowing you to leave your phone where it is and just speak. WH-CH710N delivers clearer voice quality to the other person on the phone regardless of the conditions around like in heavy city traffic or walking down a busy street or crying babies, as a matter of fact, these headphones got you covered. They also have NFC for ultra-fast pairing on the go. Trust me, every pair of Bluetooth headphones must have this feature.
The Sony WH-CH710N is also compact enough to fold them flat and tuck them in your bag.
The times when the internal battery dies on you, which would not happen in a million years, still there's an option to use the included 1.2m 3.5mm cable to never miss a beat.
A thing to keep a note of is that these headphones are in no way water resistant nor even water repellant, so they might not survive in the rain or at the gym. Again they are aimed towards a more steady lifestyle and not an active one.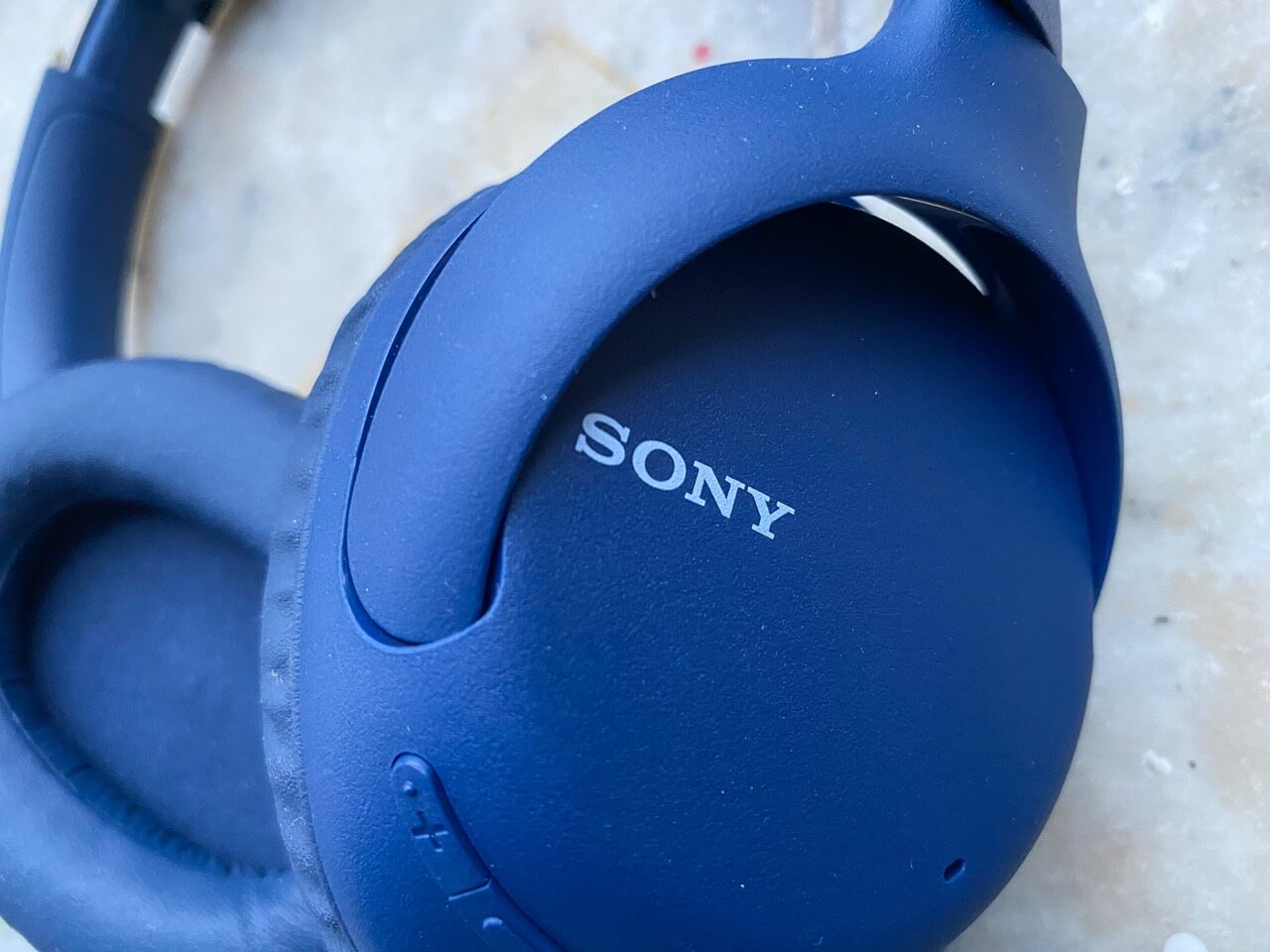 The Sony WH-CH710N can have a playback time of 25hrs on a full charge with noise cancellation turned ON and are a great companion for those long zoon calls, binge-watching, or listening to your favorite artist on Spotify. A quick charge of 10 minutes can give about 60min of usage, and that is necessary for our day to day active lifestyle. The battery performance varies according to the level of ambient noise as it requires the microphones to be switched on at all times. So, the bottom line is, if you are looking for a great battery run, these headphones won't disappoint you.
Talking about the noise cancellation, the AINC does a pretty good job and eliminates the outside noise and offers you pure and clean music experience. These are hands down the best ANC headphones at the price. Using these I could easily work in a room full of people ignore the noise of people talking around me, a television running in the background and the noise of the ceiling fan and outside traffic. The ANC performs fairly well and Sony has mastered the ANC algorithms over time. If Noice cancellation is your priority and these fall in your budget you should definitely grab these on.
Conclusion
The Sony WH-CH710N is definitely one of the best sounding headphones with Active Noise Cancellation at the price. At Rs. 14,990 you get almost everything you are looking for in a budget headphone that sounds great and has impressive battery life.
I have personally favored the WH-1000XM3 over time but considering the price of the WH-CH710N, these are one of the most value for money devices in the headphones market right now. These headphones take most from all the flagship headphones and make it in a budget package with not many compromises. With its long-lasting 25Hours+ battery life and noise cancellation at a price of under Rs 15,000, these can be the ideal solution for people who are working from home or just want to try out a noise cancellation headphone on a tight budget.
Pros
The best Noise cancellation in the price range
Impressive Audio Quality
The best battery life on a budget Noise-cancelling pair of headphones
USB Type-C Charging
NFC and Bluetooth 5.0
Noise Cancelling On/Off switch
Ambient Sound
3.5mm Audio Output Support
Sony's Brand reliability
Cons
An IP rating would be great.
No Quick Charge solution