Solid State hard drives which we all know as the fastest internal storage for our computers is quite expensive as well in terms of increasing capacity. Well that's understood since it is a new technology and the work done in manufacturing this hardware is cost intensive. Understanding the needs of a consumer, WD launched the Black² Dual Drive in India which is basically a hybrid with the usual HDD and the SSD.
Hybrid drives when they arrives first were called the next big thing enhancing the read/write speeds along with providing storage at a commercially viable price. Later this got overtaken by the SSD only as the costs tend to go down. WD married a 1TB SATA HDD with a 120GB SSD in order to provide 1.1TB of storage which a user can use for his PC to get best of the both worlds but it couldn't. Want to know why? Read our review below.
Features and Performance
As mentioned earlier, WD Black² Dual Drive combines the 120GB SSD storage with the 1TB 5400 rpm SATA HDD which comes with 9mm drive height. It is admirable how WD made it possible to pack it in a 2.5-inch form factor making it accessible by most of the laptops only if it can adjust to the 9mm drive height.
Secondly, the SSD and the HDD part gets identified separately which means Windows will identify it as separate partitions hence naming it under different drive letters, but what about OS X?
The read and write speeds of the SSD partition were not as good as an individual SSD would deliver but they were definitely better than a standalone SATA HDD. We found it to be a good for those especially on Windows who can configure boot on SSD and storage on HDD without the hassle. I know one of my classmate who would love this, as he is always try to get something like plug and play. We could get better results if we can configure a SSD separately but there comes the setup which one has to implement.
We took some benchmark tests using an inbuilt linux tool in ubuntu 14.04 and the results are showed below: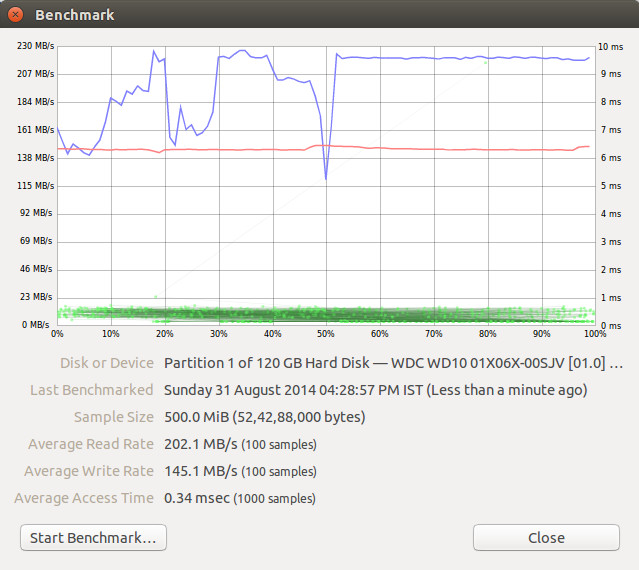 With respect to a consumers perspective hoping for some real time performance results, we did tried to copy some 10GB of files at 147MBps on the SSD and 57.5MBps on the HDD, while the read speeds were 358MBps and 81MBps on the drive partitions respectively.
Conclusion
If we consider the read and write speeds which we got from our tests performed at a user level, they are definitely better than a plain HDD which one would might opt for. The hybrid Dual Drive undoubtedly is a win over those standard ones but comparing the SSD performance you might be left disappointed. A standalone SSD can get much better read/write speeds but compromising with the disk space. SSDs are expensive and as said all good things come at a cost.
The astonishing SSD experience which we observe in Macbook Air and some of the ultrabooks are nowhere to be seen here but if you desire that you have an option to buy 512GB SSD by paying a little extra to what costs this WD Black 2 Dual Drive. For 18,000INR vs 5,000INR for a traditional SATA HDD 1TB this not only adds a 120GB SSD which when bought separately costs roughly about 10k but provides a hassle free experience for PC users.
Pros:
120GB SSD
1.1TB total storage
Cons:
SSD Read/write speeds slow
Driver required to access partitions