WD, a Western Digital Company way back starting this year had announced the launch of My Passport Slim in India which may look like yet another variety of My Passport category differentiating with each other in terms of some characteristics. Well yes, we can't deny that but there is a reason why it has been given a different name under the same brand.
My Passport category basically consists of external storage with the differentiating factor being 'portable'. This means that My Passport hard drives are more compact and easy to roll around compared to other brands within WD itself. Unsurprisingly, the WD My Passport Slim falls under the same class but having an extra edge for mobility. We used the hard drive for a definite amount of time to judge the drive before making any comments and have our conclusion ready. Interested to know what we think? Dive into the details below.
The Package
The hard drive comes in a usual WD package in a small rectangular box consisting of user manual, USB 3.0 cable, a pouch (yes, that's new) and of-course the hard drive. We tested the 1TB variant of the hard drive so the pictures and the performance results below will be for the same.
The hard drive unlike any of those tested before, comes in a aluminum casing. There is a USB 3.0 port on the left side along with the LED indicator. This is by far the most compact and slimmest hard drive, I myself have ever encountered. After observing it in-person you will get to know why do WD had to come up with this and not go with the Ultra instead? Well because for the simple reason, 'slim' and 'mobile' that's what their press release claim so.
Earlier we thought, Ultra is the what a external hard drive can compact to until we say this because this is even better. It is smaller in dimensions and light weighted though it was launched earlier. It comes with 256-bit hardware encryption which means MORE security.
Performance
Talking about the performance, below is a test which we perform on a linux machine's Disk utility. The tests for the hard drive gave expected results on USB 3.0 connectivity while the USB 2.0 you know its slow and ancient and is stupid to even state those results for a perfectly compatible USB 3.0 drive but still I would like to say a few words 'there shall be light'.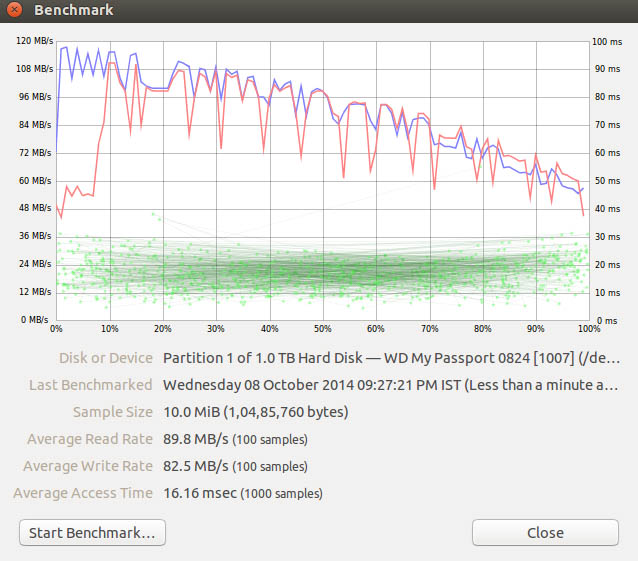 The USB 3.0 gave read/write speeds of about 90MB/s on being completely empty while having about 44% free space, the speeds dropped down to 77MB/s. It's like transferring a 500GB single file vs 500GB collection which tends to take more time in-spite of being the exactly same size on a mechanical drive.
So now, for USB 2.0? Why not. The read/write speeds as observed on USB 2.0 were 25MB/s sometimes up to 30MB/s which is like a 60percent drop. Ouch but hey you are using a generation old technology, don't blame me.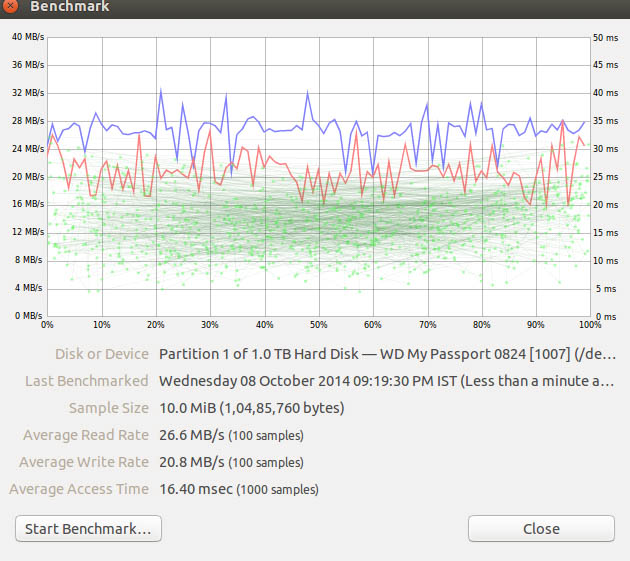 As it comes with an aluminum casing, it is easy to get the heat dissipated but at the same time, it is more prone to scratches. This is the reason why we are given a pouch in the retail package. Adding to this, being extra mobile means it requires extra care to prevent from any damage that can happen.
Software
Along with all the physical things you see, WD also provides a suite of apps which are installed within the hard drive in order to organize and protect your data. There is an application called as the WD Smartware which is used for backup and recovery. Then there is WD Drive Utilities where you can check the drive's S.M.A.R.T status, run some diagnostics, configure the sleep timer, erase the drive securely, or register the drive. Lastly, as mentioned above this hard drive comes with a 256-bit HARDWARE encryption which means it takes the password from you encrypts within the drive itself. No way WD or anyone could guess this password unless it is the same you use somewhere else. WD offers this level of security with its WD Security app again pre-installed in the device.
All these software are available as an option whether we want to use them or not, so there's no compulsion to use each and every feature if you want to just store your data.
Conclusion
WD My Passport Slim is specifically designed for those who want to take their data along with them but not on their machines or want an extra storage which is ready anytime, anywhere. We liked the form factor given to a simple device like a hard drive but it kinda adds to the cost is what we actually feel. You want your drive pretty, you pay a charge for that. Well for some it might be really useful, like those who are frequent business travelers. This was made available in India early 2014 for Rs. 6,999 for 1TB model but is now rarely available as it was later overtaken by a cheaper variant My Passport Ultra.
[easyreview title="Install or Not Scorecard" cat1title="Hardware" cat1detail="" cat1rating="4.0″ cat2title="Performance" cat2detail="" cat2rating="4.0″ cat3title="Design" cat3detail="" cat3rating="4.5″ cat4title="Value for Money" cat4detail="" cat4rating="3.5″]