Office Spaces today not only need solutions to assist them with their daily routine tasks but also need them to be smart. Observing the same, Canon India did their part and recently launched their third generation of MFD (Multi function devices) in India. With the growing businesses in India, Canon expanded their color MFD portfolio to increase market share in the country.
Targeted towards businesses of any scale, be it large organisations or SME along with startup communities these products have been designed to be efficient and productive. With the introduction of IoT, every electronic device is now made smart. We already have witnessed printers working wirelessly and remotely in recent years. In Generation 3, Canon aims to uplift user's productivity in order to achieve more. Below mentioned are five factors which make it ideal for the use case.
Performance
For any enterprise, the most important aspect is to save time. For a smooth workflow, these products allow businesses to focus more on core functions rather than handling usual hassles for maximum productivity. Even better, it does some of the tasks for you. For say, users can scan documents and store the converted electronic files, such as PDF, JPEG and TIFF in directories right on the machine which can be accessed anytime on-demand. Those scanned documents can also be shared directly via email with the help of a simple user interface.
I believe we all have been in a situation where we tried to scan a few documents and they weren't in our desired orientation. Canon put a thought about it and they have developed this technology which can detect the orientation of scanned documents. If found wrong it can be corrected automatically, saving time spent on manual rotation prior to document sending. Users can also scan documents directly to USB memory sticks, or preview images there itself or even print them
right away.
Smart office solutions
Businesses today desire smart office solutions that make work life simpler without much 'handle with care'. The third generation series comes with an intelligent solution which identifies a probable user nearby via an infrared motion sensor and assesses their intentions. Depending upon its judgment, it will either wake up and recover the task it was on or else be in sleep saving power.
In a mobile first world today it is expected from any consumer electronic product to be connected via the mobile phone. This has been well depicted by Canon in their latest series of MFD. The products come built-in with wireless LAN (WiFi) and allow seamless connectivity via a direct access point (AP). This AP makes it support a range of mobile printing solutions such as Google Cloud Print and AirPrint. Rest, we can imagine how convenient it will be to perform day-to-day printing tasks efficiently saving a lot of time when we just wanted to get a hard copy of something we had on email. To make it easy for non-tech savvy users, there is a QR code scan feature which ensures easy device pairing for mobile devices with the Canon PRINT Business app.
Equipped with the Intelligent Document Feeder, the third generation MFDs can process documents at a much faster pace. In a usual course of document digitisation where one has to scan or copy, there are chances we feed an original document more than once or maybe we feed a blank document. This is swiftly handled by Multi-Sheet and Blank document detection hence, reducing the time taken to process and organise the results.
Security and reliability
It is a well-known fact that security is a cornerstone of every business infrastructure. Often this can be skipped or missed out in initial stages but this should be taken care of right from the beginning. The new MFDs come with Hard Disk Drive security which till date is an ongoing concern to businesses for protecting their information. With the new iR-ADV devices, comprehensive HDD security comes standard with features such as HDD Data Erase, HDD Password Lock and HDD Encryption which is FIPS 140-2 validated.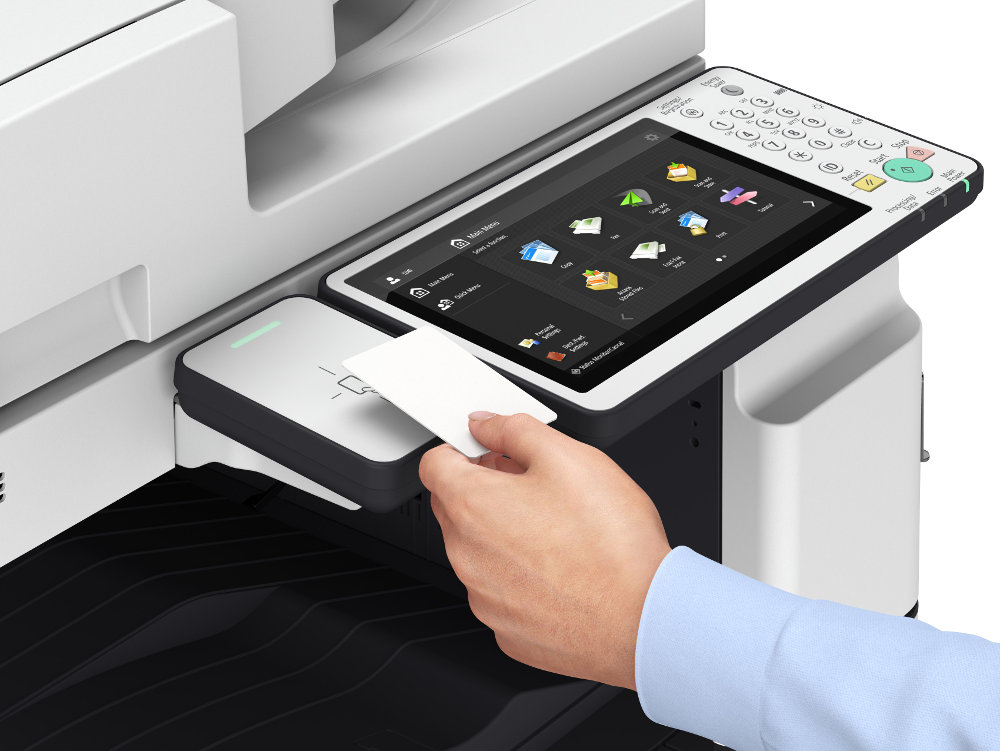 Easy maintenance
Technical products come with a challenge of maintenance. Well, Canon has made a great effort to make it as simple as possible keeping the user convenience at top-most priority.
Individuals can customise workflows and preferences easily as per their needs. From personalising display language, initial display screen, frequently-used settings, address lists etc., users have various options to make it fit for their use. Example, a user can login to machines using 'Picture Login' authentication making it easy for them to gain access in an instant. With utmost simple controls, the 3rd generation series offers an intuitive user experience with smartphone-like gestures for easy navigation across the user interface. This level of personalization can be integrated across any third generation of iR-ADV devices via the new MYADVANCE personalization Synchronisation useful to manage a fleet of machines in a company.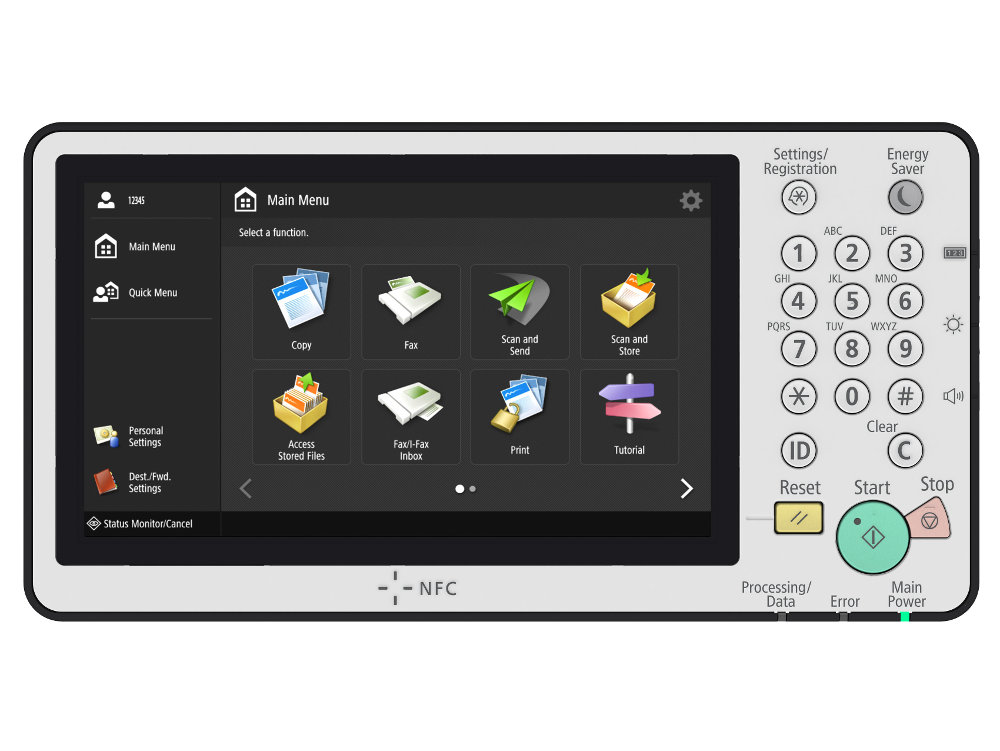 It comes fairly difficult for administrators in an enterprise to manage a cluster of such products remotely, especially when you are not confident enough to hand it over. Built-in with Remote Operator Software Kit, IT administrators are able to remotely assist users during troubleshooting without the need to be physically present to control the device. This enhances productivity and directs resource management in a more efficient manner. Content Delivery System (CDS) another feature by Canon provides a way to automate firmware updates via their in-house tool which again allows the entire device fleet to be updated in continuity. Scheduled updates can be arranged to take place during off-peak hours to further reduce interruptions.
Costs
Smarter solutions not only mean to perform tasks smartly but to save on operational costs as well. Thanks to smart innovations like sleep mode, Canon also keeps its innovativeness with the environment in mind.
The finishing options offered supports the environmentally friendly ECO-staple, which is used to bind a maximum of five sheets of paper together by means of pressure. This staple-free approach prevents resource wastage and enables easy shredding of documents in future.

The new iR-ADV series allows businesses to track and monitor device usage for better control. For instance, the MFD allows administrators to manage user access control such as restricting printable pages and utils up to 300 registered users which in turn reduces toner and paper wastage effectively. Products from third generation series integrates with uniFLOW, an intelligent print management solution developed by Canon that enables cost accounting and secure printing.
Third Generation imageRunner ADVANCE series includes five different product lineup:
iR-ADV C3500 series (3 variants consists of 30PPM/25PPM/20PPM), A3 Colour
iR-ADV C355i A4 Colour (35PPM)
iR-ADV 4500 series (4 variants consists of 51PPM/45PPM/35PPM/25PPM) A3 Mono
iR-ADV C5500i series (4 variant Consist of 60PPM/50PPM/40PPM/35PPM) A3 Colour
iR-ADV 6500i series (3 Variants consists of 75PPM/65PPM/55PPM) A3 Mono
All of them are available for purchase in the Indian market.
Disclaimer : This is a sponsored post