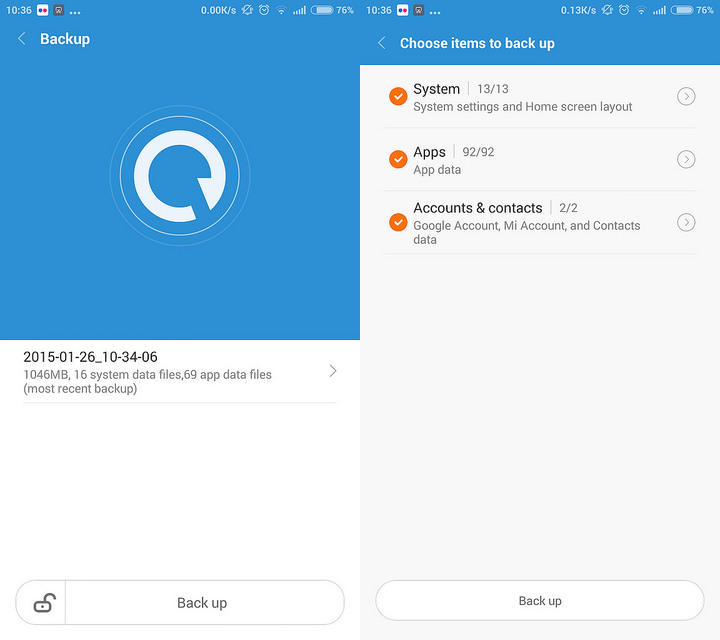 MIUI, one of the best Android forks which is developed and maintained by Xiaomi community packs a lot of power features. These power tools adds value to MIUI as an operating system and stands in a list as the best alternative to try after stock ROM. We have been switching MI phones recently and got to know about this nifty backup and restore tool built-in. This utility works for MIUI ROMs only and can backup and restore data on any MIUI version. We have tried this to backup data on a MIUI V5 ROM and restored it on MIUI 6. We can undoubtedly say it works flawlessly with minimal effort involved and great results.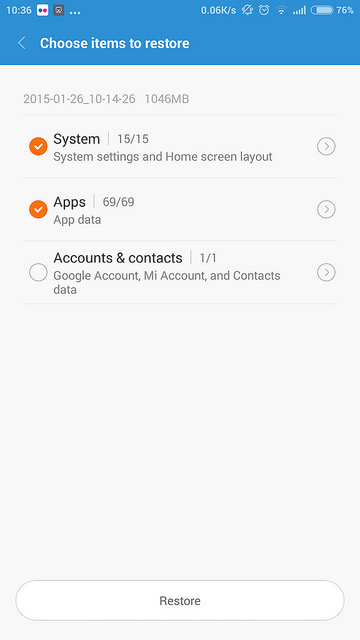 Under the settings menu, navigate to backup and reset.
Under Backup, you may find an option for Local Backup which you may select further.
Now, hit the backup button at the bottom of the screen. Just an FYI, this might a take a while. You are also given an option to encrypt your backup with a password to play safe.
When its done, your backup is ready and you can restore this data on only MIUI running smartphone. Please note, this is a MIUI rom feature and is not limited only to Mi handsets.
The backup data is available at Internal Storage at location under /sdcard/MIUI/backup/AllData/ directory.
To restore data, navigate to the same backup and reset menu and select the backup data sorted by date.
Choose items to restore and hit the restore button at the bottom. This again, will take a while and once done your phone shall be ready with personalized data and settings sitting there.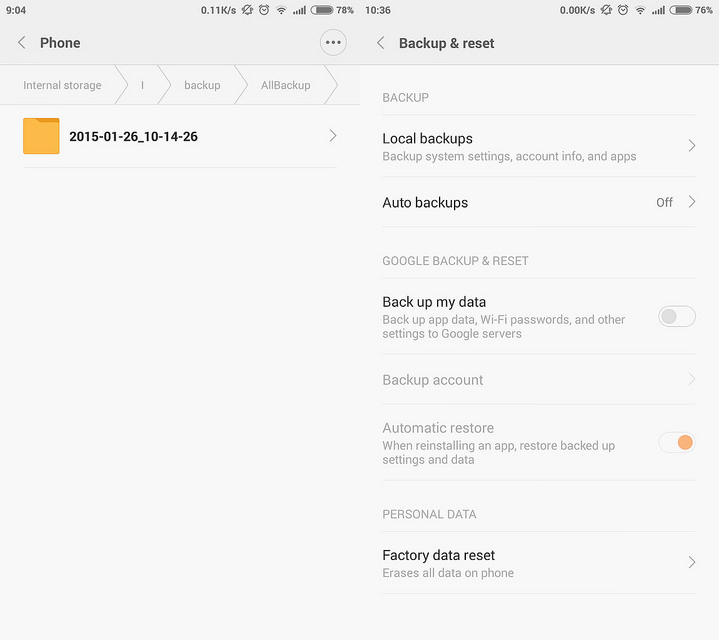 This backup and restore utility works like System Restore in Windows keeping data and state of every app, including messages, call logs etc. which makes it a one-stop task in case of factory reset or hacking yor Android. Unfortunately this works only on MIUI ROMs only but some handset manufacturers do come with their own in-house projects to make its use limited to their devices. We believe this application should be made available on Google Play Store making it compatible to work with any Android. We are somehow still in a need of universal applications and this would really help ease out the backup process on Android.