Most of us have a Gmail account, isn't it? Gmail as we know is the advertisement supported free email service by Google which was announced back in 2004. Gmail was initiated as an April Fool's prank on April 1, 2004 as they do every year but looking at the attention it caught, they released it as an invitation only beta stage that time. It finally came to public beta release on February 7, 2007 and public final release on July 7, 2009 along with Google Apps Suite.
Being a power user of the web, if you don't have a Google there is definitely something wrong with you. Though Google provides top notch email service with Gmail but placing advertisements somehow disturbs the overall user experience, that's what I feel. The advertisements are text only which no doubt are less than what Yahoo does with side banner advertisements but still it do hampers the experience. Microsoft also runs it's email service which was now evolved from MSN Hotmail to Windows Live Hotmail and now to Outlook.com. Hotmail one of the world's first email service which Microsoft bought from Sabeer Bhatia and Jack Smith for approximately $400 million in 1997 has been doing pretty well.
With the recent UX/UI overhaul along with the switch to a new name, Outlook.com people have actually started accepting this email service after Gmail. The neat and clean user interface with interactive user experience has been welcomed by the public.
According to a recent study by market research firm Ipsos, nearly 1 in 4 consumers would switch email providers if it was easier to do. This states that there are people who are not satisfied with their email service. But what makes them do so? Is it the advertisements? or the downtime? or maybe somewhat like the discontent case reported with Gmail?
That same study also highlighted the areas which customers identified as most important. According to the customers it is responsibility of the email service provider to ensure ads don't interfere with the email experience (70%). It should offer advanced spam filters (69%), providing an easy-to-understand user interface (67%), and not scanning the contents of email to serve ads (58%).
Outlook.com has been focusing on this and have developed the user interface which fits with the natural selection. But what if you don't want to switch email address?
There are other options which I would say workarounds to fix this problem.
One of them will be to add your Gmail or any email address in Outlook.com to send/receive emails for you instead going and visiting the web app yourself.
Secondly, you can use the tool which Microsoft has recently built to help it's consumers switch to Outlook.com. This tool has been built in right in the web application on Outlook.com which allows you to connect your Gmail account using OAuth to your present Outlook.com account if you have one. It will then get your emails, contacts as they were on Gmail preserving the read/unread status and even make the Gmail address to be used for sending mails from Outlook.com account.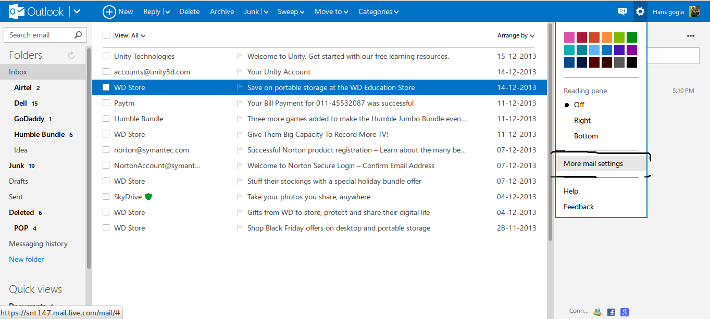 In order to get the second procedure working, you just have to follow some simple steps as mentioned below:
First of all, sign in with your Outlook.com account.
Click the Options icon Options icon, and then click More mail settings.
Under Managing your account, click Import email accounts.
Click Google.
You'll then need to sign in to Gmail account and grant access to your account.
When done, the tool will start copying all your emails from your Gmail account and you'll be navigated back to Outlook.com. Your Gmail account shall remain intact because the tool does not modify anything.
Once you initiate the import process, Microsoft will send you step-by-step instructions on how to set up email auto-forwarding which will make your Gmail account to forward all your future email to Outlook.com.
Tada. That's it, you're done! The import happens in the background, so you can continue using Outlook.com or even log out while it's happening. Once the import is complete, Microsoft will send you an email to let you know they've finished.
So now if you like the Outlook.com's UI you have no reason why not to switch.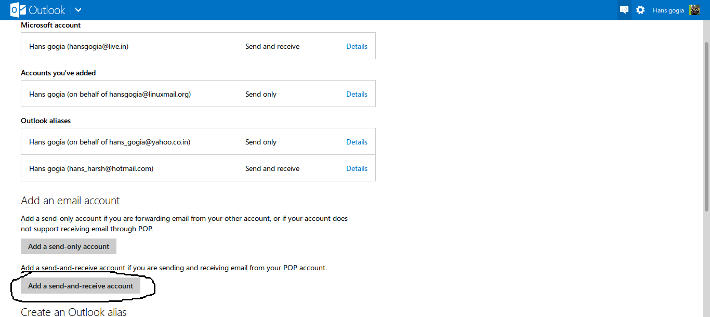 UPDATE: Don't know why but the import tool currently is held back. So if you want to swicth you have to add your email address as 'send and receive' in Options->More Mail Settings->Under Manage Account.