Despite all the efforts made by different OEMs to differentiate their product, only Android Wear and Apple watchOS managed to reach maximum user's wrist. The smartwatch era began with the innovation of smartwatch OS otherwise everything else available was a fitness tracker. The smartwatches not only brought tracking as one of their capabilities but they also made it possible to be an independent entity which you can use without a smartphone. Following the same a successful kickstarter device which managed to caught our attention which was nowhere talked about until two months ago. Learning more about the product got us excited and what if offers under $200 demands worthy appreciation.
The Ticwatch 2 by Mobvoi brings a new way of interaction to its users. Much like Apple's Siri, Ticwatch has its own, 'Tico'. Well if the two are compared, the benefit of Tico over Siri is the way it interacts with the user through the watch itself and not make the user reach the phone.
As the phones of today have given birth to a new disease called DISTRACTION, this feature is a good suggestion to solve a design problem.
The tickle feature helps in navigating around different apps in the device. The user can read emails, change the clock dials(over a million available!), track workouts, monitor health, book an uber or find a restaurant, make calls and many more.
It is versatile and dynamic because it caters to different kind of users with similar needs.
From a design point of view, it is one of the best examples where product design and interaction design fuse in well. This watch was well put together by Frog Design and like always , their methodology of research and critical understanding towards users and their behaviour has paid of well – making it one of the most liked watch in China.
Ticwatch 2 alike a watch has a 1.4-inch OLED display panel with 400×400 pixels resolution. It features a 1.2GHz dual-core MT 2601 processor along with 512MB RAM & 4GB storage, 300mAh battery, wireless charging and built-in sensors. It pairs with your smartphone using Bluetooth V4.1 and also supports WiFi 802.11 b/g/n protocols. Supporting both Android and iOS devices it should target a majority of consumers worldwide. It has a speaker and a microphone which allows you to take calls I guess for the first time in a smartphone in this price segment.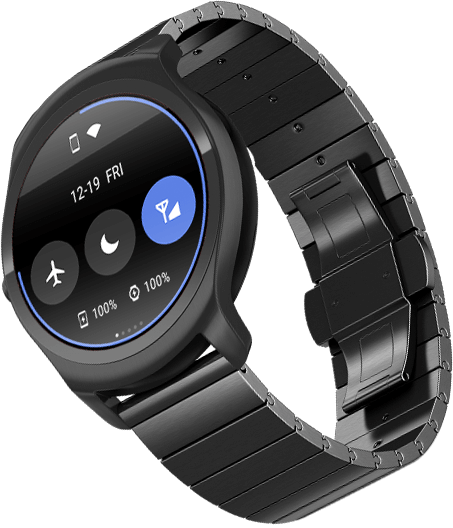 The Ticwatch 2 runs on a fork of Android Wear thereby supporting all the apps available in the marketplace. Though getting Android Wear marketplace on this watch might be a little bit of a struggle since it comes with its own store. It's available in China, parts of Europe, US and Australia.
Similar to China, India too has a capability of adapting this watch. But, sadly apple has become a style and a status symbol among Indians, and evidently, it is quite common to see the user complain about its high price, poor battery life and low shelf life.
The Ticwatch has done enough justice by providing the most necessary features, decent price tag, Quality materials used for sturdy structure and premium feel, also available in different variants.
Ticwatch 2 in a nutshell
This watch questions the status quo and packs it self with the best-est feature for being the perfect companion on a day to day basis.
We actually feel smartwatch scenario didn't rise up to what it was expected. It is much more like the tablet market, which heated up in the beginning but it's adoption is in a low-flow right now. Especially after the acquisition of Pebble by FitBit which couldn't think of where to go next, their decision looks right. Going forward, we believe smartwatches could do more and that's when the market will once again bloom. Let's see what the future holds for us.