We all tend to forget things, right? And what we do to avoid the possible outcomes, we add reminders. With the evolution of smartphones, the pen and paper had changed to reminder alarms on feature phones and now we have task management apps on smartphones. Android giving out this opportunity to bring out more than just to-do lists has been well exploited by developers which led to some of the beautiful creations like the Wunderlist, Any.DO etc.
For the past two weeks we have been regularly using this intelligent to-do and task management app on Android, which is why we couldn't publish 'Install or Not' column last week on our blog. Shifu developed by The Signals might be heard a couple of times in the Android app space. It has been acknowledged as one of best To-Do Apps on Android and also has been featured by the Google Play Store. We too had tried this once when it was in beta and after hearing more about the app from the developers themselves, we planned to give it another shot.
As the Google Play description says, "Shifu is a smart TODO & TASK MANAGEMENT application that learns from your Phone's usage pattern, identify what needs your attention and shows them to you at the right time. Shifu tracks your context; it estimates your free time and suggests a relevant task." Well that pretty much says it all, but we shall understand it better with more details below.
Features
The smartness which you might be hearing a lot from us, is what makes Shifu different. Apart from the usual Calendar based reminders and Shifu has five other features which we can say are its USP.
Starting with the basic Calendar based reminders, which allows you to add date and time of the event which Shifu has to remember when it has to shoot an alert.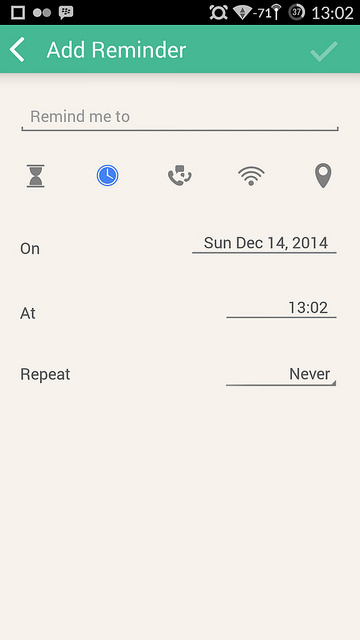 Next, we have the WiFi-based reminders which I frequently use as I am switching WiFi networks between home and office. You can set up tasks when linked to a specific WiFi network. If you want to be reminded of let say updating apps when on a specific Wi-Fi network, Shifu is what you should be looking for.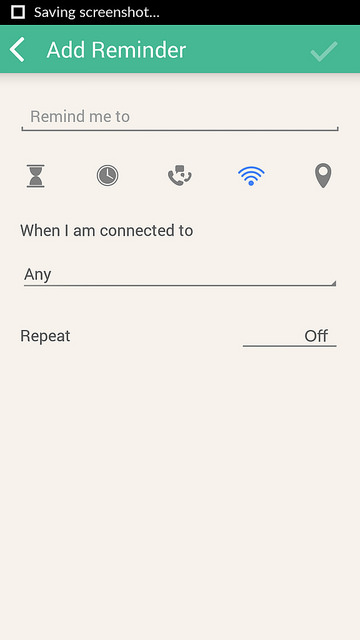 You can also add Call-based alerts, which show up when you are on a call with someone you asked Shifu to remember. These alerts show up on the first instance of the call screen whether its invoked by you or the other person you asked Shifu to keep in the list.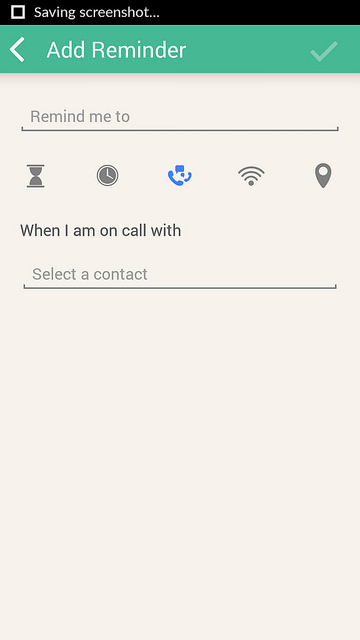 Location-based alerts has one of the intelligent implementations keeping a less impact on resource utilization. We would assume this to require using GPS services on our Android smartphones which is expected to take more battery but actually it is not the case how Shifu works. This was explained to us by the co-founder in our interaction about Shifu works. Instead of the GPS, the app uses Cell Tower IDs to create a Geo-fence which though does not give accurate results but it is exactly what Shifu needs. For example, if you have added a reminder to have a Latte whenever you are near a specific Starbucks outlet, then you don't need the exact coordinates of the outlet instead the Geo-fence will do a better job here. The reason being, you may or may not be crossing the coordinates but if you are inside the Geo-fence mapped by Shifu then you will be reminded of what you asked for.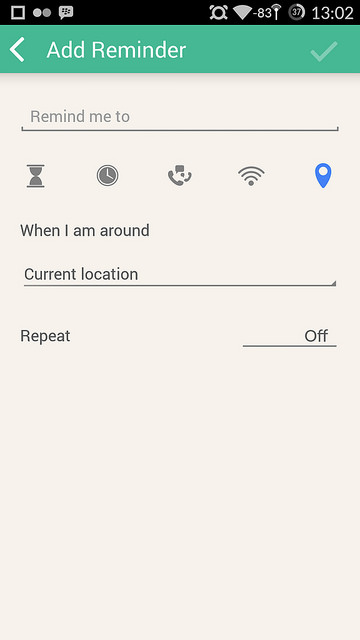 Lastly, there is Free Time based alerts which is an outcome of excellent thought process by the developers. This feature snatches your appreciation when you learn how the developers implemented this. The first thing which came to our mind was how is it calculating this estimated free time? The answer lies within another question which is "When you do use your smartphone?" This actually made sense because the answer is we use our smartphones when we are free. Though it doesn't apply to all of us (including me) but it does to most of us. Depending upon how much time is your smartphone being used, Shifu calculates the free time and gives another prospect to add a reminder.
Apart from this, there is a Call Forecast feature which predicts whom you might want to call or whom you should call based on your usage pattern. There is also a Smart Battery alert which after learning a while informs you to charge your smartphone and how much time will it be able to stay online.
Integrating your social accounts, which include Facebook and Google+ Shifu can get access more of your personal data which acting as an add-on give Birthday reminders without you explicitly adding it in the task-list.
Another nifty feature of Shifu being, the cloud sync which along with keeping the reminders in sync with every device you install Shifu on also keeps the apps in sync as well. This means it will automatically install the new apps if it finds a difference in the apps currently installed on the devices in sync.
All of this is possible only on Android and its extensive API to access almost every aspect of the operating system. The same however, isn't possible on any other mobile platform due to privacy concerns according to them.
Conclusion
Before suggesting this app for your Android device, we would make you aware of what this app requires in the back end. Shifu requires access to all your personal data and most of your smartphone in order to deliver personal results. The algorithms running in backend learns the way you use your smartphone and suggest results based on that. Talking on it's defense, they inform about all this when installing the app and you yourself give app the permission to use it. The same has also been listed on 'Terms of Service' within the app itself. The point being clear that there is nothing hideous happening in the background and you being the approver should know about what you give and take.
According to our usage pattern, Shifu has been able to live up to the expectations unlike others which are a hit or a miss. During our testing period, it worked flawlessly. The features talked about the application above were adapted well by me (personally talking) though I have some feedback which probably could be looked upon by the developers for their future updates. When using the WiFi based reminders, it would be great to have more options for recurring event along with the repeat when connected again. For example, when connected to a specific WiFi I would like an alert once in a day no matter how many times I am connected to the same network. The same could be applied for Location-based reminders.
Apart from this, we have been pretty much satisfied with the results. The app is well designed and the user experience has not been compromised anywhere. The notifications use Google Cloud Messaging (GCM) service for push alerts and the Widget shows welcome screen condensed in 4×2 layout. Adding alerts from the notification drawer is also possible with the status bar strip enabled though all of this can be personalized at per user's convenience.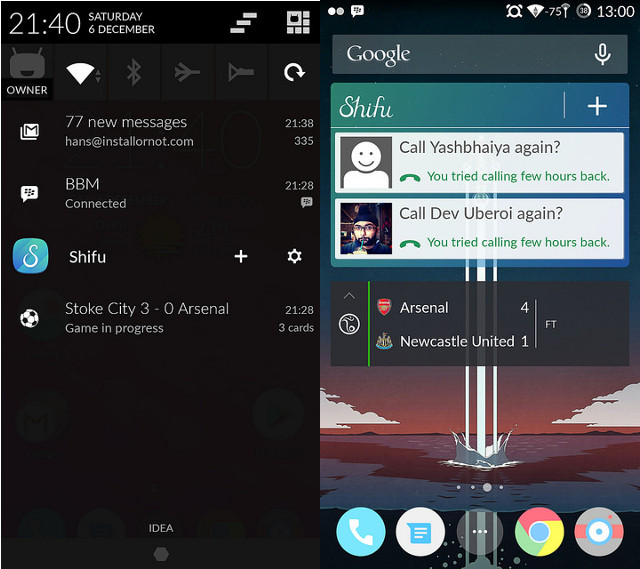 We shall be rating this app 4.5/5 keeping 0.5 for some minimal additions as discussed above. Though this app is meant to stay on a smartphone but it would be great to have a desktop overview, maybe a simple web client just mirroring our task list.
The app is available as a free download from the Google Play Store. Do let us know how you like the app and in case if you have any queries or feedback about the app mention it in the comments section below. We will be happy to carry it forward to the developers.
[easyreview title="Install or Not Scorecard" cat1title="User friendly" cat1detail="" cat1rating="4.0″ cat2title="Performance" cat2detail="" cat2rating="4.5″ cat3title="Appearance" cat3detail="" cat3rating="5.0″]