In a world where a computing device is a must-have for working from home or attending online classes. In the world of laptops that run on Windows OS or MacOS, it's really hard to find a device that offers decent performance at under Rs. 20,000. This is where Chromebooks come into the picture that offers decent performance and is priced fairly well.
The Asus Chromebook C223 is a Chromebook offering from Asus which is running on Google's ChromOS and this is a decent offering from the brand that offers sturdy build quality and decent performance. I have been using the Asus Chromebook C223 for about a month now and here is my comprehensive review.
Design and Build Quality
If we talk about the design of the Chromebook C223, the laptop is lightweight, sturdy, and built decently. It weighs approximately 1kg which is lighter than many Chromebooks available in the market. It is highly portable, and you can use it anywhere you want. Because of its smaller form factor, it also gives an impression of a notebook. It scales to 28.60 x 19.90 cm, and the display is about 11.6-inch in size, which makes it a great proposition for students and the elderly looking for a compact and easy-to-carry laptop. 
The build quality of Chromebook C223 has a complete plastic body, but despite that, it provides a premium feel. The Chromebook feels study to use, and all the ports are laid out properly. For the price tag of Rs 17,999, you can't expect premium materials and top-notch build quality, but Asus Chromebook C223 does not disappoint with its plastic body design. I will admit that the bezels around the screen are simply massive for a 2021 laptop, and the screen-to-body ratio is only 74%. But due to its build quality only you can buy this laptop.
Remember that the laptop is an entry-level Chromebook, so it does not have a convertible body and takes a non-touchscreen display. You can't use this Chromebook in tablet mode and the keyboard does not fold 180 degrees. But overall the build quality is fairly good and it is a good device for the price it comes at.
Display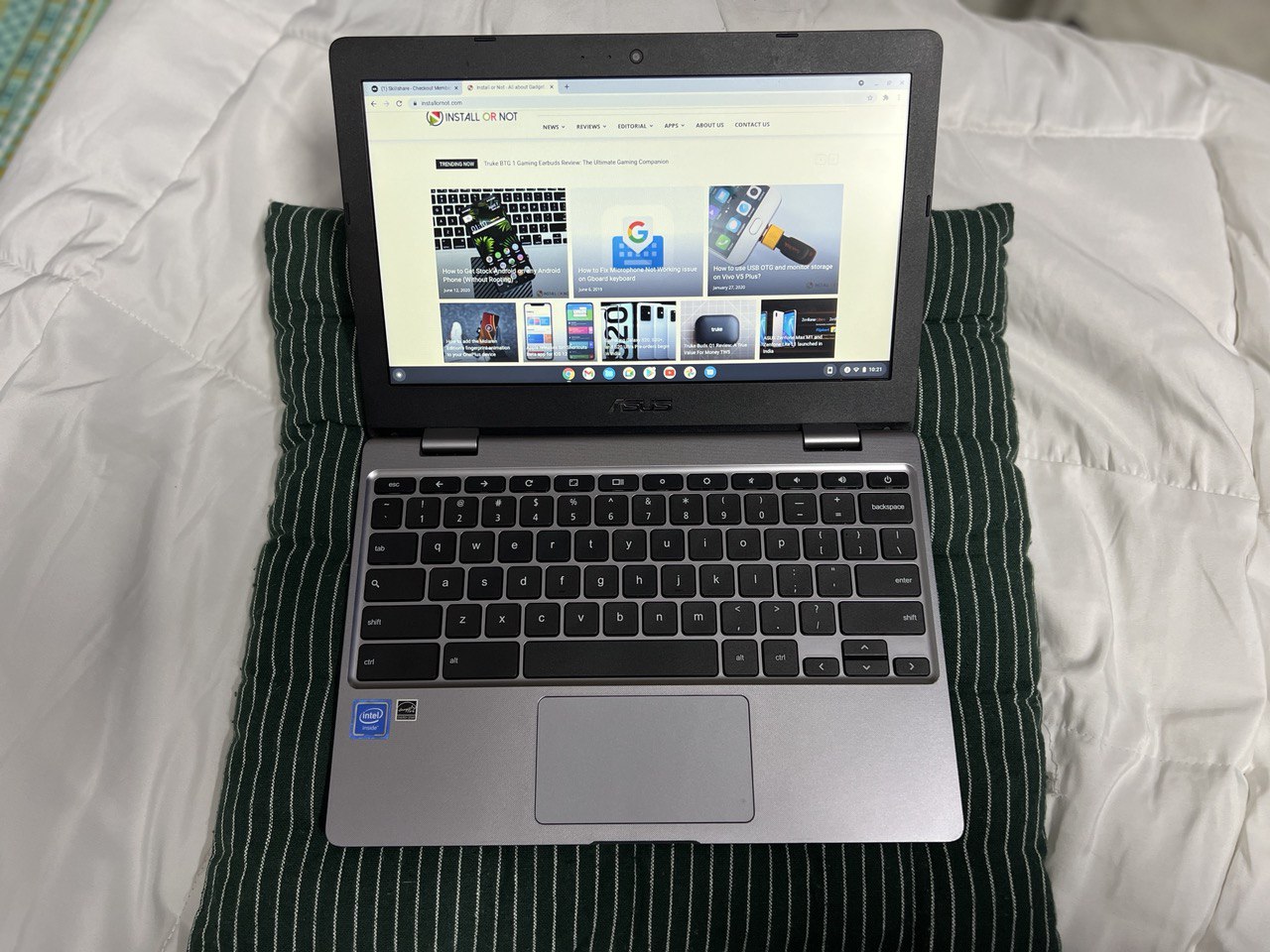 The Chromebook C223 comes with an 11.6 inch anti-glare backlit LED panel with a resolution of 1366 x 768. It comes with an aspect ratio of 16:9, which is in line with the traditional laptop form factor. The display quality is decent at best, with a slightly bluish tint that makes all the content on the screen look cooler all the time. I turned on the Night Light to change the colour tone, and it certainly made the screen warmer. So I do not suggest that you do any colour-sensitive work on this display. 
Also, the viewing angles are not so good that you won't see anything playing on the screen at an angle. This certainly puts a hamper on watching your favourite Netflix movies and TV shows on Chromebook C223 less enjoyable.
Having said that, provided the price point, I don't think I can complain too much about the quality of the panel. One thing that I particularly liked about the display was its higher level of brightness. Asus claims that the panel can go up to as high as 200 nits of brightness. In my use, I found this to be true the display is super bright, and you can comfortably use it even in bright sunlight during the day. Apart from that, the display quality is not super sharp, and if you pay attention to the screen, you can see the pixels here.
Performance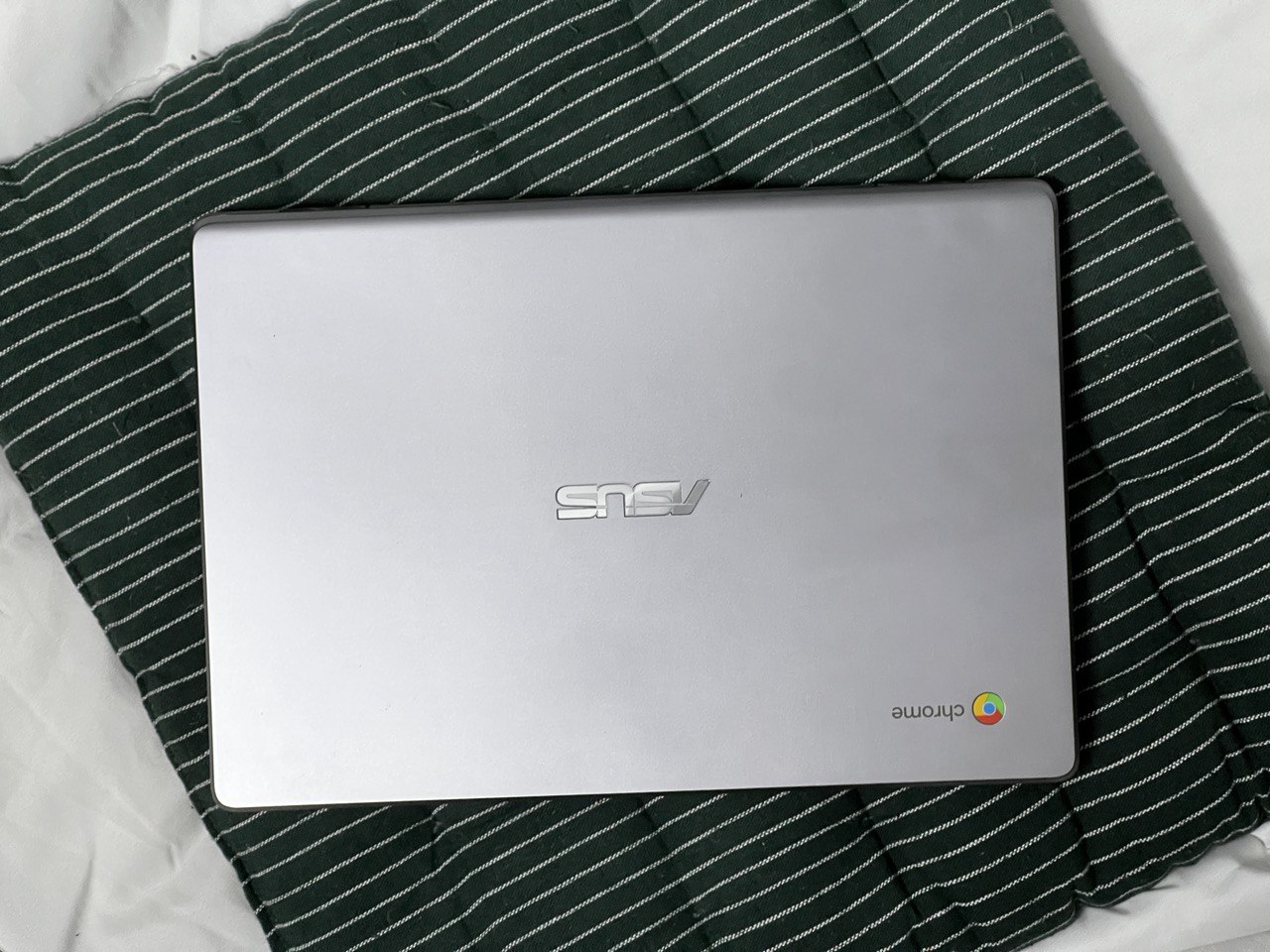 The most important part of that is how well the Asus Chromebook C223 compares in performance? Well, this is a Chromebook that packs a dual-core Intel Celeron N3350 processor clocked at 1.1GHz and with a turbo boost up 2 2.4 GHz. It comes coupled with 4GB of RAM and 32GB of inbuilt storage. 
In my usage, the Asus Chromebook C223 performed better than my initial expectations with the device. I played some YouTube videos at 1080p along with Facebook, Play Store, and Telegram, all active simultaneously. I had 4-5 other tabs open in Chrome in the background, and the device did not stutter or slow down. I tried out Chrome OS gestures to switch between applications and tabs in the laptop to smoothly handle all my actions for the first time.
I also tried loading a couple of heavy web pages and tried using Android apps simultaneously; even with that, the Chromebook kept everything in memory, which is pretty impressive provided it has only 4GB of RAM. At times, the Chromebook did lag while using the Telegram Android app and while using a couple of Chrome tabs open in the background simultaneously.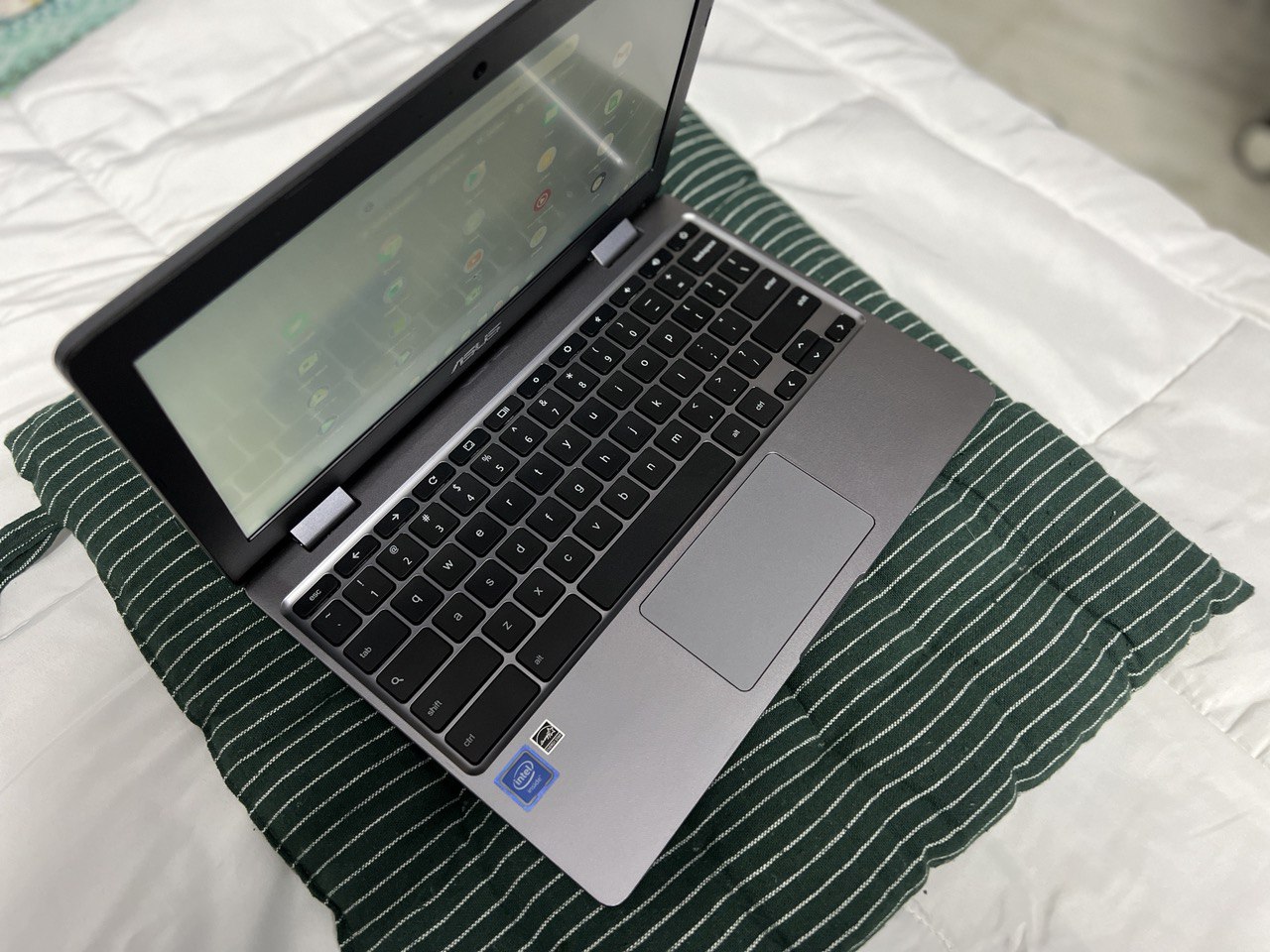 When I was running benchmarks, an interesting result came up when I compared the N3350 power Chromebook against my Core i5 Windows laptop in the browser benchmark test. I used the Speedometer 2.0 test on the Asus Chromebook C223, and it scored 24.1 points compared to my Windows laptops scored 31.3. This shows that the Windows laptop is slightly better, but even with an ageing Celeron CPU under the hood, Chrome OS works very well, similar to the i5 Windows laptop. 
If we talk about gaming, the Asus Chromebook is certainly not made for it. I tried installing a couple of intensive Android games, such as Asphalt 9 and BGMI. But they were lagging a lot and took endless time to even load the game. Gaming might not be possible on the Chromebook lineup, at least not until the arrival of Google Stadia, Nvidia GeForce Now, or Xbox cloud gaming. 
While the performance is great, I still think Asus could have chosen a Celeron N4000 processor instead of the outdated N3350. Asus has been using the same chipset on many of its entry-level Chromebooks since 2018, while competitors like Acer and HP have already moved to a newer and faster processor. For Asus, it's time to up its game if it wants to remain a dominant player in the Indian Chromebook market.
App Availability
I know that many of the users will be buying a Chromebook in India for the first time, so you should know what kind of apps you can run on your laptop. It is possible to run web and Android apps on the Asus Chromebook C223. You can install a PWA version of the website and use it as an app with offline support. You can also use Microsoft Office as a web version on your Chromebook for free, and it works well. There are a lot of well-optimized Android apps that you can use on your Chromebook, and they will run flawlessly with the mouse and keyboard support. Overall my suggestion is if your work revolves around a web browser, then the Asus Chromebook C223 can be a great pick at a very affordable price. 
Ports and connectivity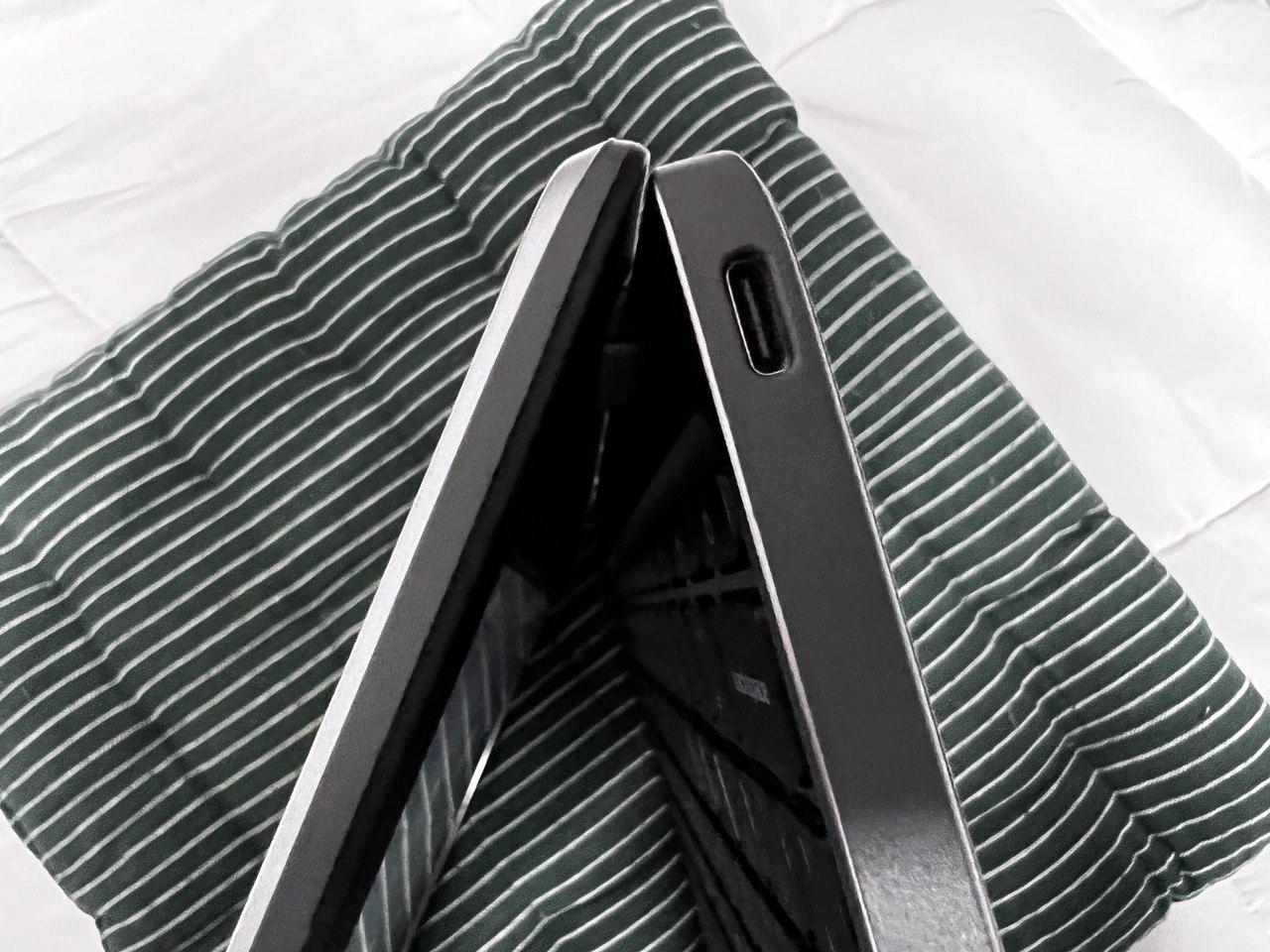 You get a USB Type-A port and two USB Type-C ports on the laptop in terms of ports. It is important to note that all the USB ports are USB 3.2 Gen 1 type, which means they can offer data transfer speeds and other I/O improvements. Particularly both the display Type-C ports support display out, power delivery, and data transfer.
Apart from that, you also have an audio jack and micro SD card slot that lets you expand the storage by up to 2TB on the left side. Do keep in mind, though, that you won't find an Ethernet port on the Chromebook C223 or any of the Chromebooks for that matter. 
Battery
One of the advantages of Chromebooks over Windows laptops is their battery life. I found the laptop to offer approximately 8 hours of battery life. That means if you decide to take your laptop to work without the charger, you don't have to worry about the battery running out. 
Conclusion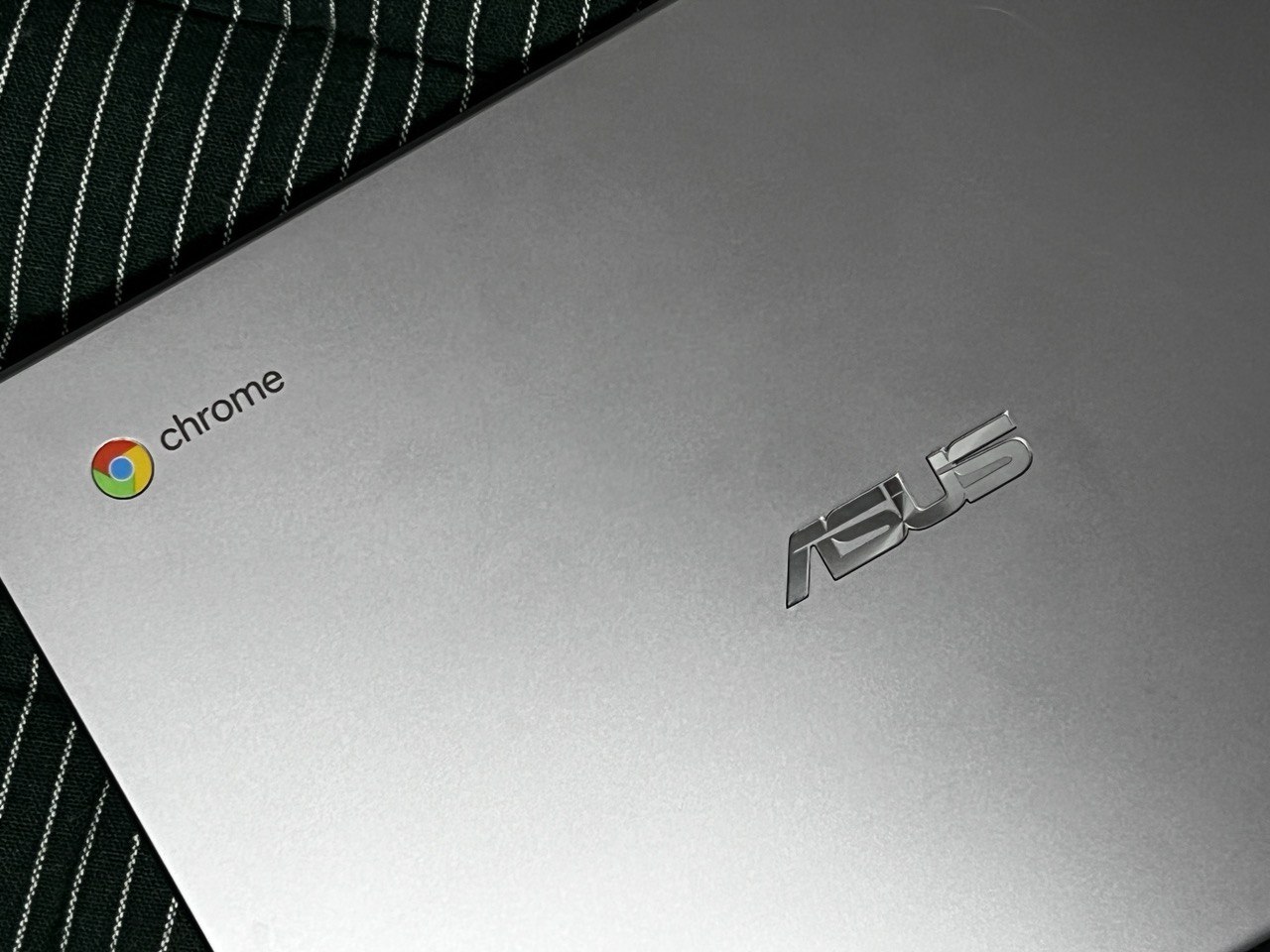 The Chromebook C223 is a reliable budget notebook that you can purchase for its long battery life and compact form factor. But Asus has made a lot of compromises in terms of performance to keep the price down of this Chromebook. But strictly based on its pricing, the Chromebook C223 is still a better option to buy.
Pros
Sturdy build quality
Portable and lightweight design
Decent performance
Great battery life
Value for money device
Cons
Average display, bad viewing angles
The processor is quite old
Keyboard is a bit mushy