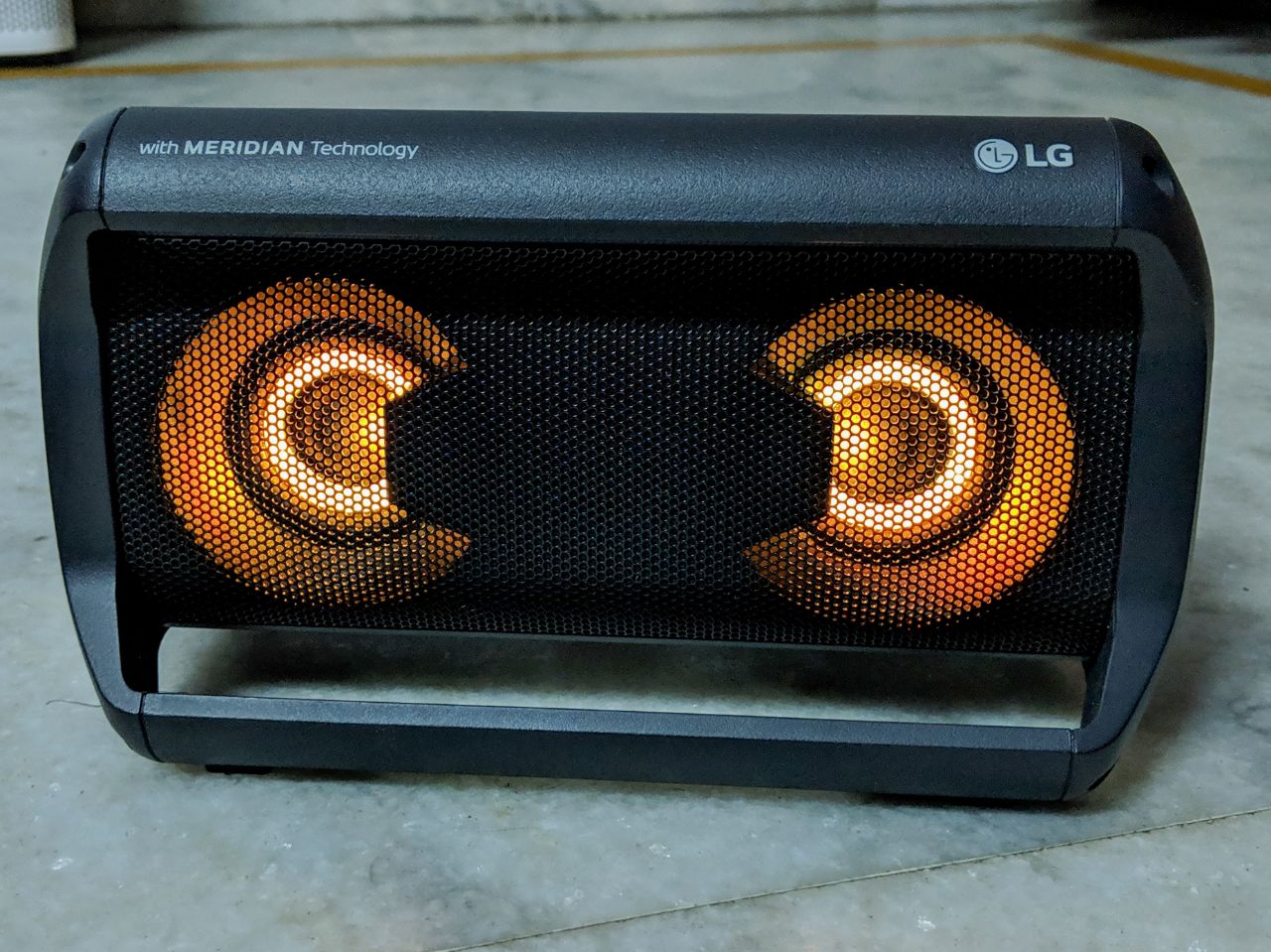 When it comes to portable Bluetooth speakers the market is flooded with a lot of options. There have been the budget ones from Boat, some mid-ranged from JBL and the high-end premium ones from Bose and Marshall. Adding to the pile of products, LG recently announced its XBoom Go PK5 Bluetooth speaker in India which boasts impressive acoustics and a sturdy rugged design. But mind you, the LG XBoom Go PK5 is a somewhat heft speaker weighing around 1200 grams. But is this heft worth it? And is the light show just a fad or does it add value? Let's find out in our review, shall we?
Design
The LG XBoom Go PK5 is a sturdy speaker weighing around 1200 grams and is definitely built like a tank with IPX5 splash-proof certification. However, I am personally not a fan of this design and it doesn't feel modern, although from the aesthetics point of view the design is acceptable. But, when it comes to portability, the Xboom Go PK5 is a nogo and is a pain to fit this speaker in my backpack. LG markets the XBoom Go PK5 as a speaker you could carry it anywhere and listen to music at any time. But, the PK5 has a cuboidal shape, coupled with LG's X-grip handle that makes it difficult to fit in a bag. But keeping the portability issues aside, the Xboom Go Pk5 is has a great industrial design, and you'll be able to feast your eyes to a set of LEDs which circle the speaker's drivers.
The LED lighting pulses with the beats of your favorite songs and it looks great in a dimly lit room. LG even lets you control the color and tweak the pulsating speed of the lights from a dedicated button on the speaker and also from within the speaker's companion app. The dedicated LED function button at the top lets you play with the LED lights and enable the 'Beat Lighting' feature and you can choose between 'Water' (blues), 'Forest' (yellows) and 'Party' (rainbow colors). Or, of course, there's "Off".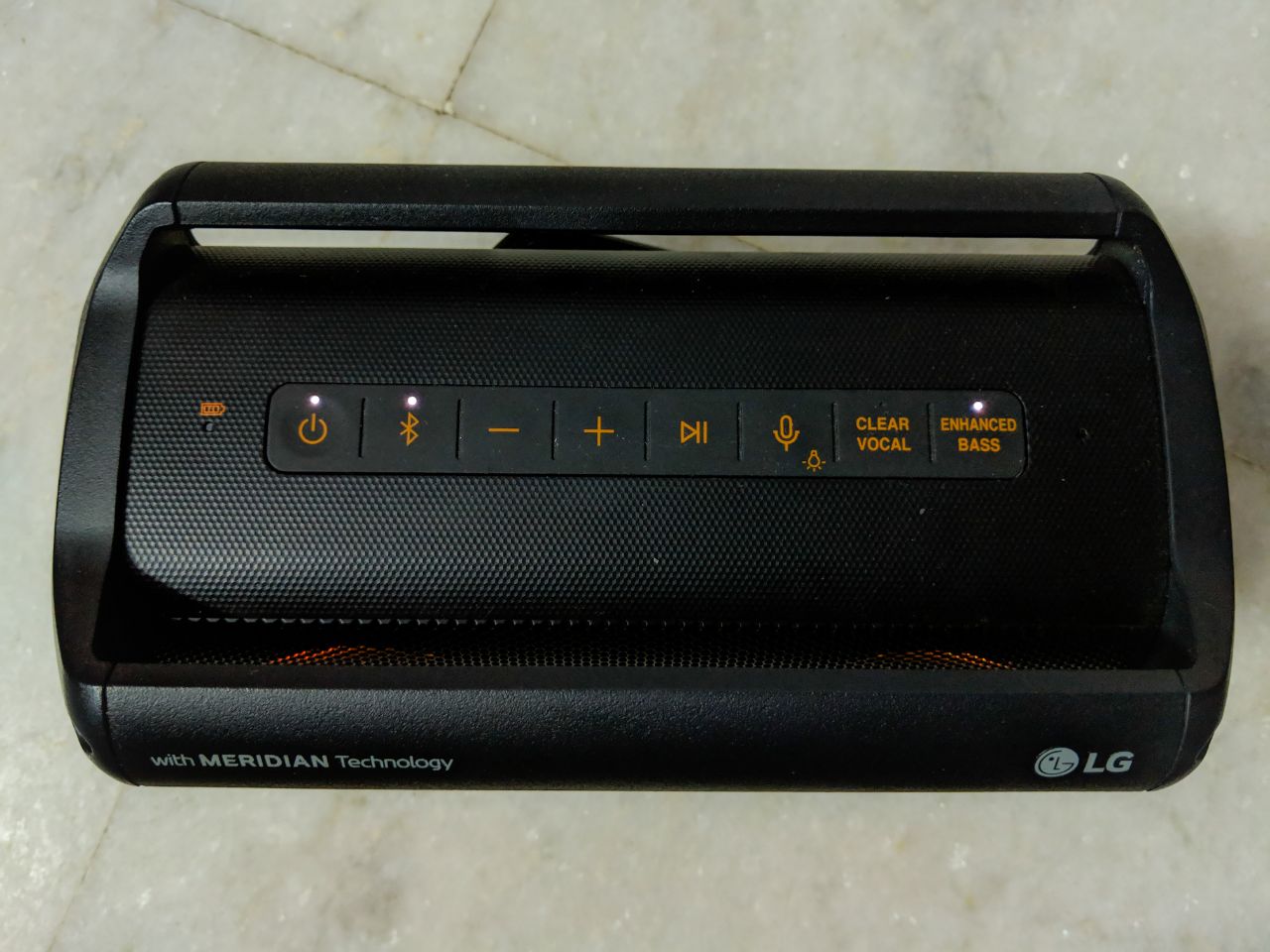 As far as the speaker controls are concerned, you'll find a total of eight buttons towards the top of the speaker which include controls for music playback, Bluetooth pairing as well as buttons to change the EQ of the speaker. There's a dedicated button to invoke Google Assistant or Siri on your smartphone too, but I didn't find it useful enough and I ended up not bothering about it much as its much easier to Squeeze my Google Pixel 2 XL to trigger Google Assistant.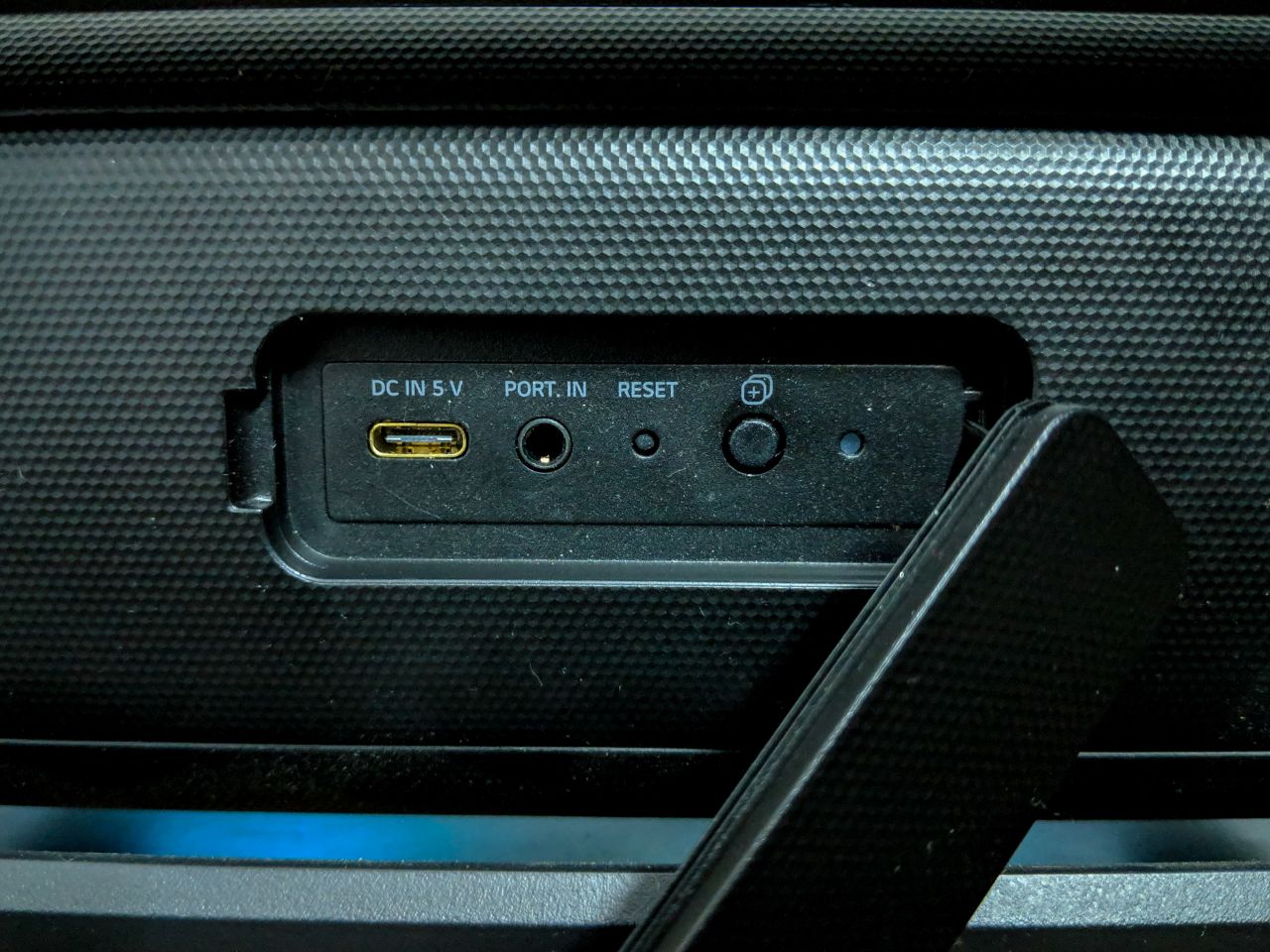 At the back of the speaker, you'll find all the I/O ports which are well protected with a flap, opening which you'll find a USB Type-C port for charging, an AUX-in port, a button to reset the speaker to its default settings and another one to daisy-chain the XBoom Go to another unit.
Sound Quality
The LG Xboom GO PK5 is undoubtedly a great sounding speaker which is proudly enabled in partnership with Meridian Audio which announced proudly on the heavy duty plastic grab handle. So, to go along with the 'standard' sound of the PK5, you can choose to employ one or both of Meridian's tuning options: 'Clear vocal' or 'Enhanced bass'. These are important enough in LG's eyes to merit a button apiece in the row of eight push-pads along the top of the PK5.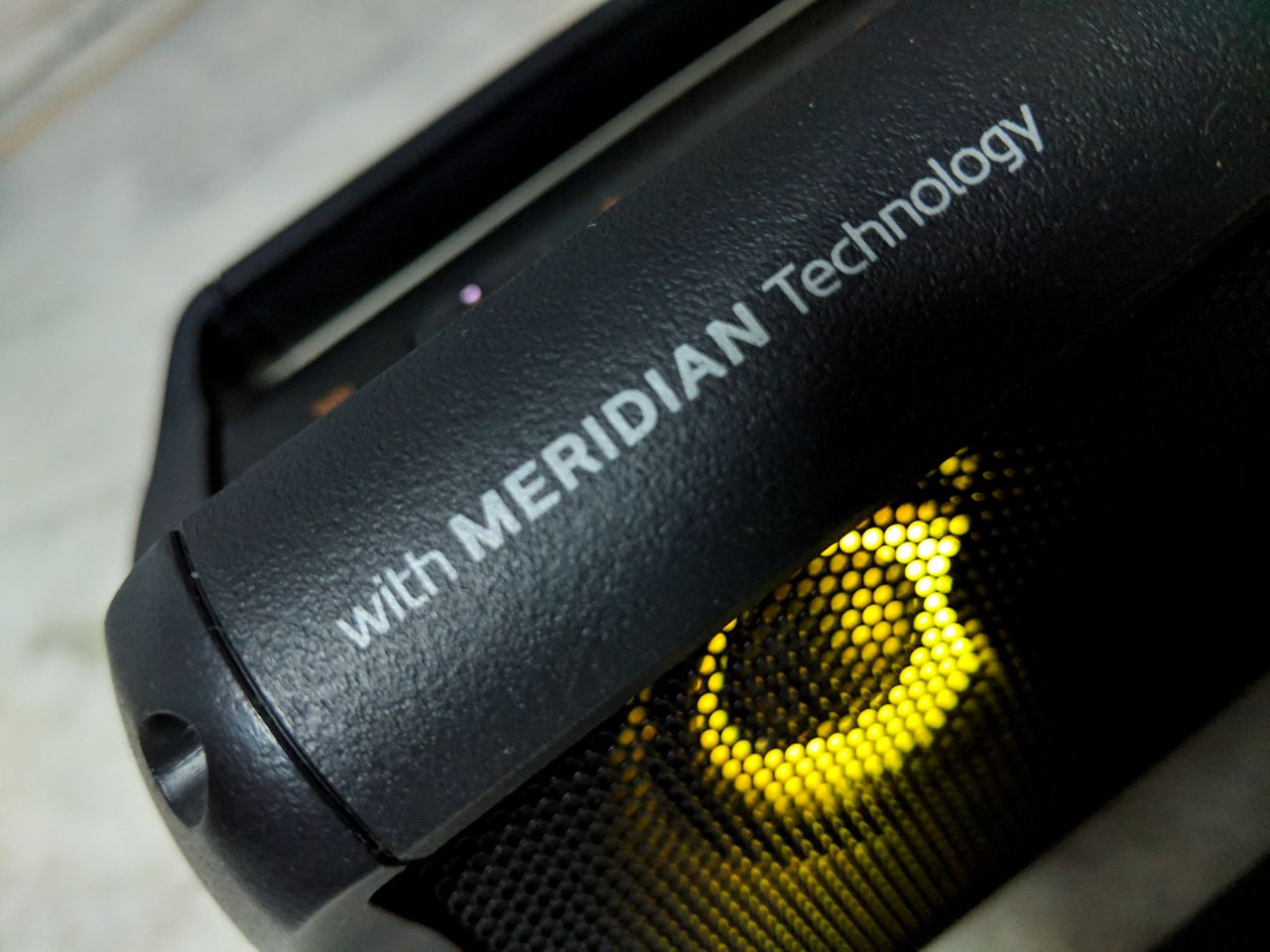 The Xboom PK5 delivers an impressive Bass centric audio but considering the big size, it's not as loud as it seems it should be with that bulky build. But that's definitely not a deal breaker, it might not be as loud as it should be, but the Bass it delivers is remarkable and is definitely capable of being able to flood my medium-sized listening room with music. It's a nice easy listen, with those passive radiators able to promote some decent bass reproduction and a fairly wide spread of sound.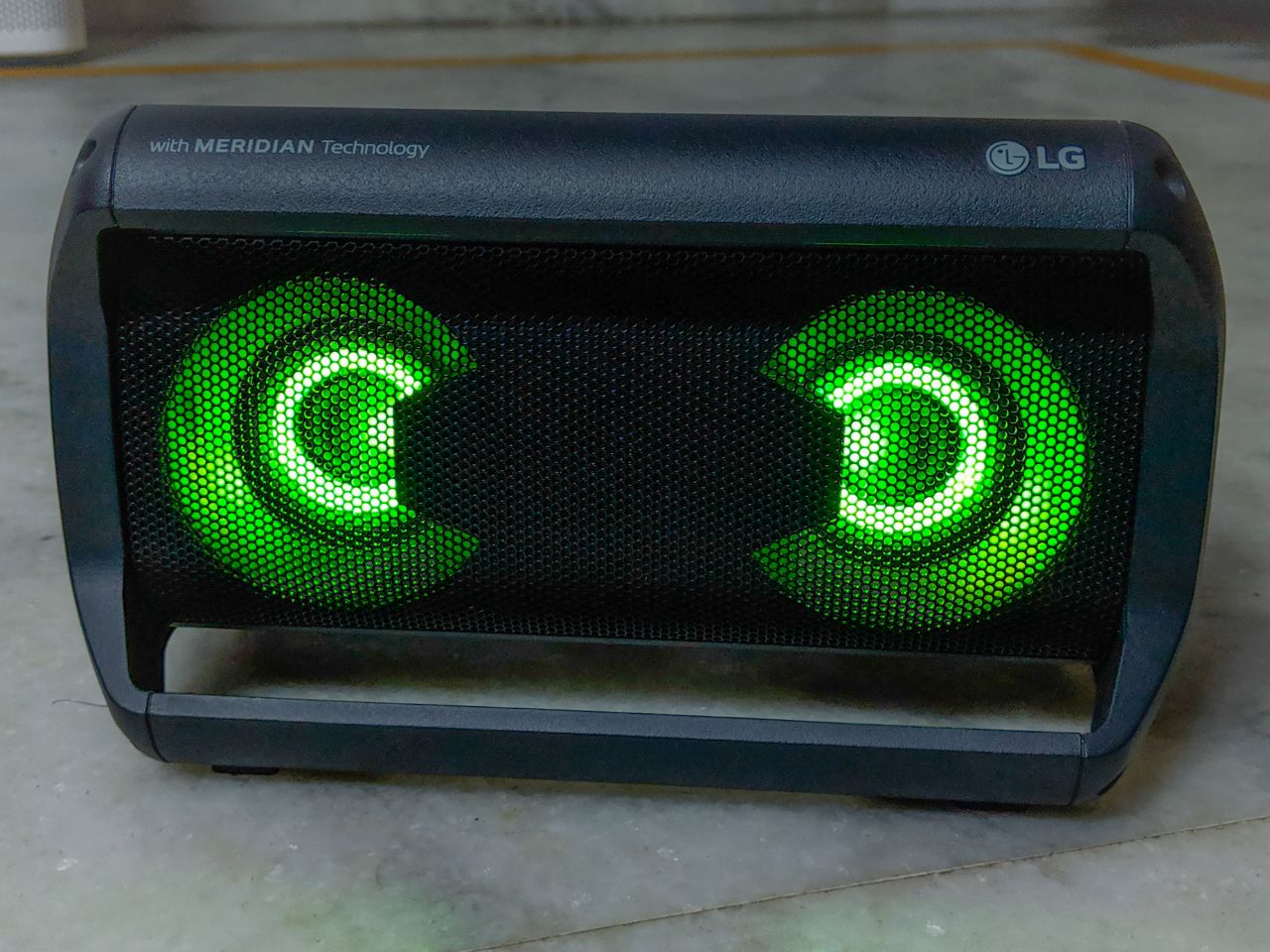 Talking about the battery, The LG XBoom Go PK5 lasts very, very long. The company claims that the speaker can play music for 17 hours off a single charge, which is phenomenal. While I didn't have the opportunity to play music for that long in one go, but the speaker breezed through the ten-hour mark with plenty of juice still in the tank. Suffice it to say, you won't have to worry about the speaker running on fumes a few hours into a party.
The Final Verdict
The LG XBoom is a very well built speaker that just sounds great and has a great practical design. The box price of Xboom PK5 is INR 14,999 but we can find it floating at a price slightly under INR 10,000 at many e-commerce websites. In our honest opinion, the Xboom Go PK5 is not at all bad and is definitely a great buy, but the strong competition string at similar price bracket of 15k, we have the UE Boom 3 and the Sony SRS-XB41, which makes it hard to recommend this speaker. But, if you find this speaker floating at a price under 10k you can grab one without thinking twice.
Buy Now: Amazon