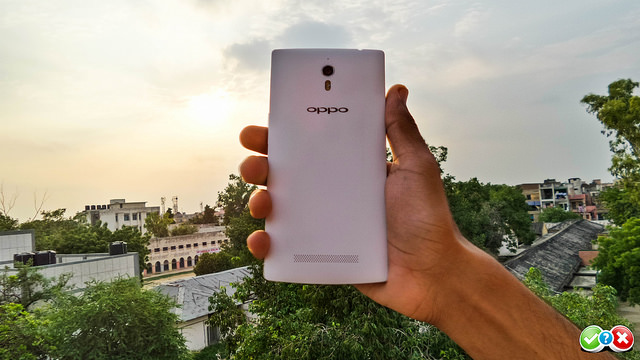 Oppo the high profile Chinese smartphone brand launched its flagship smartphone of the year 2014 months ago which is also the an iteration in the Find series of smartphones that got popular with Find 5. Find 5 never came to India but what they have announced this year is their best smartphone till date (obviously it has to be, duh). Oppo Find 7 the big screen flagship that is also the first smartphone to feature a Quad HD screen, yes even before the LG G3. They had also launched the toned down variant with 1080p display and a generation older processor but still a secondary flagship which they call Find 7a. The difference between the two variants is about 6,000 bucks on the official price tag but may vary depending on where you purchase.
We played with the higher variant the Oppo Find 7 which has the rapid charge technology which turned out to be a boon for people like me who forget to charge their smartphones often. Priced at Rs. 37,990 in India is Oppo Find 7 worth your money? Well let's find out the details below.
Design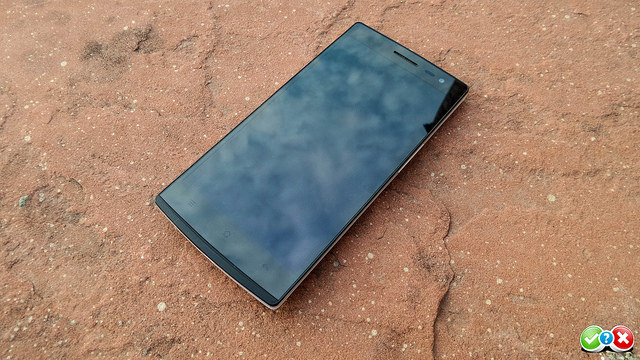 Oppo Find 7 is actually one of the best looking smartphone which has the back panel removable. We actually did not realized that the back panel is removable and instead I was finding SIM card slots on the sides. The build is quite sturdy and looks simplistic yet elegant. It comes in two color variants, Black and White. Black One rather has a carbon fiber finish on the back while the White one is actually plain with a little mesh texture.
It has one of those rectangular slab design with chrome accents along the edges and the camera ring which does not makes it look boring. Find 7 weighs about 171 grams and measures 152.6 x 75 x 9.2mm which is not known to be comfortable with an average human hand. It has a 5.5-inch dislay which along with the front bezels is the tallest amongst this year's flagship.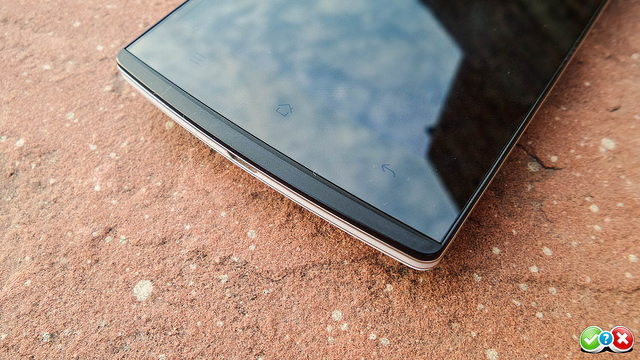 Below the screen, there are three capacitive navigation keys and a majestic curved LED notification light. On the left side, you'll see a power/standby button, while on the right there's the volume rocker key. On the top there is a 3.5mm audio jack and the bottom houses the microUSB charging port.
On the back, you'll find the 13MP rear camera shooter with the dual LED flash alongside. There is a OPPO branding logo in the middle and a large speaker grill at the bottom.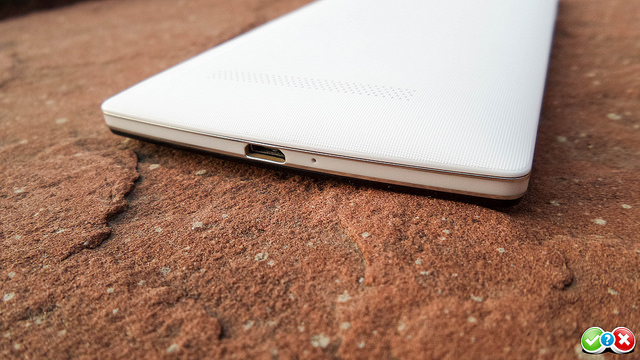 Hardware
The Oppo Find 7 comes with a 5.5-inch Quad HD IPS display with a resolution of 2560×1440 pixels. It has an insane 536ppi density which gives a crisp viewing experience. The color reproduction is okay-ish but we have observe blue hues when there is too much white color on the screen. Due to the reflective panel, the display is not much readable outdoors.
Powered by a quad-core 2.5Ghz MSM8974ACSnapdeagon 801 processor and 3GB of RAM you will never face any glitches in performance. Fortunately, with 32GB on-board storage and external microSD card slot there is plenty of storage option to make this your only multimedia device for whatever purpose you want. Adding to that there are the usual GPS, WiFi, Bluetooth as connectivity options and accelerometer, gyro-meter and proximity sensor for the purpose. The Wifi supports 802.11 ac protocol and there is no infrared on this smartphone which was quite popular in 2013 as a replacement for remote control. There is 4G LTE and 42 Mbps HSPA+ mobile connectivity as well which ensures high speed data connectivity from the smartphone.
Software
The smartphone runs on Android 4.3 based Oppo's proprietary Color OS ROM. We have always liked this ROM as a good option, keeping things simple yet adding to the functionality. One of the USP of this ROM is its gesture controls that can be customized according to your needs. There are two adjusted by default 'V' for Flashlight and 'O' for camera. We can add custom gestures as well like 'M' for messaging or maybe calling someone.
There are other add-ons like double tap to wake, themes, Wallpapers, lockscreens which keeps the operating system lively.
The basic applications like Calendar, Calculator, Gallery, Dailer, Contacts etc. have been redesigned to make them look attractive. Some of the apps have been given more functionality like the default Gallery app has built-in editor which can edit the photos within the app itself up to some extent.
There are other apps included as well, like the Permission manager, O-cloud, App Encryption, Data Saving etc. which so have their use-case whether or not utilized by the user.
The multimedia apps like the Music player and the Videos have been designed to make stand out from others. We have witnessed people talking about the Music player on this smartphone and how intuitive the music listening experience is on the device. These small things brings great value and distinguish them from others.
Camera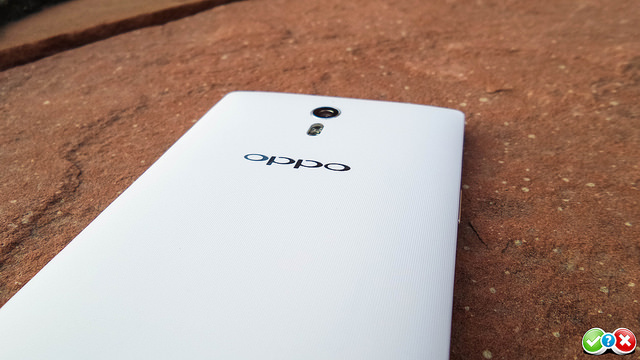 The smartphone features a 5MP front-facing camera and a 13MP rear shooter. What we had heard about the 13MP shooter is that it can record videos up to 4K and can shoot ultra HD pictures of 50MP. With this hype, the first thing we tested was the camera validating the features we heard about.
The rear camera has f/2.0 aperture, and a 1/3.06" 13MP sensor which is Sony's newest IMX214 BSI rather than Sony's IMX155 which is a bit of a step down being used on other mid-range smartphones. There is RAW mode which produces a .DNG file format that is easier for image processing for external tools. And then there is a Ultra HD shooting mode which can stitch a 50MP picture all together. The mystery behind how it is done is that the Find 7 takes ten 13-megapixel shots, stitches them all together, interpolating the result to produce that high resolution resulting output. This might not always give a satisfactory shot due to blurry clicks and some errors while stitching the multiple shots together.
Image quality is pretty decent otherwise. The details in the clicked pictures are more or less pleasant. Colors are up to the mark when clicked in proper lighting conditions but sometimes can be over-saturated. Though low light struggles persist but they are kept to minimum noise as and where possible. The front-camera offer decent amount of detail but there's nothing extraordinary.
Performance
Our experience with the Oppo Find 7 have been good for the 1 month tenture for which it became my daily driver. Call quality both ways have been perfectly fine with no issues at all at any end. The best feature which we think for which the Find 7 stands out is its rapid charge technology. Usually smartphones chargers outputs 1A to 2A current which takes them approximately 3 hours for a full charge where as in Oppo Find 7 with VOOC technology the charger and the battery is compatible to adjust to 4.5A current input which allows it to charge very fast. In our experience, Oppo Find 7 shoots up from zero to about 70 percent in like 30 mins and to full in the next 30 mins or maybe less. This is amazing. Unfortunately the consumption ain't any good. The Quad HD as expected can be a battery hogger when used for like 4 hours on-screen time. Overall the smartphone performance is satisfactory and can easily handle any task thrown at it. Multi tasking, gaming or any resource intensive tasks are taken care of very easily. There are customary operator icons and other features in the ROM as discussed which can distinguish it from the others. We also found this smartphone to come with Paranoid ROM and CyanogenMod ROM options on the forums to flash in case you are bored with Color OS.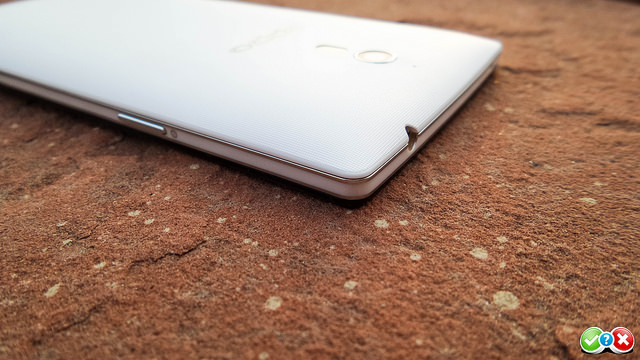 Conclusion
Oppo Find 7 is the cheapest flagship smartphone launched this year which does not compromises on anything. Top notch hardware, great camera, VOOC Rapid charge, everything is up to the mark in competition. The first smartphone with Quad HD display though with some glitches is a fairly good choice for big screen lovers. Other flagships HTC One M8, Samsung Galaxy S5, LG G3 and Sony Xperia Z2 all are expensive with almost same specifications. Not the most handsome amongst all but a fairly option to choose from saving money and not compromising on power. We shall give it an overall rating of 4/5 observing some things that should have been better.
[easyreview title="Install or Not Scorecard" cat1title="Hardware" cat1detail="" cat1rating="4.5″ cat2title="Performance" cat2detail="" cat2rating="4.0″ cat3title="Design" cat3detail="" cat3rating="4.0″ cat4title="Value for Money" cat4detail="" cat4rating="4.0″]