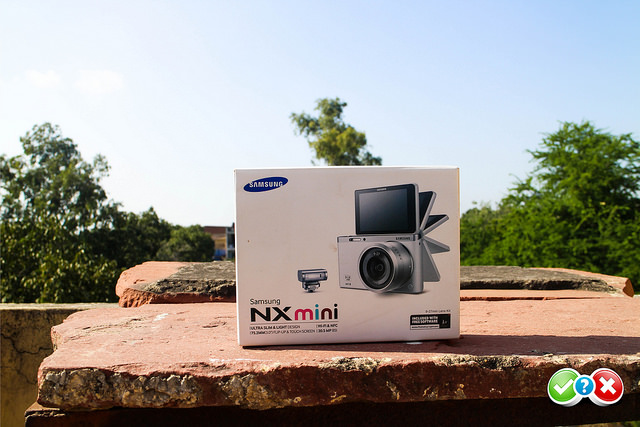 Samsung after much competition has kind of stabilized in the camera segment offering much more options to consumers to choose from. From a professional NX30, to smartphon-ish Galaxy K Zoom, the NX Mini stands somewhere in between. The mirror-less smart camera supported with technologies such as WiFi, and NFC is expected to be priced in the higher and this is where Samsung surprises us. But does it affect the camera performance, to know more read about it in the details below.
Design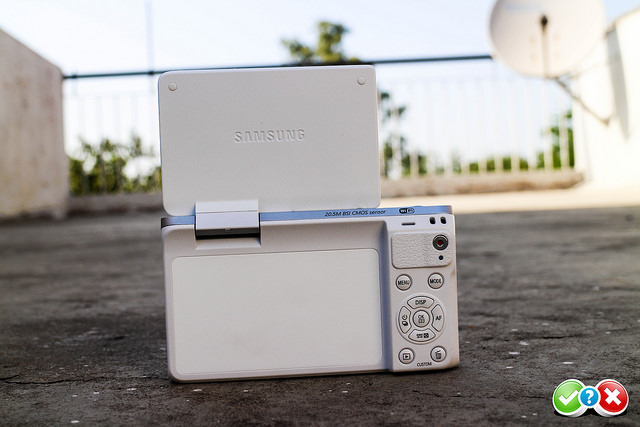 Samsung NX Mini mirror-less smart camera looks like one of those point and shoot in compact form factor. We had the white color variant which looks quite good, but they are also available in a five other color options including Black, Brown, and . There are is 3-inch capacitive touch screen display on the back along with few small buttons on surrounding right and the top. The camera has a textured body which adds more to the look. It is a plain plastic body which also adds on the responsibility to handle it with care, though it never felt cheap.
Hardware
The Samsung NX Mini has a 1-inch BSI CMOS Sensor which has not been made public by whom. In a little chit chat with the executives they didn't make it clear but they said it's their own. It comes with a microSD slot and a microUSB port for storage and charging respectively. This is actually a standard format which all compact camera manufacturers should follow. The box comes with a 16GB Class 10 Samsung microSD card within which makes the camera ready to use. The battery is again smartphone alike Li-Ion battery with 2330 mAh capacity. There is a micro HDMI port as well along with the microUSB and microSD card slot hidden under a flap on the right edge. There are two kit lens available which include 9mm basic an 9-27mm kit lens which is the highest one. The 9mm basic kit lens does not include OIS which is kinda a bummer but 9-27mm does have OIS. We have tested the NX Mini with the 9-27mm kit lens and the OIS worked pretty well. The 480×320 sized touchscreen rotates up to 180 degrees allowing to make this the world's strangest selfie camera or at any angle in case you need to bend the camera for some shots. I may agree that this rotatable screen sometimes do come handy.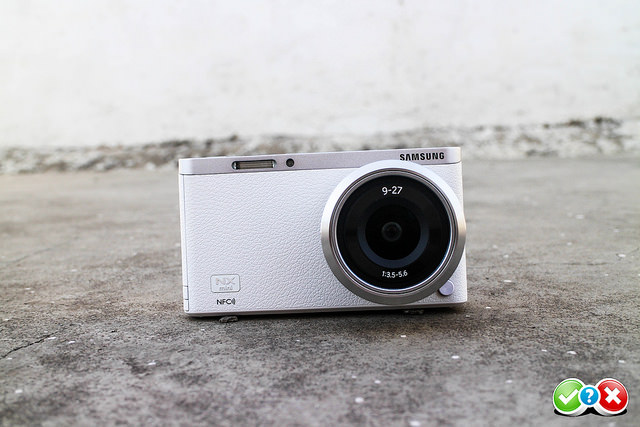 Software
As said, this is a smart camera by Samsung which does not run on Android mobile operating system but there is nothing extra ordinary when it comes to the user interface. You can pretty much control everything from the touchscreen making most of it or can use the tiny buttons wherever possible. The user interface is typical camera user interface with bold text and simple design.
This smart camera comes with WiFi and NFC which makes more sense to be explained in this section. The Mobile Link which can make use of the smartphone or tablet attached to share photos or videos is pretty nifty feature. Additionally, the attached smartphone or tablet can also be used as a Remote viewfinder which can let you access NX Mini's camera along with all shooting modes. There is a Samsung Home Monitor feature which is especially designed to be used with a smartphone connectivity to keep a eye on the activity in the surroundings where the camera is placed on your smartphone connected in the vicinity. You can also back up photos via WiFi, post directly to the web or send pictures in an email, all directly from the camera.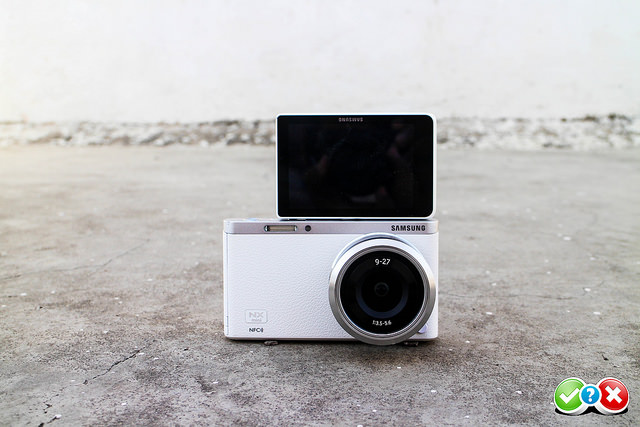 Camera
The whole review is about the camera so this section details about the image quality offered by this smart yet compact mirror-less camera. Testing in different lighting conditions we can say that we thoroughly enjoyed clicking pictures from this tiny yet powerful replacement. The fact that is portable makes it much more useful when on trips. You find something to click and there is your camera ready in your pocket. The fact that it comes with a 1-inch sensor with up to 1/16,000-second maximum shutter speed, the image quality in results leave you surprised.
The camera is fairly quick and takes just 10-15 seconds to boot but there is s bit of focus adjustment which takes time in-spite of the green colored focus assistant light. Low light captures are another thing to criticize but the it clicked fairly well in daylight. The camera could shoot up to 500 shots in a single charge with the 9-27mm lens on unless you don't spend too much time on-screen reviewing pictures. It shoots videos at 1080p, 720p, VGA or 320 x 240, all at 30 frames per second.
This can be a second replacement to the heavy weighted DSLR camera but definitely can't match that quality. Without OIS, the pictures turned out quite blurry unless you can keep the camera at a fixed position which was not possible for me. Ordinary daylight shots just turned out fine, some with even sharp details and not much noise. The case was not the same with low-light imaging. We could see noise and details being lost but could get something which satisfied us after much tries though.
For videos, this might not fit your needs as it does not have a inbuilt OIS. The camera also struggled with focus when moving between subjects. Sharpness and exposure, are fine though. The microphone on the NX Mini did not impress much while recording clear audio.
Conclusion
With Samsung's history of not so successful with camera, we were skeptical about the unit at first especially after learning that not many of them have failed in building something like this in a compact package. After using it for a month, we can easily say that it replaced our to go camera. We have been taking this along with our DSLR and have found to be using more just because it is always ready to shoot. This does not mean that we have stopped using our DSLR and completely switched to this but the fact that it is easy to use and handle we can expect anyone to click a decent picture without having any prior knowledge of photography. There are better options in the mirror-less range as well but at this pricing, it is a solid buy. We will suggest our readers to buy only the 9-27mm kit lens because without OIS you may not achieve the actual results but there is a secondary lens coming with OIS less than the 9-27mm one. The camera is available for purchase for Rs. 27,490 and Rs. 22,990 exclusively from Amazon.in.
[easyreview title="Install or Not Scorecard" cat1title="Hardware" cat1detail="" cat1rating="4.0″ cat2title="Performance" cat2detail="" cat2rating="4.5″ cat3title="Design" cat3detail="" cat3rating="4.0″ cat4title="Value for Money" cat4detail="" cat4rating="4.0″]