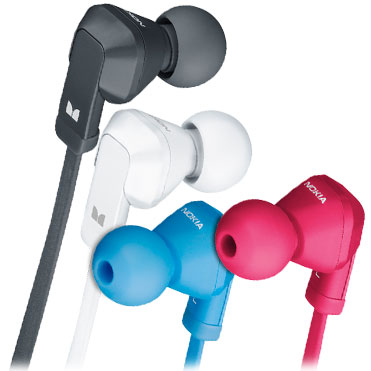 Nokia has been known to occasionally create some pretty cool headsets, sadly the units included in retail boxes are pretty much the worst things ever created. Monster stepped in and together the duo created what we now call the Monster Nokia Purity WH-920 In Ear headsets, quite a bitter pill to swallow. A Cyan set dropped by, and my oh my did they surprise me.
Package Content
• Nokia WH-920 headsets
• Five pairs of rubber ear cups
• An AHJ adapter
• A hard plastic carry case
Design
Design wise the headset doesn't really bring anything new to the table. It's available in four colours; white, black, cyan and magenta. The cyan set were beautiful and the tangle proof cables were a welcome addition.
Hardware
In ear headsets, six sets of rubber ear cups in total, superior high definition audio, a lovely set of controls are all there is to know. Big ears, small ears, medium sized ears are all catered for, so everyone can enjoy the pure awesomeness. The cables can't twist so you won't be spending half a day unwinding knots instead of listening to music. The controls are quite lovely too.
Everyday Use
The carry case is a welcome addition, especially since it's pretty strong and takes very good care of your precious Puritys. The tangle proof cables are even more welcome, but what makes the set stand out above competitors is the spectacular audio quality. Bass is perfect, vocals are clear and treble performs like a charm. The controls are said to only work on Nokia Windows Phone devices, but testing it on my Nokia 2700, 2710, C5, N950 and BlackBerry 8520, 9790 and Dev Alpha revealed that it worked on all of them as well. Sound is amazing and the headsets sit perfectly comfortable inside your ears.
Conclusion
My time with the Purity In Ear headsets were spectacular and I shall miss them dearly. They of great quality and the sound they produced was too. Do I recommend them? Yes, I do. Will I get a pair for myself? I most definitely will do exactly that. They are beautiful pieces with awesome features for a price that may be a bit higher that expected, but they are worth every cent spent. It just remains to see if they can hold out longer than Nokia's WH-702 headsets did.