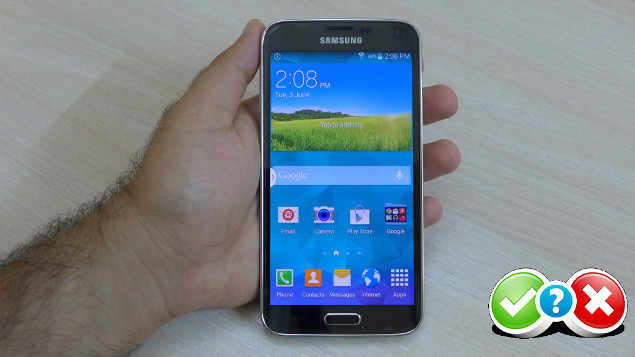 Samsung had launched their fifth iteration of their flagship smartphone series – the Samsung Galaxy S5 in India. The Samsung Galaxy S5 was unveiled in February end at the Mobile World Congress in Barcelona. In the first month, Samsung was able to sell 10 million units globally but it is not the same observing the sales in a few months since it's launch.
Good guys at Samsung sent us a review unit back in May, 2014 when it was a hot new product in the market all set to break all records but unfortunately this did not happen. There were new launches coming one after the other with the HTC One M8 undoubtedly the most beautiful Android smartphone and then the Xperia Z2 giving more value for money heated up the competition. Initially Samsung launched the handset for Rs. 51,500 in India which was one big factor for its decrease in sales to be honest. The ones who were enthusiastic about the newly launched powerful upgrade bought the smartphone in the first month of its launch but then the wise waited for better options. This does not mean the Galaxy S5 is anything less than the competition but the pricing was actually absurd.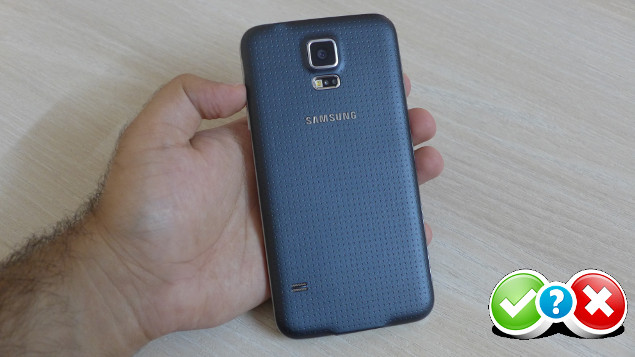 Every year the happy customers of Samsung Galaxy S handsets look forward to the upgrade but this time they were kinda disappointed as the S4 was much similar to the S5. After using the Samsung Galaxy S5 for a month as our daily driver, we disagree to this statement.
Did you know, Samsung Galaxy S5 is now available for Rs. 34,909 from Flipkart.com. This is a huge price drop and an effing good deal to buy a 2014 flagship smartphone.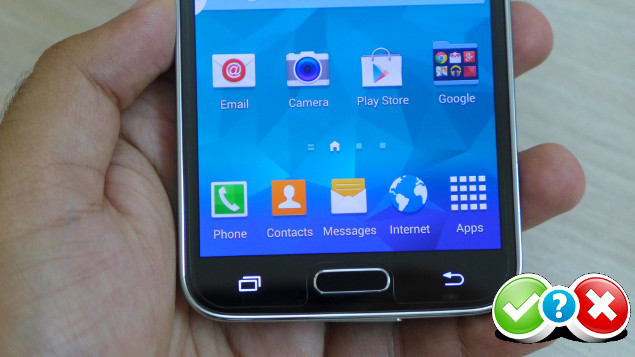 Want to know before investing the big amount? Read below.
Design and Features
Year after year, Samsung has always been improving though we also agree by the fact that a lot of Galaxy handsets look familiar with the same design language. Backing Samsung a little, they do work on build. The same design evolves with each upgrade adding more to the use case just like water and dust resistant IP67 certification with the Galaxy S5.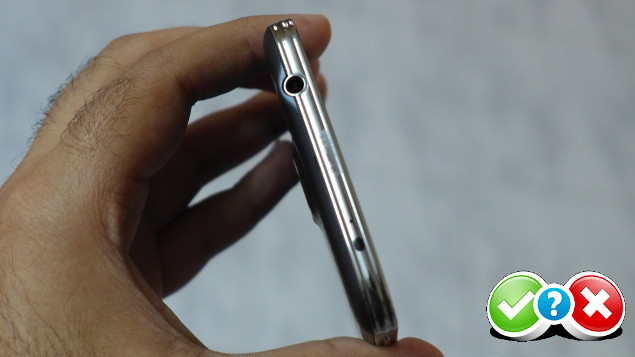 We feel that Samsung Galaxy S5 is a great phone and capable to stand in this year's flagship competition. As per our experience, the Samsung Galaxy S5 performance is top notch. The Indian variant packs a Exynos Octa core processor with 2GB RAM and 16GB internal memory. It also supports external microSD card up to 128GB and features a 16MP camera and a 2MP front facing camera. It runs on the latest version of Android 4.4.2 KitKat operating system with an optimized TouchWiz user interface.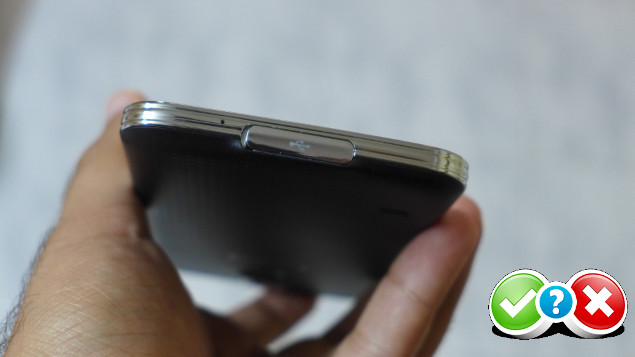 The flagship smartphone also features a fingerprint scanner and a heartbeat sensor which is first time on a smartphone. We actually feel these gimmicky features might not be used that much in our daily routine and will be left just as an add-on to flaunt.
Display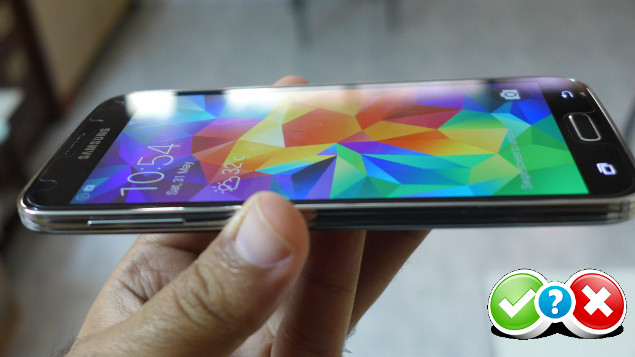 The Super AMOLED full HD display on the smartphone is excellent. It is very sharp and shows very good contrast and and black levels as expected. The viewing angles are superb and screen brightness is impressive. The Gorilla Glass panel on the top makes up for the security but the reflective layer effects the outdoor visibility. At night this display is kickass. Put the smartphone in dark and observe the difference, the black levels are really low and it clearly wipes the competition in night times.
Camera
The Samsung Galaxy S5 packs a 16MP ISOCELL sensor with f/2.2 lens with a equivalent focal length of 31mm. Earlier in S3 and S4, Samsung used Sony camera sensors but this time they made their own featuring ISOCELL technology. There is a lot of tech behind this new sensor which allows to capture images with high ISO sensitivity with low noise. It is the first phone to use phase detection focusing as well as contrast detection. Samsung claims their S5 to be the fastest AF on a smartphone, thanks to phase detection mechanism.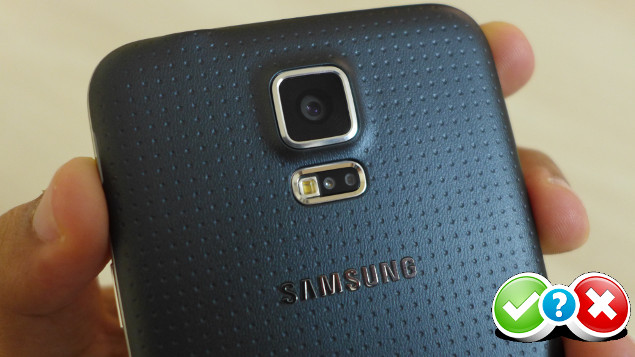 The results from the camera were impressive in daylight. It also features a new shooting mode called selective focus to give that Bokeh effect in realtime. Low light imaging was not that fun. The quality goes down with noise being inserted. It can take up to 5-6 seconds to get a low light shot depending upon the light source. This happens because it takes different photos with different settings and then merges to form a single image. HDR generally takes 1 seconds in daylight but 5-6 seconds in what we can call slow. The stabilization helps in this case and make the clicks comparable to others.
Performance
Running by the specifications and benchmark tests, the scores are top class. The performance is too very good. The overall experience was smooth and the TouchWiz too was a welcome update with the new look. There were some of the erratic heating issues which were not that prominent as the S4 but we think they are or might be fixed with a software update.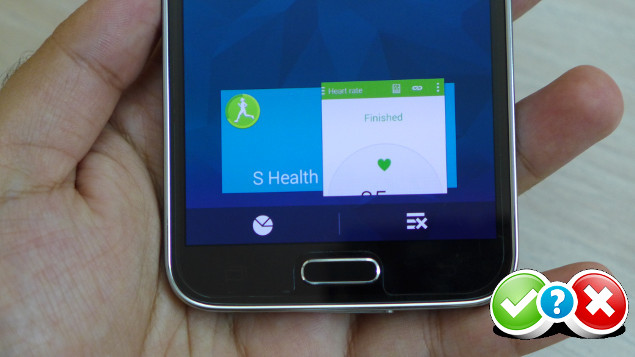 The camera is a great upgrade from the older versions and screen is absolutely gorgeous. The design might not be that fancy as the other smartphones of the year but hey it is most durable build that you could find in the high end market right now. Removable battery, high repairable score, external microSD card slot all adds up in the end. The plain simple look slowly seems to be good with usage and suddenly you are left with no complaints (or maybe one or two being practical).
Verdict
For Rs. 34,909 I would say go for it if your budget ends here. It is an awesome phone with top notch specifications and performance. Available in electric blue, golden, white and black colors gives it jazzy appeal. Yes, fingerprint scanner and biometrics are not that useful but this does not make it a deal breaker.
There was something which was missed out by Samsung this time which led to a decline in sales but with the new marketing budgets, I hope they will catch up soon. The trust and after sales service which Samsung has built over the years is a big reason people buy Samsung Galaxy handsets. The pricing though was not at all fit in the beginning but now is very competitive threatening others and making them wonder as to how is Samsung selling their flagship for so cheap?
Pros:
Display
Camera
Water proof and dust proof
Cons:
[easyreview title="Install or Not Scorecard" cat1title="Hardware" cat1detail="" cat1rating="4.0″ cat2title="Performance" cat2detail="" cat2rating="4.0″ cat3title="Design" cat3detail="" cat3rating="3.5″ cat4title="Value for Money" cat4detail="" cat4rating="4.0″]