With the unprecedented rise of the tablet market and after watching manufacturers like Samsung and Motorola achieve only partial success with Android tablets, Google finally decided to step up and show everyone how it's done. Partnering up with Asus, they have came out with the first Nexus tablet called the Nexus 7. This tablet has managed to amaze everyone, for unlike the competition who were focusing on state of the art technology and amazing built quality as their selling point, what sets this tablet apart is its extremely low MSRP($200) and practical design.
Build
This tablet no doubt comes under the budget tablet category but don't be fooled by its price. Holding it in your hand feels anything but cheap. The design of this not only looks good but is also quite practical, like the back which is made from rubber. Now I know what you're thinking – rubber? – but it's a very nice rubber that not only feels soft in the hands, but the textured back along with the curved edges also provides a very comfortable grip. All in all one of the best backs I have ever felt on a tablet. The back also contains a Nexus and Asus logo engraved in it and a speaker grill that sits near the bottom. The buttons and input/output are sparse with the power button and volume rocker being located on the right edge and the 3.5mm headphone jack and micro-USB port on the bottom edge.
There is a 1.2 megapixel front facing camera but no rear facing one, which is a relief, because lets face it, not only is it pointless to shoot pictures and videos with a tablet because of the quality of the camera in them, but it also looks absolutely stupid.
In terms of dimensions it measures 10.45mm thick, 120mm wide, and 199mm long with a weight of 340g.
Hardware
The tablet is powered by a Nvidia Tegra 3 quad-core processor running at 1.3GHz along with 1GB of RAM. It comes in 16GB and 32GB(which costs $50 more) variants. In terms of data connectivity there is Wi-Fi as well as Wi-Fi and HSPA+ versions(please take note that these come only in 32GB size and cost $300) along with the standard Bluetooth and NFC.
The 7 inch screen is an IPS display and has a resolution of 1280×800 which translates to a pixel density of 216ppi. All this makes for quite a fantastic display with very good viewing angles, vibrant colours and more than adequate brightness. The text looks crisp with it being nearly impossible to notice individual pixels and images and videos look great. Though it's nowhere near on par with the new iPad and its ridiculously high resolution Retina Display, it is without doubt one of the better screens on a smaller sized tablet.
The Audio however is not on the same level as the display. The speaker on the back is decent and listenable but they aren't very loud, so you will probably have to keep your earbuds at hand.
With a 4,325mAh battery the tablet managed to give quite an impressive performance when it came to battery life. It managed to run for nearly 9 hours on continuous video playback with WiFi connected.
In terms of performance the Nexus 7 is right up there with the premium tablets like the Asus Transformer Prime if benchmarks are anything to go by.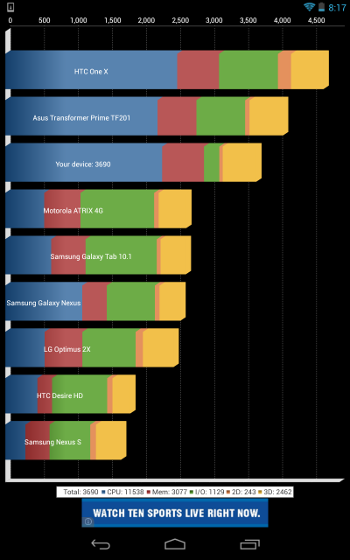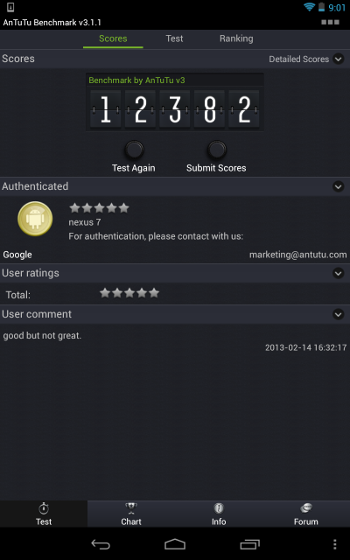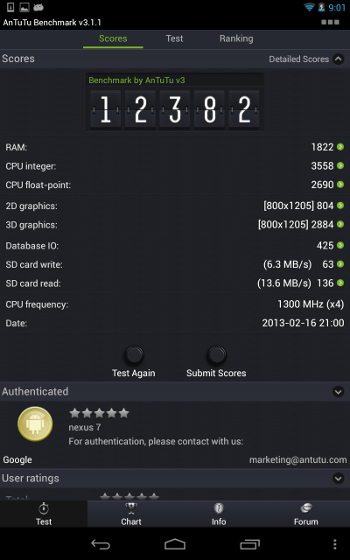 Software
The Nexus 7 runs on the latest and greatest version of Android, Android 4.2. Jelly Bean. The best thing about the device is that it, being a Nexus, runs the clean vanilla version of Android instead of a modded skin.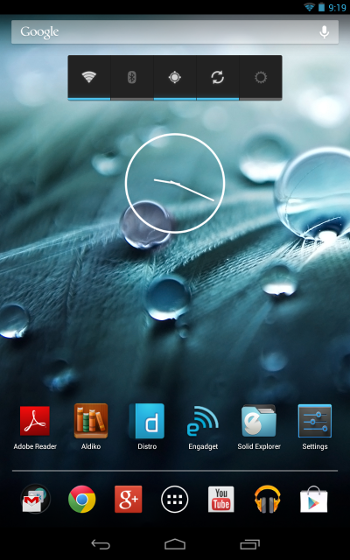 The introduction of Android Jelly Bean brings with it a plethora of new features. One of the main being the feature of multiple user profiles which is very useful specially for devices like tablets that are generally shared between friends and family. Profiles contain all your personalized settings and can be changed via a single tap at the lockscreen itself.
Speaking of the lockscreen, lockscreen widgets have finally been added. There are multiple pages for the widgets and they can be placed by swiping left or right when on the lockscreen. This allows quick access to information like your email or calender events without the need of having to unlock the device.
The keyboard has also been upgraded and now supports gesture typing like the Swype keyboard app. Text can be typed by sliding your finger from one letter to the next and the word highlighted above the keyboard will be selected once you let go. In the tests the prediction skills of the keyboard worked very well and often suggested the correct words much earlier than expected.
Quick settings is another great feature that has been added which enables quick and easy access to the most commonly used settings like Wi-Fi and bluetooth. It can be accessed by a small icon in the top right corner of the screen when the notification bar is pulled down or by pulling down the notification bar using two fingers.
The camera controls have been completely redesigned and now has a new gesture controlled scheme that remains mostly hidden unless you need it. It provides an ingenious interface for operating the camera using only one hand. HDR mode and Instagram-like photo filters have also been included.
Another very cool feature that has been added to the camera is the Photo Sphere which is essentially a light weight and simplified version of the software used by Google to make Street View. It involves taking pictures all around you and then Photo Sphere combines all the images together to form a 360-degree panorama view. The end results are surprisingly good with hardly any distortions between all the separate images and the process is very fun as well although people may find it very weird watching you do it.
Conclusion
Quite Frankly the Nexus 7 is pretty much the best 7 inch tablet in the market you can buy right now. Its tag of being a budget tablet is highly misleading because it may be priced like one yet it's anything but in terms of build and performance. Combined with the new Android Jelly Bean this is probably the first Android tablet that feels like a complete package.
[easyreview title="Install or Not Scorecard" cat1title="Hardware" cat1detail="" cat1rating="4.5″ cat2title="Performance" cat2detail="" cat2rating="4.5″ cat3title="Design" cat3detail="" cat3rating="4.0″ cat4title="Value for Money" cat4detail="" cat4rating="5.0″ summary=""]