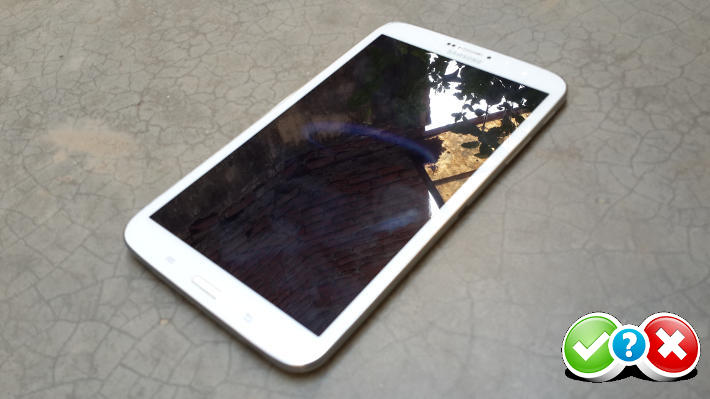 Samsung Galaxy Tab 3, the third iteration to this series of large screen Android devices which was started in the year 2010 with the 7-inch version has today reached up to 11-12 inches. Talking about tablets as a general, this innovation of large touch screen devices running different mobile platforms actually spiked buy the immense response of the iPad, which today itself continues take a toll over others.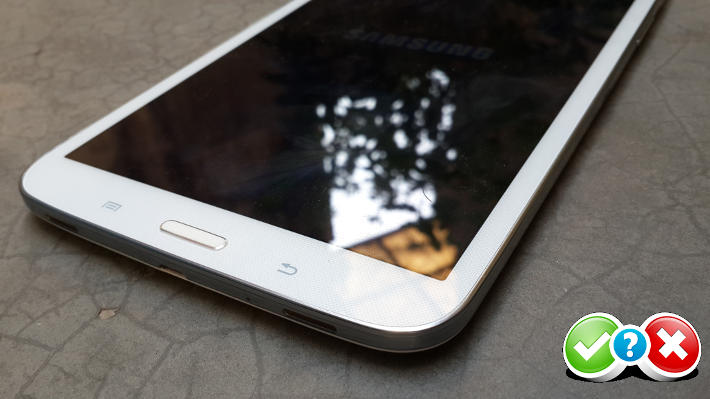 After the great response of the Samsung Galaxy Tab 2 7.0, which Samsung bragged about talking in consideration of the sales at the launch definitely has been seen quite a lot in the wild. Improving the experience further because technology never stops, Samsung had launched two new tablets Galaxy Tab 3 7.0 and the Galaxy Tab 3 8.0 having improved chipsets and displays.
We got the Galaxy Tab 3 8.0 for review and it was tested for a month in my daily schedule. I have my thoughts ready which have been published as below.
Build: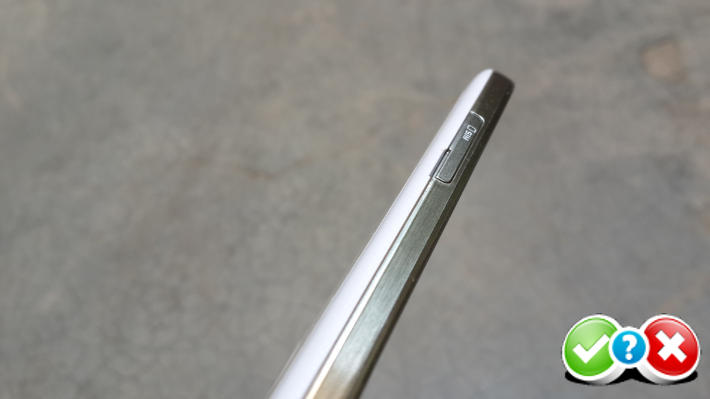 Samsung Galaxy Tab have been always having a plasticky build. So don't have to spend our time commenting on the same right? It is now expected of Samsung but it is worth noting that they are improving with this. Alike what we saw on the Galaxy S4, the edges are now some alloy finished, it has plastic beneath but at least the covering makes it look a little better. I was using a tablet after a long time, because I don't actually use tablet a lot in my daily routine. This time it was like after two months or so which got me a little excited about the product. The overall build of the tablet was average. I think this is nothing worried about. It satisfies all the necessary criteria for a decent build, not too heavy not too thick, plastic is not clumsy, buttons are not shaky what else.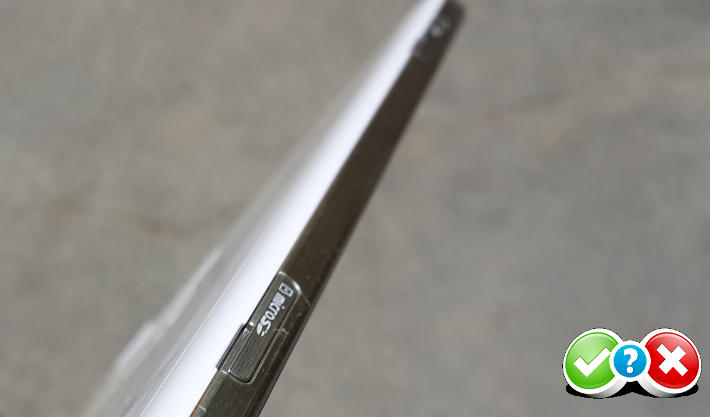 There is an unboxing video which we shot when we received the device which was been uploaded on our YouTube channel and can be watched below.
Display:
The 8.0-inch display of the android tablet is good. The color reproduction and brightness levels seemed to be fairly good but if better not test the outdoor visibility. The outdoor visibility on full brightness was in the level low to average, like limiting to average. I used it mainly at an indoor space so wasn't a big issue for me. Though tablets are handy but not as handy as my smartphone which I prefer using on the move. Tablets according to me, serves the best while traveling or when you are not at your workplace or home. So outdoor visibility might not be an that of an issue as compared to when in smartphones.

Hardware:
The Samsung Galaxy Tab 3 has the in-house built chipset which is Exynos 4212 having a dual core 1.5GHz processor and 1.5GB of RAM with Mali-400MP GPU. It has 16GB of internal memory and a microSD card slot for further expanding the storage up to 64GB. The cellular version supports micro SIM card to provide mobile internet facility to the user. Along with this, it supports WiFi, GPS and Bluetooth. It has an infra-red sensor as well which works for Samsung Watch ON application. It is a backup of 4450mAh battery which makes it run for about 10-12 hours on continuous multimedia playback.
Software:
Alike every Samsung's Android device, the Galaxy Tab 3 8.0 also runs on the Touchwiz UI which is a little optimized for tablets. The homescreen and the app drawer looks nothing but a rescaled on that 8.0-inch screen but settings etc have a side pane view. To be honest I observed some lags with the default Touchwiz launcher so I installed a different launcher which especially works pretty well on a large screen called as the Action Launcher by @chrislacy. After installing that launcher, the lag was significantly reduced while transitions. The application worked as usual on either of the launchers. TouchWiz comes bundled with Samsung's applications such as Story Maker, Watch ON etc. which were again found on the tablet.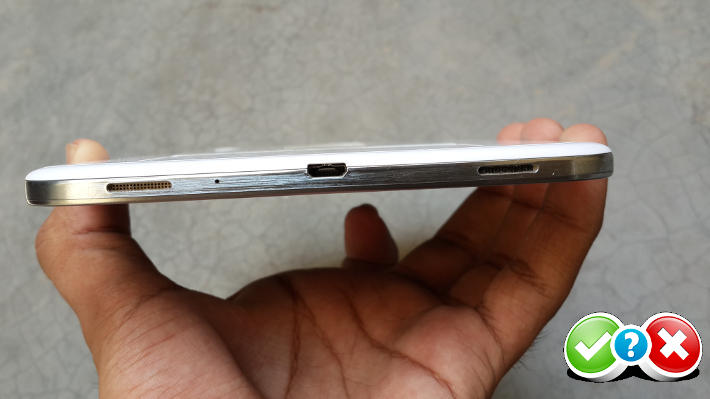 Camera:
Tablets are not good with having good cameras and this is completely understandable. Tab 3 8.0 too had nothing special about the camera but was fairly good comparing to other tablets. The sensor is sufficient to take decent daylight pictures. It has a 5MP rear camera capable of shooting 720p HD videos and a 1.3 MP front-facing camera for video chats and calls.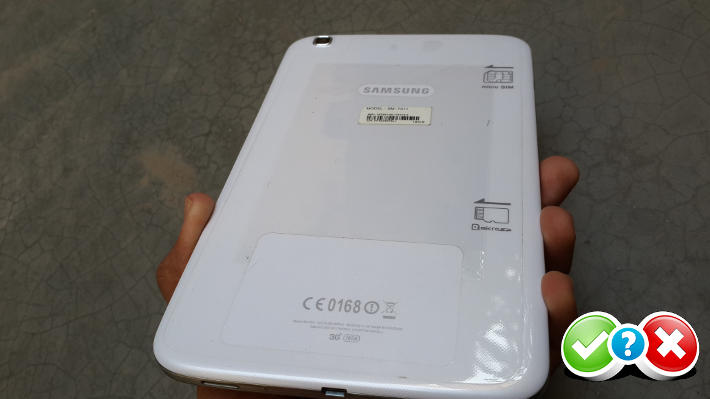 Verdict:
Samsung Galaxy Tab 3 8.0 was launched in India for Rs. 25,500 three months ago. Reviewing the tablet for a month as a daily user there is one thing which is confirmed that you need to mod the software to use the tablet without worries. This mod is not some rooting, hacking etc. stuff but basic alternatives to the pre-installed stuff. There will be some lag experienced on the tablet but it can be minimized by using alternative launchers as said earlier. The applications what you install might not have any of such issues unless they aren't properly optimized for the big screen. Android tablets have come a long way from the beginning with literally no app for Android tablets to now optimized apps for the large displays has definitely changed our perception about Android as a tablet os. There are better Android tablets available best being the Nexus 7, but again if you can spend that much because they are expensive. In the end, average Android tablet and needs a check on the price range before buying as other good options might come soon.
[easyreview title="Install or Not Scorecard" cat1title="Hardware" cat1detail="" cat1rating="3.5″ cat2title="Performance" cat2detail="" cat2rating="3.5″ cat3title="Design" cat3detail="" cat3rating="3.5″ cat4title="Value for Money" cat4detail="" cat4rating="3.5″ summary=""]