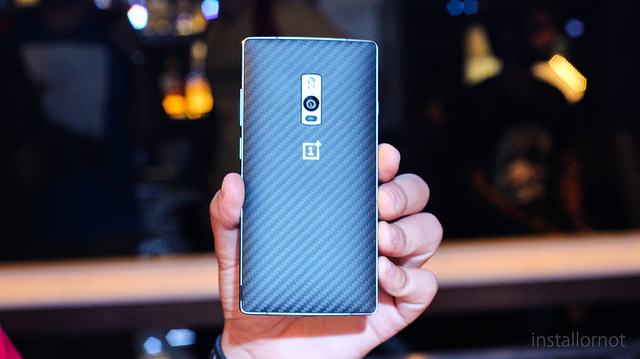 OnePlus the rapidly growing tech startup which became extremely popular since last year announced their '2016 flagship killer' on 28 July 2015, the OnePlus 2. Being a OnePlus One user myself, I was really excited about the new product and especially for the world's first VR product launch. The launch was awesome although I still have a little sprain in my neck, Congratulations to the team behind it who pulled it off this well.
The OnePlus 2 as we know it, is an iteration to their first flagship handset OnePlus One that did extremely well. The hardware they offer at such an affordable pricing truly makes it a killer device. Though there were some hurdles turning down the deal with Cyanogen but fortunately the case was handled pretty well in favor of OnePlus. Luckily, OnePlus had an event in New Delhi, India at the launch day itself showcasing the new 'flagship killer'. Before I begin listing my first impressions there is a statement which I would like to recall, 'Nothing in this world is perfect' and the same applies to OnePlus 2.
Being a full-time OnePlus One user myself, there were five new additions which got me excited about the OnePlus 2.
Alert Slider
We have seen a physical hardware switch on the iPhone since 2007 and it's still present on the latest one as well. There has to be a reason, right? Hardware notification toggle is a such a handy addition which may not be appreciated much but can be made to best use by everyone. In case you have ever used an iPhone you might agree with me on this. OnePlus 2 is probably the first mainstream Android smartphone to introduce a physical 3-way switch. They call it the Alert Slider with three modes, All notifications, Priority notifications and Mute.
Fingerprint Scanner
Since, the iPhone 5S every smartphone manufacturer has been trying to introduce fingerprint sensor with the same aim to provide the same functionality. Well, we can't deny that but what matters is how they implement it. Apple has done it the best, undoubtedly and the next comparable measure you might find will be on the OnePlus 2. It is actually fast and serves as a home button as well. Giving it to Android, OnePlus has also enabled a mode where you can skip the lockscreen and directly reach homescreen on identifying your fingerprint when the screen is off. Believing the developers worldwide, we should expect more of such hacks soon.
13MP f/2.0 Rear camera with Laser Auto Focus and OIS
OnePlus One had a 13MP rear camera and so does OnePlus 2. You might be wondering so what's the difference? If we talk tech, there is a lot but to understand it in layman terms it's quite considerable. The OnePlus 2 has a 13 MP, f/2.0 aperture rear camera with Laser Autofocus. Explaining Laser Autofocus a bit here, if you know how a SONAR works you'll have a brief idea about this technology. Instead of sound in case of SONAR, this technology uses laser (light). While taking a shot, the phone emits a laser which hits the object and bounces back to the sensor. Calculating the distance of the object by parameters like time taken, the camera knows where to focus and laser travelling much faster completes this whole process in fraction of a second.
Additionally, the smartphone camera stack also supports Optical Image Stabilisation to handle those near crisp shots left behind due to external disturbances.
Easy Swappable Back Cover
I have always wanted to have the dbrands skin for my OnePlus One which is still rocking the sandstone black. With the OnePlus 2, that experience comes much handy now with easy swappable back covers. I love the Kevlar Back but Bamboo, Black Apricot and Rosewood aren't bad as well in case you are convinced to go for any of these.
Dual SIM 4G
This is probably one of those add-ons which anyone would won't mind to have. Talking personally, it should have been there on the OnePlus One as well. Carrying two smartphones and managing both of them can be cumbersome. This is the reason why I still miss my Moto G 1st Gen but hopefully not any longer.
But miss the OnePlus One?
These five additions are mere temptations rather than an actual proof of upgrade for OnePlus One users to switch onto the next iteration. OnePlus 2 is a powerhouse anyway so it packs top-notch configuration to serve all smartphone requirements. We also figured out the trade offs one (or let's just say I) will have to bear in case you plan to upgrade.
Snapdragon 810 Soc
No matter what we bring in, right now I am not convinced that the chipset might not have 'the heating issue'. Every smartphone launched this year with the Snapdragon 810 SoC has the same complaint and the work is still in progress. I will totally give it to OnePlus if v2.1 effort turns out to be better. Let's see.
No Quickcharge
This was the biggest bummer for me. It's a blessing to have a smartphone with Quickcharge but since it is no longer available with the OnePlus 2, I'll have to rethink my decision. In case you aren't using a QuickCharge capable smartphone, it matters a lot when you are get used to it. In a mere 15 mins you get 15-20 percent charge that will at-least drive you till office.
No NFC
Near Field Communication, might sound something known but I bet you wouldn't have used it in a while. The same case applies to approx 95 percent of the OnePlus One users. Although it would have been nice to possess a new technology but I guess this can be passed.
10 grams additional weight
OnePlus 2 comes with metal edges to enhance it's design but this does add on to the weight of the smartphone. OnePlus One is fairly light weighing 168 grams while the 2 weighs around 175 grams which made it feel a little heavier. This too should not be a deal breaker unlike the first two.
Stating these cons still doesn't mean I am not tempted to upgrade. I want to buy the OnePlus 2 but I don't want to give up on my OnePlus One at the same time. It's running perfectly fine with no signs of wearing out and featuring QuickCharge which is a big deal for me. I hope to keep my cards in wallet and get over the #HYPE soon.
But you guys don't have to. The OnePlus 2 for 24,999INR (64GB variant) is an excellent deal for this powerhouse which will be starting its sales from August 11, 2015 on Amazon.in exclusively. There is an invite system this time as well, with a much better algorithm to keep the availability fair. In case you plan to buy one, Register for an invite now.
Thanks Shimon Das for helping us with the photo shoot.