Wallpapers are the first level of customisation that can be applied anywhere on your smartphone, iPad, or your PC. Smartphones being the most interacted gadget amongst all obviously has to be personalised. Good looks attract every eye out there, whether it in terms of smartphone's outer design or the UI or wallpaper on the screen. Android has a history for the extent of customisation that can be applied. So here we are with the some of the best free Android Wallpaper Apps that you can get from Google Play Store which can help you to find the most suitable wallpaper you want.
Wallpapers by Google
Wallpaper by Google is the simplest yet one of the best wallpaper apps for Android users. It doesn't offer a lot but all the wallpapers available are very rich in color, pattern, and design. It also offers an auto-set function which allows changing wallpaper every day. Apart from it, it also allows to pick, separate wallpaper for both Home Screen and Lock Screen. Overall it provides high quality stuff without any in-app purchase or ads showcase.
Download – Wallpapers by Google
Backdrop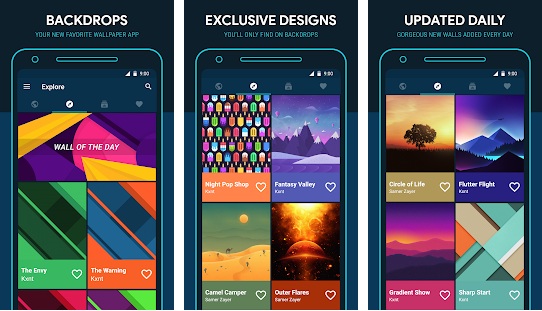 Backdrop offers a wide selection of wallpapers. There are four tabs named Community, Explore, Collection and Liked which offer wallpapers of your desire. All the wallpapers offer a description of that image like its size, resolution, creator, and number of downloads to choose the best. You can download, put it in favorite section or directly set it as wallpaper. However, all the wallpapers are not free and require an in-app purchase to unlock them.
Download – Backdrop
Walli
Walli is a great wallpaper app which offers wallpapers made by other users. The wallpapers can be searched across different categories like Anime, Superheroes, Relaxing and much more. There's also an option to see the recent uploads, popular and featured posts. You can also follow or be an artist on it. Users can also upgrade to premium for ad-free usage, better artist visibility, and several other cool features.
Download – Walli
Wallrox
Wallrox is also a great app to for wallpaper with abstract patterns. It offers thousands of wallpapers of this category and others. This app allows you to see the wallpapers in three different tabs named Recent, Categories and All. Users also have the option to download and save it for later, diffuse it to get new colors or directly apply it to Home Screen, Lock Screen or both. There's also a premium plan which offers ads free content.
Download – Wallrox
Muzei
This is one of the best live wallpaper apps we have seen. Unlike others, it offers a vast category of wallpapers from different sources like Featured Art, User Gallery, Single Art Work, Tapet or Wallrox. Yes, it has integrated with Tapet and Wallrox to offer good quality images. It rotates wallpaper every day so you'll never get bored. It also offers customization to the applied wallpapers like Blur Effect, Dim Effect, and Grey Effect to make it even better.
Download – Muzei
Walpy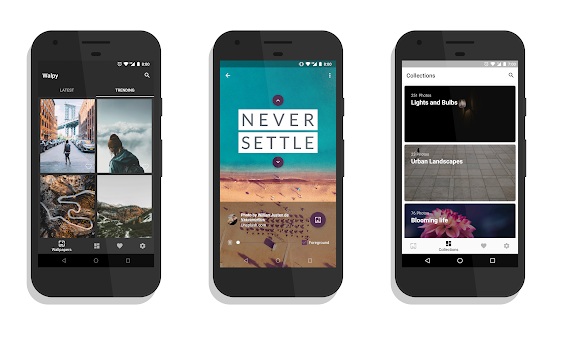 Walpy is modern wallpaper gallery with lots of tangy and colorful wallpapers. It offers a great collection of images starting from day-to-day life to amazing landscapes. It also has two tabs for better selection, Latest, and Trending. There's also an option for an auto-set mode to change wallpaper every day. It also has several conditions inside the setting app so that the app doesn't consume much battery and data. All the content is free and ad-free.
Download – Walpy
Tapet
Tapet is one of the best wallpaper apps for Android. Unlike all the above apps, it doesn't offer a direct selection of wallpapers. Although, this app offers to create suitable content as per your demand. Yes, you can create your own wallpaper just by selecting the design, color and shades. This is one of the best ways to get the wallpaper of your desire. However, all the designs aren't free and you'll require the premium account to get them. The premium account offers unlimited access to all the patterns, creating color palettes and live wallpaper compatibility.
Download – Tapet
I hope you find this list useful and maybe you are able to find out the wallpaper for your Android. There might be some other apps which are relevant which aren't listed above. In case you have a suggestion for us so share it in the comments, so we can add them to our next list.