It is impossible not to get excited by the fact that Pebble Watches are finally available in India, after all they are some of the oldest makers of the smartwatch and the only ones who seem to care about battery life on a smartwatch. A Pebble is easily the longest lasting of the current lineup of smartwatches and that itself is a very sweet proposition. Today, you can go ahead and purchase a Pebble from Amazon, right from the Pebble Classic, Pebble Time to the all new Pebble Time Round. Pretty much the entire portfolio is here for you to pick up the watch of your choice.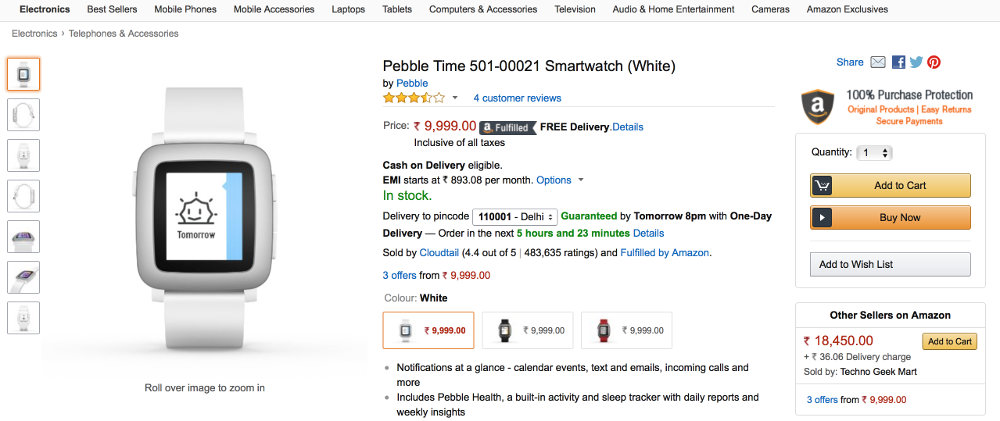 However, if you were to click on the 'by Pebble' section on Amazon to show you the whole portfolio of products that are available, you will see that there are a ton accessories too available with Pebble branding. This branding looks very similar to the Pebble logo that we have seen over and over again and have come to appreciate. Accessories listed by Pebble on Amazon includes the likes of portable chargers, bluetooth speakers and even a couple of charging cables. However, looking closely, you will see that none of these accessories other than the watches themselves are sold by Cloudtail, who are the preferred partners of Amazon when it comes to selling authentic stuff.

These accessories are in fact being sold by independent sellers, who are basically just cashing in on the name. You would also do well to check the official Pebble store in the United States here where the only listed product officially are the watches and no accessories. In fact, Pebble does not make any of the accessories at all. So, if you are looking at purchasing a Pebble product from Amazon, make sure that you only look at buying the watch and nothing else, as you may end up with a substandard accessory, which could be a wasteful experience, as plenty of these are not even Amazon Fulfilled.
This post is contributed by Arpit Verma, from pricebaba.com