Asus Zenfone Max Pro M2 is a great budget device that houses a powerful Qualcomm Snapdragon 660 Processor along with a dual rear camera setup coupled with the same sensor that we have already seen on Xiaomi's Mi A2. The Asus Zenfone Max Pro M2 is a great leap in the camera department when compared to its predecessor: Asus Zenfone Max Pro M1.
Although Asus Zenfone Max Pro M2 houses the best camera in its class but the addition of Google camera with surely drastically improve the performance, all thanks to Google's intelligent image processing. So here we will tell you the full procedure to install google camera in your Asus Zenfone max pro m2, Let's get started.
Pre-requisites
Asus Zenfone Max Pro M2 with original USB Cable.
A pc or a laptop with proper fastboot drivers installed.
Steps To Enable Camera2Api: Necessary
Camera2api is the latest API from Google to provide manual camera controls like ISO, Focus, Exposure. To enable Camera2Api in Asus Zenfone Max Pro M2, follow below-mentioned steps carefully.
You will have to head over to settings > system > about phone > Tap on build number several times until you get a message " You are successfully a developer ".
Now after you have developer options access, you have to scroll down and enable USB – Debugging.
After enabling USB Debugging, power off the smartphone.
Once the phone is powered off, you have to boot into the fastboot mode. To boot into the fastboot mode press volume UP + Power button simultaneously.
Connect the phone to your PC via USB Cable, it will be better if you use the original cable that came out of the box.
Now it's time to install drivers, Download ADB Setup and install it.
Go to the installed directory of the ADB Folder and open Powershell/CMD on the same folder. To open CMD just press shift first then right click you will get command prompt option/Power shell option.
Type: Fastboot devices, to make sure that your device is detected by the fastboot window and it is ready to execute commands.
Type: fastboot oem enable_camera_hal3 true
You will get an Okay message which indicates that you have successfully enabled camera2api in your Asus Zenfone max Pro m2.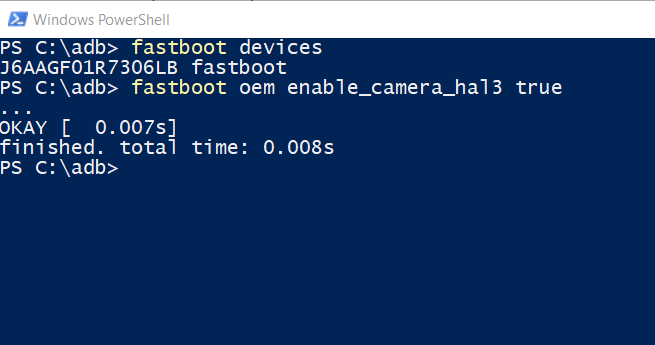 How to check Camera2Api Enabled Or Not?
You have to install manual camera compatibility application.
If your device supports Camera2Api, it will show all green ticks in the application.
After enabling Camera2Api, now you are free to install your preferred version of google camera. And we are damn sure, you will be surprised to see the results with the Google camera.