iOS 7 has brought a lot of new features for your iPhone. Being honest it has completely revamped the experience, but for better or worse depends on you. I am using iOS 7 on my iPhone 4 and my colleague @madnish30 on his iPhone 5, and we both seem to enjoy the experience, except for the fact that it sucks on iPhone 4 due to occasional lags. This is pretty obvious, because what else can we expect from a 2 year old 800MHz processor running device.
One of the new additions to the iOS 7 was the iTunes Radio. It has been introduced with the iOS 7 and is not compatible on any previous version. iTunes Radio is a music streaming service like Grooveshark, Spotify, etc, but this one is just an Internet radio rather than any collections like Google's Play Music All Access, which is a repository of 15 million audio tracks of different genres.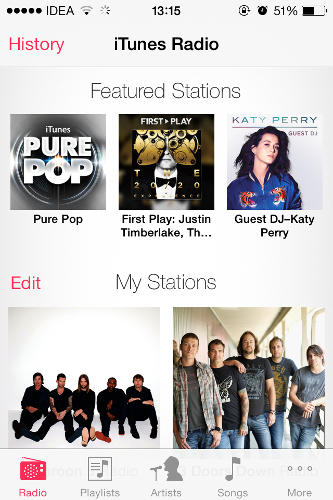 iTunes Radio has a limitation that for now it only works in the United States like every other Apple service in its early stages. This is not acceptable to the iOS users worldwide as they expect to get the services for which they have paid. Paid in this case is the hardware, because the iTunes Radio service is absolutely free, making one more reason to have it.
Even we wanted to try this service at least once, but unfortunately one of the reasons being based in India is why we never get such things in time. Alternatively we found a hack which seems to work. Apple servers do not track the geo-location of the Internet connections, so this means we can too use this service if we have a United States iTunes account.
Create a new iTunes account with US region or edit region on your current iTunes account.
After making this change, open Music application on your iOS 7 device.
iTunes Radio is ready and it works flawlessly on EDGE too, though WiFi or 3G are recommended.
Easy right? Share us your experiences with the iTunes Radio or get in touch with us in case of any difficulty.