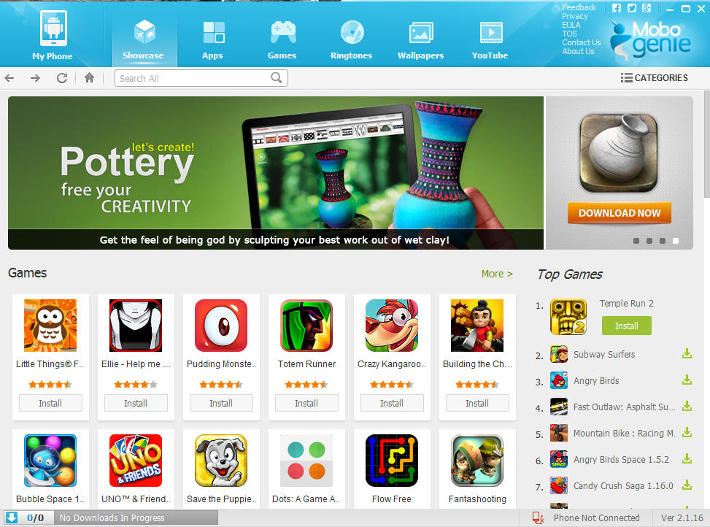 Android runs a wide range of devices varying it from smartphones, tablets, and watches. I don't know what else it will run on next! Squeezing our domain only to tablets and smartphones for the time, Android is a fantastic mobile operating system. I personally prefer Android over any other mobile OS present out there. It gives me freedom to unleash its power by writing my own scripts if I ever want to. How cool is that?
Most of us use smartphones nowadays. Some maybe using iPhone which needs iTunes, some maybe using Windows Phone which needs Microsoft's own PC suite but what about Android? Android is available not just from one OEM, it is like a generic OS having different tools with different devices. But what if we could have a generic tool for the generic os?
That's right. Android being an open source platform is a mobile OS developed on linux kernel which requires some specific drivers which are necessary when we need to connect it with the computer. These are packaged in different form for PC, Mac and Linux which in all it comes from the android-sdk available by Google. Developers at Beijing Yang Fan Jing He Information Consulting Co.,Ltd ("Yang Fan Jing He") exploited this positive feature about Android and built a PC application for Android synchronization called as Mobogenie.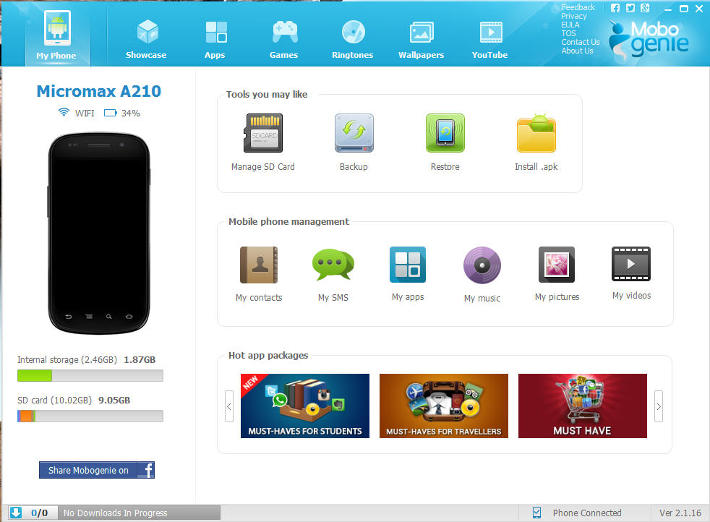 Mobogenie is a PC only application developed to serve as a generic tool for all Android devices let it be tablets or smartphones to synchronize and backup all the data on your Android device. The data can be sms, contacts, app data anything or even the full Android backup. So rooted users who used Titanium Backup for saving app data and restoring at the same state after flashing any new rom have another option.
Features
Transfer files from your Android to your PC and from your PC to your Android.
Backup your contacts, messages, apps, music, images, and videos.
Restore backed up data.
Install apps on your mobile device.
View and manage your contacts.
View and manage your text messages (SMS).
Send and reply to SMS from within Mobogenie on your PC.
View and manage all your apps: move from phone memory to SD card, update, uninstall.
View and manage your music, pictures, and videos
Conclusion
We tested the software application on our PC machine and tried every single feature listed above. Our test was performed with Micromax Canvas 4 and it went pretty well. The application performs what it states and comes very handy when switching roms or switching Android devices. Mobogenie is like a device manager for your Android smartphone or tablet. It lets you control its actions from your PC desktop or laptop whatever you are using. If you have tried AirDroid which uses WiFi to give control of your device to a browser these features might look familiar but in this case you have to plug in you device. The app store and video download feature on Mobogenie is a boon if you ask me. You could directly download and install apps and YouTube videos on your device. Isn't that useful? I think it is. Managing contacts and SMS directly from your PC is also an add-on which expands its use case.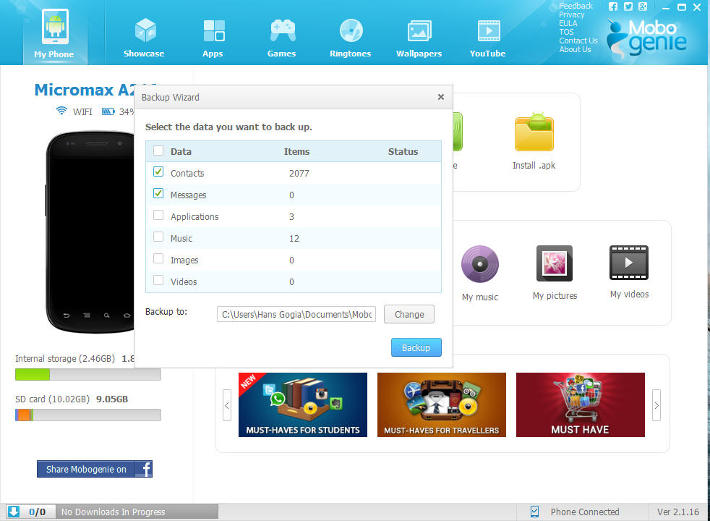 Talking about the drawbacks for this application is support only for Windows PC. Being a full time Linux user this application comes to no use for me to be honest. Though I could run it using Wine, but it might lose on performance. We hope that the developers are working for other platforms as well. I thought alike messages if it could also make calls directly from the PC then it would have been THE app you must have though it is still one of the apps you should try if you use an Android powered device. Secondly, the driver installation process did not go smoothly. The server from which they are fetching seems to have issues. I feel that it might have room for improvement, which should not be missed.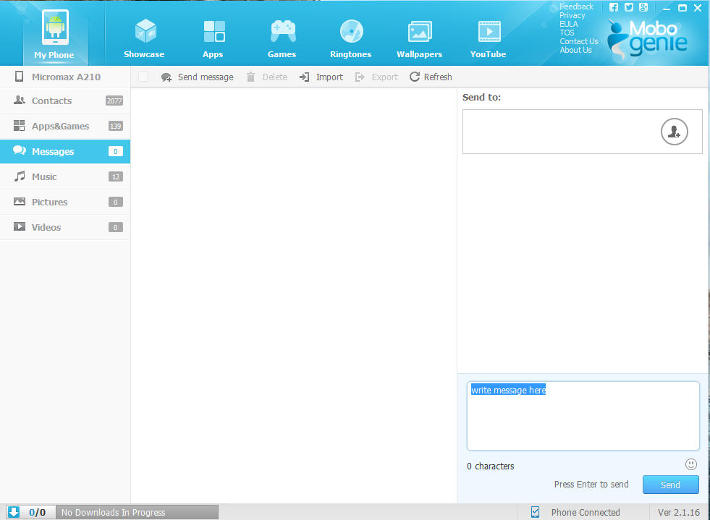 Overall the application serves a good purpose. Being a Windows only software can be an issue but it sufficient for its survival as most of the computers in this world runs Windows. Must try, available as a free download from here
[easyreview title="Install or Not Scorecard" cat1title="User friendly" cat1detail="" cat1rating="3.5″ cat2title="Performance" cat2detail="" cat2rating="4.5″ cat3title="Appearence" cat3detail="" cat3rating="4.0″ summary=""]