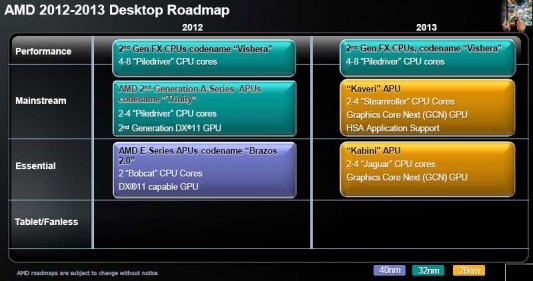 AMD has revealed its roadmap for mobile and desktop computing till the year 2013. A lot has been inferred, it seems the company is bringing its product  line down to a single family of CPUs; the company it seems believes that x86 APUs are the future of the industry.
The company said that its  Bulldozer line , which wasn't a huge success will be replaced by Vishera, later this year. There seem to be no further additions to its high-end desktop CPUs in the coming future. It seems AMD wants to distance itself from being claimed as a direct competitor to Intel. AMD plans to cash on  its existing graphics technology, and improve on its low power x86 products for thin laptops and tablets.
Coming to tablets, AMD's second-gen Brazos APU will be out shortly, which will bring USB 3.0 and Turbo Core to the platform. Another low power platform, codenamed Hondo, is up for launch this year, but it probably won't be a huge competition to ARM: it will be running at under 4.5W, AMD confirmed that it will appear in a few tablets, but will is more likely to be found in ultra-portable laptops.
Krishna and Wichitaare are codenames of two low-power 28nm APUs, rumors suggest that the two might not launch this year, against expectations due to the manufacturing troubles last November. The fact that the two APUs are nowhere mentioned on the new roadmap, leads us to the  belief that the low-powered variants of Trinity will fill in the void.
AMD's 32nm Trinity APU, which is a replacement to the company's Llano line, is also  due this year.  Trinity was impressive during CES when the APU underwent extreme multi-tasking. We've got reports suggesting that the low-voltage variety will most likely find its way into ultra-thin laptops as it won't be powerhouse contrary to popular beliefs. Both the standard and low voltage varieties are said to be available in dual- and quad-core configurations.
AMD will be inducting three new APUs in the laptop market, namely Kabini, Kaveri, and Temash , in the year 2013 . All of them have been created using a 28nm process. The die-shrink will decrease heat generation and power consumption, which should lead to more processing power in high-end modules and longer battery life in the lower ones. The chips will be fully integrated, with no external controllers. The chips will also have integrated DirectX 11.1 GPUs based on AMD's new GPU architecture 'Graphics Core Next', which debuted recently (Radeon HD 7970 and 7950).
Kaveri is another high-end chip by AMD, on which it has pinned a lot of its hopes. It will be powering high-performance multimedia and gaming laptops. It includes HSA Application Support (a type of software-specific advanced hardware acceleration), and will have two or four cores. It will be a mainstream chip – with a low voltage APU, and will most likely end up in thin-and-light notebooks. On the other hand, Temash is a dual-core ultra-low power chip having a 3W TDP. The chip will be without any fan; as a result it can be fit in a variety of form-factors, including slim laptops and tablets. The company has shown signs that it doesn't intend to compete with Intel in the high-end PC market and that they are focused on getting their chips into low power devices.
Intel is finally getting ready to compete in the tablet and smartphone arena. While on the other hand ARM manufacturers continue to face no competition, and are sure to go after notebooks in the year 2013 following the launch of Windows 8. This leaves AMD, stuck between the two. What needs to be seen is can the company make a mark of its own amongst the tough competition out there.