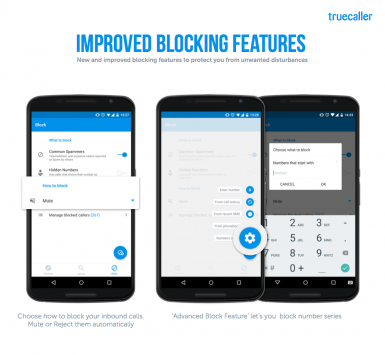 Truecaller is used by more than 100 million users worldwide to identify unknown numbers, and according to the recent KPCB report Truecaller is the 5th most used app in India. This app is a life savior when it comes to avoiding unwanted telemarketing calls. By just looking at the Truecaller's popup notification we can have a fair idea about the caller (in case the number is not in our contacts).
Truecaller has also recently updated its Android app and has introduced many new features to combat the irritant issue of spam calls. With the new advanced block feature, users can block a number from a particular area code in an addition to numbers starting with specific series of digits. Now users can also block any number from a specific country from calling them which makes sense as to, why would someone staying say in India would like to receive calls from Russia if he/she has no one there?
Users also have a preference for blocked calls, to hang up automatically or mute (goes on silent mode) certain numbers, so that they go on ringing without disturbing the user.
Truecaller has prepared a separate list of 'top spammers' in the updated app which automatically blocks top reported spammers by users. Truecaller has also added an 'Auto Search' feature, which enables users to fetch information about a number mentioned anywhere on the web.
The updated version of the app is only available on Android, to download the new Truecaller App from play store click here.