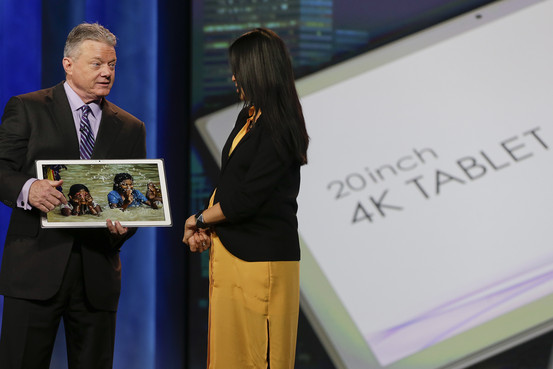 Instead of going smaller, like competing tablet manufacturers have gone, Panasonic has taken things to a whole new level for themselves by announcing a 20-inch tablet,
The unnamed Panasonic slate will feature a large 20-inch display with a 4K (3840 x 2560) resolution. It will be powered by a Core i5 processor, feature 4GB of upgradable memory and a 128GB storage drive. It will run on Microsoft's latest Windows 8 Pro 64-bit operating system and the battery is expected to last a mediocre 2 hours.
The 'tablet'is aimed at professionals in the graphics sector and will include a high resolution digital pen. A 720p webcam is integrated into the system and there's a microSDXC slot. No news on availability, pricing or it's name has been given, but it's expected to appear on the market somewhere in 2013.