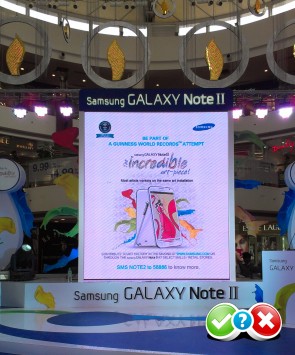 Few days back Samsung announced the Galaxy Note II Incredible Art Piece initiative in India. It is an attempt to create a digital art piece that will break the Guinness World Records title for the most artists contributing to a single art piece.
The current world record is held by Great Britain with 201,958 contributions. Self portraits by over 200,000 children from across the UK projected onto Buckingham Palace as part of Children & the Arts' self portraiture project makes up the existing record that was established in April 2012.
The 'Samsung Galaxy Note II Incredible Art Piece' initiative is an invitation to all resident Indians to participate by contributing their creations for the mega art piece. Participants have multiple options available to them to express their creativity and be a part of history in making.
They can either log on to samsung.com/in or visit Samsung Facebook page where an online app will help them in creating their masterpiece and submitting digitally. Consumers wishing to participate can also visit any of the Samsung Digital Plazas, Samsung Smartphone Cafe's and Samsung Experience Zones, where they can use a Samsung Galaxy Note II to create their digital art piece and submit online.
Consumers can also create an art piece offline, scan and email their contributions through samsung.com. Samsung Galaxy Note II users can also create and submit their contributions online at samsung.com. Note II users can contribute to the 'Incredible Art Piece' by using the S Note application on the Note II.
While participants can submit multiple entries, for the official Guinness World Records attempt, only one entry per person/ unique email id will be considered.