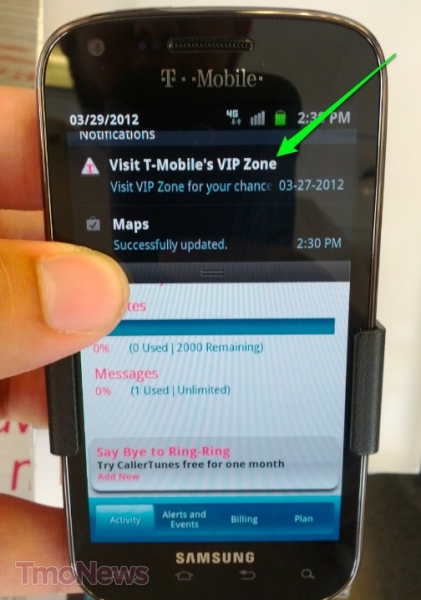 Yesterday, we came across reports that T-Mobile's "My Account" application had started pushing ads regarding "VIP Zone" loyalty program of the carrier, which offers prizes and discounts to customers on the carrier's Android smartphones in the notification area causing great concern and irritation for T-Mobile users since the app is included as one of the system apps and can't be uninstalled easily. But good news for the users is that T-Mobile has acted relatively fast and have removed the ads and apologized for the same.
T-Mobile issued an statement to TmoNews
During a recent software update, a message to promote T-Mobile's free VIP Zone was mistakenly sent to certain customers and appeared on the notification bar for some Android devices. After T-Mobile was made aware of this mistake, the company stopped the notifications. T-Mobile apologizes for the inconvenience this may have caused customers.
The carrier sees it as a "mistake" rather than consciously pushing for its "VIP Zone" program but its rather nice to see them act swiftly since these carrier ads  are a pain to the users and we hope we don't see them by any carrier again.