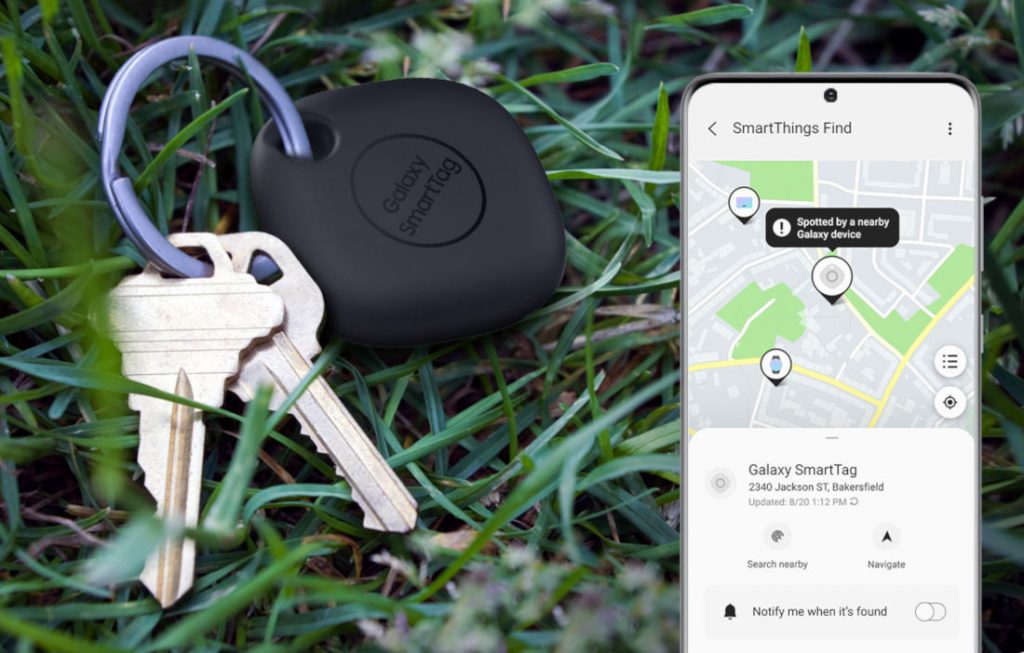 In addition to the Galaxy S21 and Galaxy Buds Pro series, Samsung also announced the Galaxy SmartTag at the Galaxy Unpacked 2021 event. This little device is essentially a Bluetooth compatible tracking transmitter that runs on batteries and can be used in the same way as tile trackers to track small objects, such as keychains, etc.
Galaxy SmartTag will be part of Samsung's SmartThings ecosystem and is only compatible with Samsung Galaxy phones and tablets. The device comes in two variants: the Bluetooth LE 5.o variant, which works with any Galaxy device, and the UWB (Ultra Wideband) variant, which works only with the Galaxy S21+ and Galaxy S21 Ultra.
The device can be attached to a keychain or other loop and allows tracking up to 120 meters away from the device. SmartTag also works as a one-button IoT control that can be configured to perform a single task, such as home automation or another IoT function. In addition, a double press of the button will activate Find My device mode that will activate the ringtone on the Galaxy device to find the device.
The Smart Tag uses a replaceable CR2032 button cell battery, and Samsung does not specify the battery life of the device. The Galaxy SmartTag (BLE variant) will be launched simultaneously with the Galaxy 21 series at a price of $29.99 (approximately Rs. 2,200). Those who pre-order the Galaxy S21, Galaxy S21+, and Galaxy S21 Ultra will receive the Samsung Galaxy SmartTag for free.