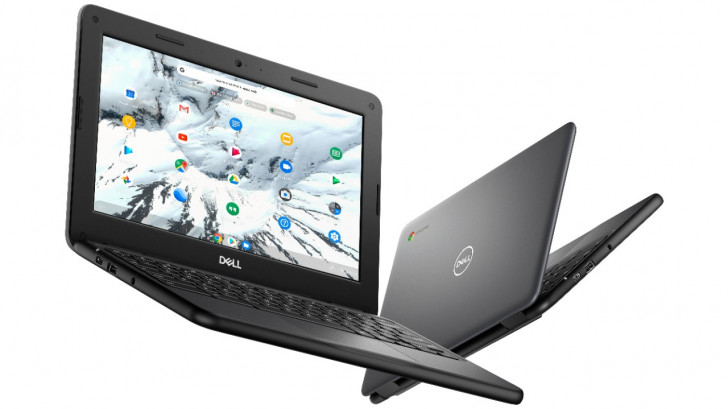 The demand for Chromebooks has increased over the past year as many people are working and attending online classes from home. Unfortunately, not everyone is lucky enough to have a stable Wi-Fi connection, which can be disastrous for children in distance learning environments. That's where Dell is headed with its new Chromebook 3100, the first education laptop based on the Chrome operating system with optional mobile network connectivity.
The first look at the Chromebook shows that it is built with durability, stability, and economy in mind. It's not a pretty device tough, with elegant black plastic all around and huge bezels surrounding an 11.6-inch 1366×768 screen with anti-glare coating. Dell says the keyboard is splashproof and that the laptop can withstand 30-inch drops on steel and countless micro-drops at various angles, so even the clumsiest child should have trouble breaking it.
The Chromebook 3100 features an Intel Dual-Core Celeron processor, with 4GB of RAM and 16GB or 32GB of storage. The large 42 WHr battery should provide a low-power setup for up to 14 hours of screen time, though we assume Dell didn't test this on an LTE connection, which typically consumes more power than Wi-Fi. You can charge your Chromebook via USB-C, but the LTE version only has one port, which is borderline inaccurate, although it may be sufficient in the context in which it is to be used. The Wi-Fi only model can be configured with two USB-C ports, and all variants have a combined headset/microphone jack.
Specifications of Dell 3100 Chromebook:
Display: 11.6-inch HD (1366×768), non-touch anti-glare
CPU: Intel Dual Core Celeron Processor
RAM: 4GB LPDDR4 2400MHz
Storage: 16GB/32GB eMMC
Weight: 1.29 kg
Battery: 42WHr, up to 14 hours of battery life, 65W USB-C charging
Software: Chrome OS, auto-update expiration date: June 2026
Intel Dual-Band Wireless-AC 9560, Wi-Fi,
Bluetooth 5.0, optional Intel XMM 7350 Global LTE
1 or 2 USB 3.1 Gen 1 ports (only 1 available on devices configured with LTE),
Spill-resistant keyboard, integrated webcam
Depending on the price, Dell's new device could certainly be of interest to schools that want to offer their less fortunate students a reliable Internet connection, but we don't see the value of a laptop with LTE technology in many other contexts. If you're just looking for a device to surf the web, you can settle for the Wi-Fi version and not have to pay for an LTE plan.
The Chromebook 3100 is primarily intended for the education market, but it looks like you'll be able to purchase it for personal use later in the year. Dell plans to announce pricing and availability in the spring of 2021.