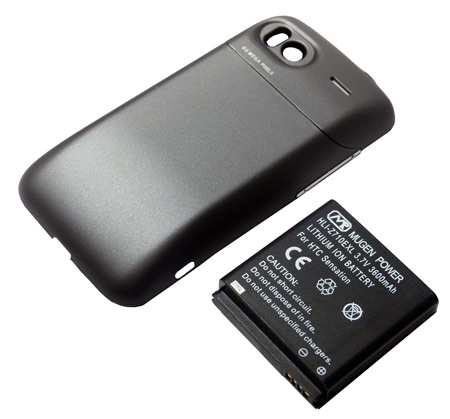 Mugen Power is a leading 3rd party battery manufacturer, and is known for it's "extended" batteries. If you're an owner of a high end Android phone you too are probably facing a very poor power backup with the stock batteries and that's where extended batteries come into play. [tab name = "About"]
We had reviewed Mugen Power in the past and it faired pretty well, however that was a BlackBerry, and this is for the HTC Sensation, Android devices are known to be battery suckers – and that is clearly one of the biggest negatives of Android devices, let's see if this extended batteries helps or not.
[/tab]
[tab name ="Unboxing"]

This battery comes in a very small, compact and simple backing – it has a leaflet with the instructions and standard warnings, a back door and the extended battery itself.
[/tab]
[tab name="Look and Feel"]
We already know the HTC Sensation is not the thinnest device in itself, and by adding the Mugen Power extended battery and the battery door, it does get noticibly thick – but for double battery life which it promises, the thickness can be bared.
One would think that this battery adds a significant ammount of weight to the phone, but on the contrary it does not add any weight which can be significantly felt.
It's also nice to know that the backdoor cover fits perfectly on to the Sensation, and the feel of the replacement cover is not different from the stock one
However, with the extended battery users with small hands will find it a little difficult to hold on the phone for long durations at a go.
[/tab]
[tab name="Performance"]
The li-ion extended battery which we were provided was rated at 3600mAh which is more than double of the stock battery on the HTC Sensation which is 1560mAh, so was the battery life also double ? Let's find out.
I have been using the HTC Sensation for almost a week now and with moderate usage, casual browsing, push email and constant interactions along with a lot of IM and calls, it did last me around 11 hours or so with moderate usage.
But on days when I had heavy usage, with constant data transfers on wi-fi or 3G along with lot of media playback, games, calls and IM – going beyond 8 hours was a tough task for the Sensation.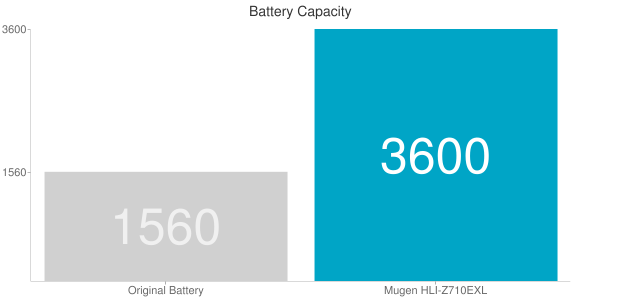 Now I did spend two weeks on the Sensation with the Mugen Power extended battery, and yes, it works ! And works pretty well following are the figures :
Heavy Usage : two days
Moderate Usage : three days
Light usage : four – five days
Now let me describe my usage, my heavy I mean constant connectivity either via 3G or wi-fi, 5 email accounts with push email and mails coming in every hour or so on all 5, constant IM i.e. Google talk and Facebook chat, off and on internet browsing, around 40 pictures shot, around 3 hours of voice call, lots of media playback (songs) and even video streaming.
My moderate usage I mean, data connectivity on 2G and wi-fi, push email, selective IM, and 2-3 hours of voice call, with causal browsing and media playback.
Light usage is more like a few texts, some casual browsing and a few calls in a day, with hardly any data usage – more like constant standby.
[/tab]
[tab name="install or Not"]
The Mugen Power Extended battery is a very good buy and lives up to it's promise of increased power backup. It is a must have for hardcore users and the people who travel a lot, regardless of their usage patterns.
One would however have to bare the slight increase in the thickness of the phone, but amazing amount of backup one gets is well worth it.
But, if you are a ligt user, and mostly have the phone on standby with a few calls a day, Mugen Power is not for you.
Also note that the HTC Sensation has been known for the "Death grip" issues – but don\t worry the added thickness or the replacement door on the Mugen Power extended battery does not affect the signal receiving capibilites of the HTC Sensation.
Overall, the battery lives up to the promise of double battery life, infact even exceeds it.
[/tab]
[end_tabset]
[easyreview title="Install or Not Scorecard" cat1title="Design" cat1detail="" cat1rating="3″ cat2title="Usability" cat2detail="" cat2rating="4″ cat3title="Performance" cat3detail="" cat3rating="4″ summary=""]
Note : This battery (HLI-Z710EXL) also works with the Sensation 4G and the Sensation XE.