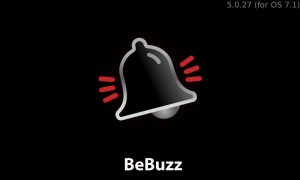 Have you ever thought to control the LED notifications as per your need? Red for calls, blue for messages, green for BBM, and orange for app notifications?
Yes, with the use of Bebuzz now you can customize and control your BlackBerry® front notification LED for specific contacts. Give a look at its features below.
Features :
Choose from 20 predefined solid LED and 12 rapid flashing DISCO LED COLORS
Assign colors for E-Mails, SMS, BBM and Calls from your FAVORITE CONTACTS, see who it is that is contacting you
The FULL version gives you UNLIMITED CONTACTS while the FREE version is limited to just 5 contacts.
Assign colors for BlackBerry Messenger, Facebook, Twitter, Missed Calls, Calendar, Tasks, Battery and many 3rd party apps
Create an unlimited number of CUSTOM LED COLORS and DISCOS
STACK 2 LED COLORS for even more color variations
Repeating Notifiers: Keep your phone's audible notifiers repeating until you acknowledge them
On-Screen Popup Notifiers: Unobtrusive on-screen messages ("toasts") for messages and events
Text-to-Speech: BeBuzz will read your messages out aloud, even BBM messages!
Vibrate-While-Ringing: Have vibrate while ringing for notifiers and incoming calls.
Vibrate/sound on call connect/disconnect
Fully customizable and doesn't drain your battery!
Install or Not :
BlackBerry® front notification LED is its one of the prominent features. Customizing this with respect to a contact or a group is really one big task and the developer Bellshare GmbH has done so. This application have been awarded with many titles and is totally worth trying. It is available for download for $2.99 from the Blackberry App World. A free variant is also available but that has some limited features.
[easyreview title="Install or Not Scorecard" cat1title="User friendly" cat1detail="" cat1rating="3.7″ cat2title="Performance" cat2detail="" cat2rating="4.0″ cat3title="Appearence" cat3detail="" cat3rating="4.0″ summary=""]