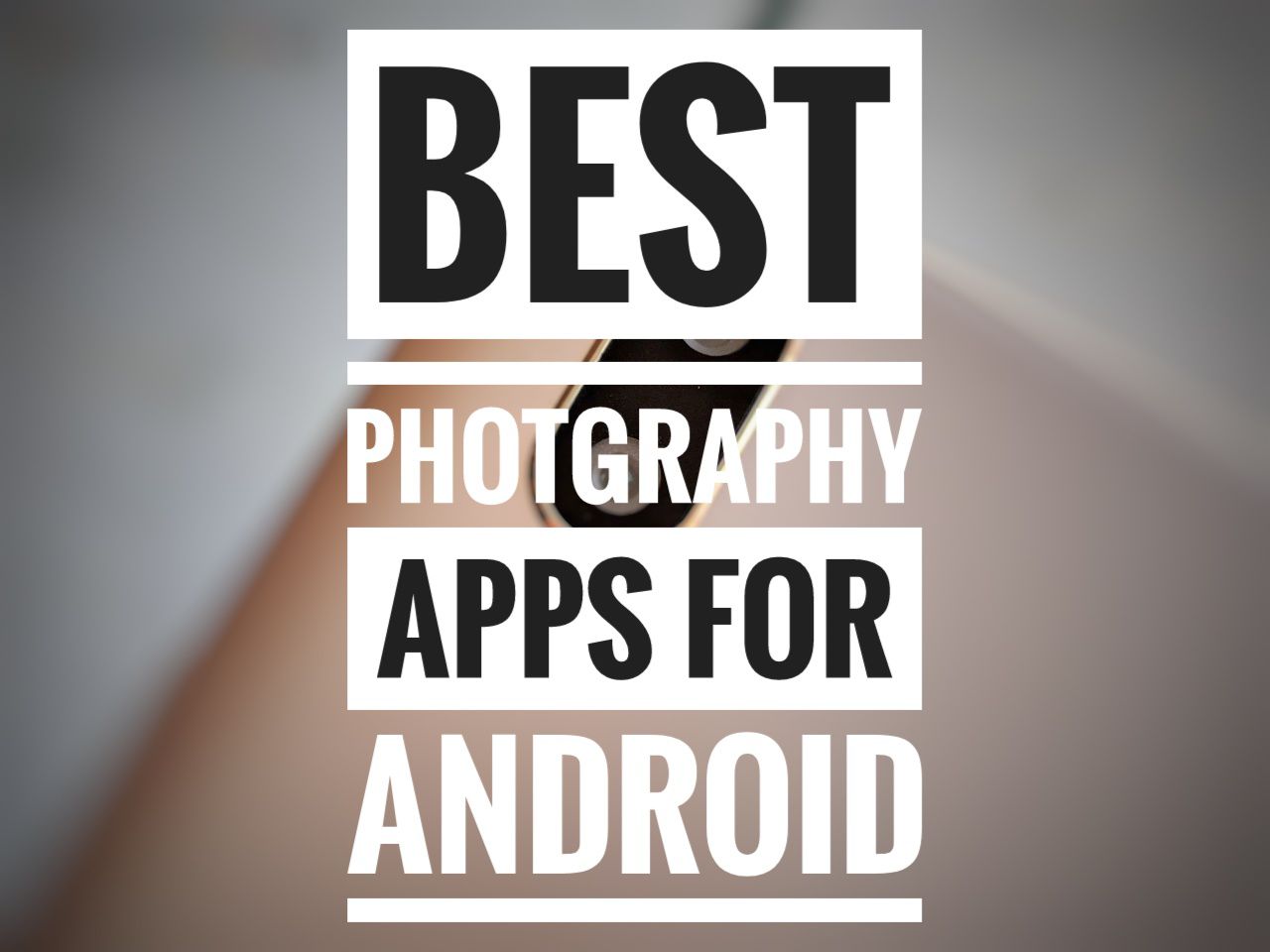 We all know that how essential is a camera for us and we have one of the best camera modules right in our pocket. The smartphone cameras have become so powerful that we don't even need to carry a DSLR everywhere we go. Smartphones such as Google Pixel 2 and Huawei P20 Pro top the DxO Mark charts while the Xiaomi Redmi Note 5 Pro leads the budget smartphone category in camera performance. And just in case you need to enhance some of your pictures to create those Juicy Instagram worthy pictures, you can even enhance your pictures using some of the best photo editing tools. Today we're here with our top 5 picks of the best photography apps for Android. These apps have tons of features and options to create a perfect image out of your smartphone.
Adobe Photoshop
Adobe Photoshop is a well-known editing software to all. Adobe also released a small app for smartphones so users can edit their images on it. However, instead of providing a big app with all features, Adobe parted them and brought several apps with limited yet powerful tools. The list includes Adobe Photoshop Express, Adobe Photoshop Mix, Adobe Photoshop Fix, Adobe Photoshop Lightroom CC and Adobe Photoshop Sketch. All these apps offer almost all the feature you need to make your photo as you desired.
Download Adobe Photoshop Express – iOS | Android
Download Adobe Photoshop Fix – iOS | Android
Download Adobe Photoshop Mix – iOS | Android
Download Adobe Photoshop Lightroom CC – iOS | Android
Download Adobe Photoshop Sketch – iOS | Android
Snapseed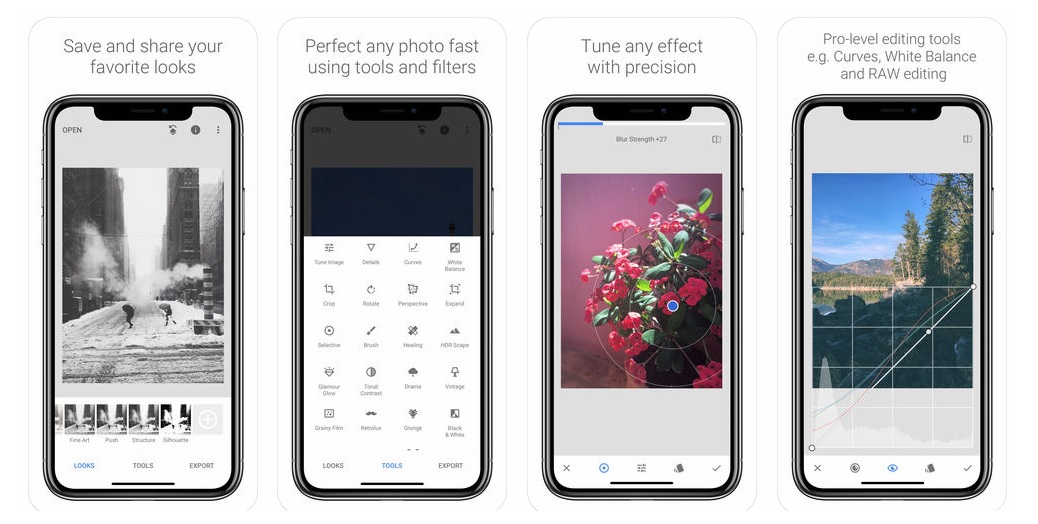 Snapseed is one of the best photo editing app for the smartphone. With this you can perfect any image you captured with 29 Tools and Filters, including Healing, Brush, Structure, HDR, Perspective and more. Apart from the simple editing you can also use pro-level editing tools such as curve, white balance, and raw editing. You can also have your personal presets and apply them to new photos later with precise control. Snapseed's ease of use and feature set make it one of the best photo editing apps for mobile. Snapseed is powered b Google and available on both iOS and Android.
Download Snapseed – iOS | Android
VSCO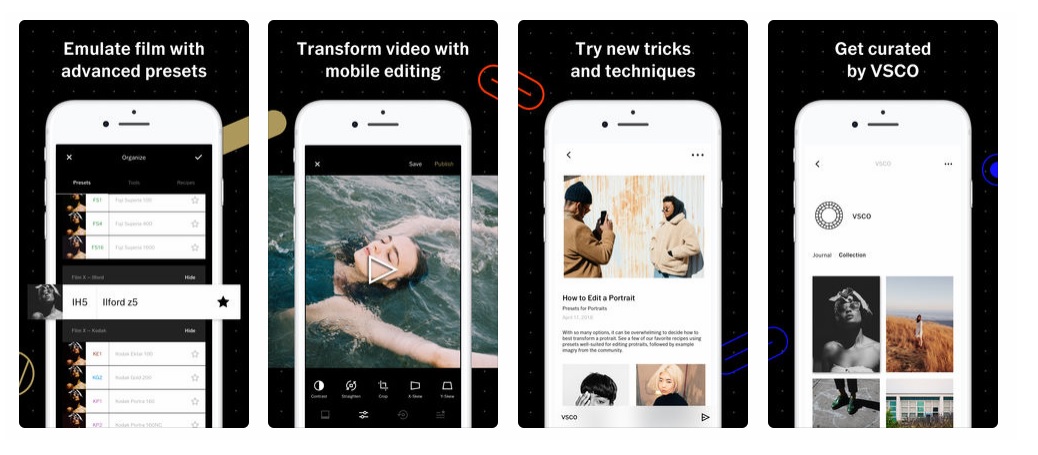 VSCO offers both capturing and editing pictures to the users. Users can easily edit their images with superior mobile presets, film-inspired presets, and advanced camera controls. This app also offers you to publish images or curate others to your VSCO profile. So others can see and follow your work, similarly, you can also follow others. VSCO also offers a membership option called VSCO X, in which they offer over 100 classic mobile VSCO presets, exclusive new Film X presets and tools, plus new additions added monthly.
TouchRetouch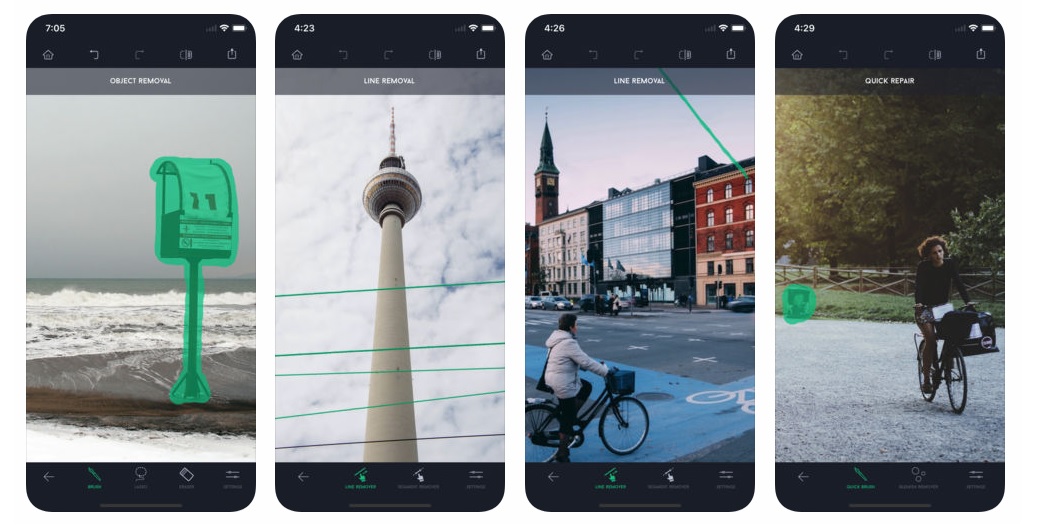 TouchRetouch is an amazing editing app which offers you all the tools you need to efficiently remove unwanted content from your photos. Whether it's a photobombers, telephone wires, power lines, objects like stop lights, street signs, trash cans or whatever you feel is spoiling your photos. You can take them out by just marking them. Apart from it, this app also offers to adjust Stamp Size, Hardness, and Opacity as desired and other editing features.
Download Touch Retouch – iOS | Android
Google Photos
Apart from saving the photos, this app also offers you intuitive and powerful editing tools to enhance your photos and bring them to life. With the help of 14 innovative photo filters, users can adjust lighting, contrast, color, and vignette. This app offers creative movies, collages, animations, panoramas, and more from your save photos. In the end, you can back up unlimited photos and videos for free in High Quality and access them from any device and photos.google.com.