Apple's Siri might not be useful to everyone and its functions may be somewhat limiting but ever since they introduced it on their latest flagship iPhone 4S developers on other platforms have attempted to replicate the functionality of Apple's voice assistant software into their own apps. Android has seen a fare share of Siri wannabe apps but none have come close to what Apple's software offers. Ask Ziggy is an app which attempts to bring Siri like functionality to Windows Phones.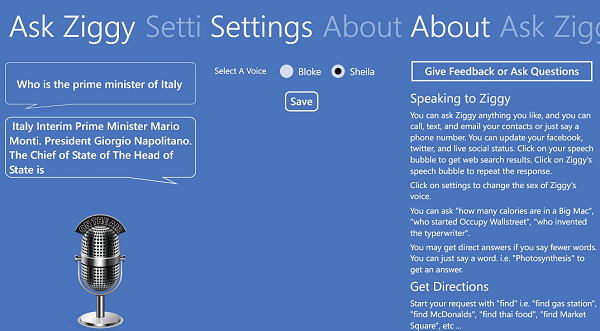 Windows Phone already had basic voice recognition software with features such as the ability to make calls, send messages by speaking to it but Ask Ziggy takes the features one step further on Windows Phone and with this app you can check on weather, the status of a scheduled flight and even make it do calculations by just speaking to it.
The app is said to be using the Nuance's popular technology and the user interface too is somewhat similar to that of Apple's Siri. It might still not be great enough to rival Siri but it is the step in the right direction and we would love to see the app grow with updates all along as it has been built by a person (Shai Leib) while Apple obviously must have used a number of engineers to work on it . The app can be had for free so do tell us what you loved and what you hated about Ask Ziggy.