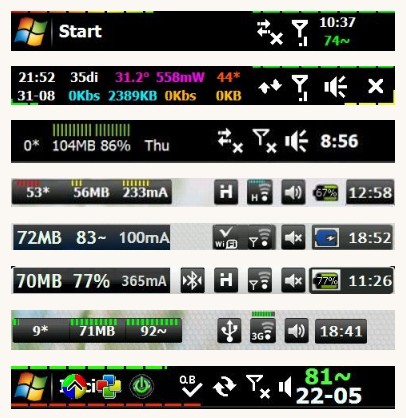 ZuinigeRijder, one of most recognized and respected Windows Mobile developers has once again updated his flagship application – BattClock. However this update is known to be the final version – this means that the application won't be improved anymore. Everyone knows that WinMo is dying faster than the Titanic was sinking. Therefore there aren't many app updates for this platform anymore.
In case you haven't heard already about this application earlier: BattClock places multiple information right on your taskbar. Sounds familiar? The main advantage is the possibility to customize those fields to your liking. Stripes, indicators and meters – anything you can just imagine – all found in this small, yet versatile program.
Time to blow out the dust from your old Microsoft platform device and update this Swiss-knife like application. For those already using BattClock, we're posting the changelog for easy reference:
BattClock (changes in version 3.8.0 dated 28-12-2011):

• Fixed bug that when BattClock was (re)started or configuration changed between 23.00 and 24.00 the wrong day of week was shown for 1 hour.
• Fixed bug that some display values (e.g. total recharge time) were only updated after restart when "divide by" feature was used
• Fixed bug that when date/time format strings where shown it was possible the display color was wrong at screen on the next day
• Fixed bug that when there is a color change, but the display text did not change, the change was not updated immediately
• Added Slovak translations, thanks to sirus
• Updated Hebrew translations, thanks to Som30ne
• Removed Cell2KML, because it can be downloaded separately via XDA CellTower2KML.
• Added possibility to configure BattClock not to monitor with screen off (may safe a little bit battery) in "Others Settings"
• Added possibility to play a sound when there is a change into configured low/medium/high value
• Added possibility to vibrate when there is a change into configured low/medium/high value
For those of us, who have used Windows Mobile for a long time, including myself – we would like to thank all the developers for all their hard work over the years, and some like ZuinigeRijder who still continue to update their work on a platform which has no future.