The midst of a war: a battle between the limits of a crowd seeking the surrender of your dreams, and the power of your true vision to create and contribute. A fight between those who will tell you what you cannot do, and that part of you that knows / and has always known / that you can; and then a dream, backed by an unrelenting will to attain it, is what that takes for a fight back.
Its interesting to see that how Nokia planning their fight back based on their strongest assets like maps resources, build quality and more importantly how fast the execution of strategy is nowadays unlike the old Nokia before Stephen Elop. Once again we seen this when in continuation of the roll out of live traffic updates feature to Nokia Maps across devices, India has also joined into the list form today. (Its already been available to some of the countries earlier)
---
Let's see what its all about and why its interesting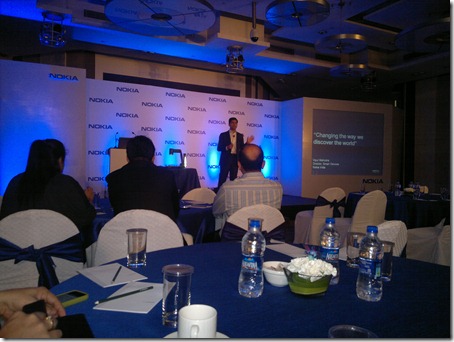 At the venue, Hotel Le Meridien, New Delhi, Vipul Mehrotra, Director, Smart Device, Nokia India, started off the event by talking of importance of location based services and by putting some impressive stats related to their maps services (10 billions maps data probes/month, 175 million GPS devices globally, 105 million capable phones, usages around 100 millions times a day and 2.4 million changes made in Nokia Maps on daily basis).
He quoted:
Nokia Maps covers 196 countries across the world, all the member of United Nations and this huge data coming from real world superimposed over virtual world of maps is very much capable of making someone A Local Anywhere. Nokia wants to index the real world via this data in same way and at same scale as Google might have indexed the virtual world.
Big claims… But what the live traffic service actually is and how it works?
The Nokia Maps traffic service is powered by the Navteq Traffic Pro service (Nokia Subsidiary since 2007) from the leading global provider of location content in the form of maps, traffic and places data. It delivers up-to-the-minute traffic information (refresh period of 2mins), accurately reflecting real-time conditions on motorways, main and secondary roads via colour codes like green, red, orange etc.
Studies say traffic enabled navigation devices experienced dramatic time savings, spending 18% less time driving on an average trip versus drivers without navigation. If applied over the course of a year, a driver who does not currently use a navigation device would save themselves 4 days of driving each year if they had a traffic-enabled navigation system. Additionally, by using traffic-enabled navigation, these drivers can reduce their CO2 emissions by approximately 20% by avoiding congested routes on their way to their destination.
Based on the world's most diverse traffic collection network, this service aims to provide peerless information so consumers know where and when to drive. It automatically aggregates and analyses data from a vast array of sources, including the world's largest compilation of both commercial and consumer probe data; the world's largest fixed proprietary sensor network; event-based data collected from government sources; and billions of historical traffic records.
---
From where to get the app? Do I need to pay some extra charges?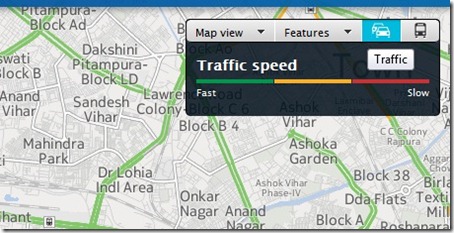 No! you DO NOT need to download any new app or even an app update as its already live for all the Nokia devices with latest Nokia Maps installed without yours doing anything on your side except choosing already available live traffic option in native client. Nokia is just activating the XML based layer for Live traffic that will source the data from Nokia servers by every 2mins and will render the traffic in terms of color codes like Red, Green, Orange etc.
Since last month, Nokia Maps and Bing Maps have already became a bit unified in their approaches on pallets or colour schemes etc, the end user is bound to get the same experience across all the Nokia ecosystems like Meego, Symbian or Windows Phone.
And isn't it obvious, there is no extra charge for the same service.
---
Wait!! Isn't it just another service like Waze and needs Nokia users to generate data?
I heard similar comments from fellow bloggers but it was quickly countered by some of us, because except Google maps, no one actually can compares to the scale of Nokia Maps. Considering the stats that they given in start about the probes etc, you can not deny the fact that while Waze failed to make a big impact, its not the same case when Nokia starts doing this.
Nokia Maps still known as the best Offline navigation system across the globe and using this reference data (maps and activity streams), a service like this can definitely be built up on and bring in main stream quicker than anything.
Second doubt about the service was, it relies on Nokia Users only and considering the shrink in their device shares across globe, isn't that would be insufficient to generate some really practical data about traffic? What if there is a traffic and very few of Nokia users on the road?
The answer can be given on following grounds (though they didn't explained it in lengths in main session):
User activity stream is though the main source of info, is not the only source and its still collecting the data from all possible sources. Navteq is number one in business.

Even if the user base might be on a slope, the biggest chunk of mobile users still belongs to Nokia.

Even though Google Maps a big competitor, in terms of data usages and ease of use, Nokia Maps still lead the pack. People trust it.

Release of Web based Nokia Maps for Android and iOS can add into further probes for Nokia servers to collect the data.
Screenshot of Nokia Maps running in Android Browser on Samsung Galaxy S (Android)
So, one can understand that its just not another initiative like Waze but has the backing of one of the largest Maps provider in the business and as Microsoft and Nokia are joining their hands and ecosystems, it adds up users and resources like never before. Nokia already mentioned that APIs are open for developers if they wanna make apps to utilize all these features in their apps and such apps either it be on Meego or Symbian or Windows Phone will contribute to more probes than current numbers and hence more precise data.
---
What it means to end users, market and competition?
Nokia has already cleared that live traffic is not the only thing that will be delivered this way, but more and more community generated streams will be combined into Nokia Maps continuously. Not only this, but they also have explained that how user generated contents already in use for generating more and more precise maps.
Like an example was given that if the crowd is going by a route by each day but there is no route in that way on maps then there should be a route and the system will automatically add a new route in that way. Same about a new shopping mall or restaurant etc.
So, at the end, it might be just another service in Nokia's portfolio but its definitely a positive step that might be successful or not, but will affect the market and competition. Let's wait what Google Maps and others gonna offer in next.