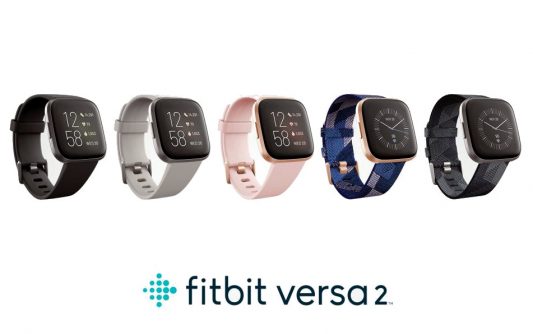 Fitbit has introduced Fitbit Versa 2, the next-generation smartwatch and the successor of last year's model with swim-proof design, innovative sleep features like Sleep Score and smart wake, even more, advanced health, fitness, and smart features. It has an on-device microphone, which enables Fitbit's first-ever Amazon Alexa smartwatch experience, along with a Spotify app that allows users to control their music and podcasts. It will offer faster performance, thousands of apps and clock faces and a brighter, crisper AMOLED screen with an optional always-on mode and 5+ days battery life.
Fitbit Versa 2 features and specifications:
AMOLED Touchscreen
Supports iPhone (4S and later) and Android (5.0 and later)
Water-resistant to 50 meters
3-axis accelerometer, optical heart rate monitor, Altimeter, Ambient light sensor, Vibration motor, Relative SpO2 sensor for estimating blood oxygen levels
Built-in microphone
WiFi 802.11 b/g/n, Bluetooth 4.0 LE, GPS, NFC
15+ Exercise Modes – Use Swim, Run & other modes to see real-time stats while you exercise
Track time in light, deep and REM sleep stages & get insights about your night
Connected GPS – See pace & distance during runs or rides by connecting to your phone's GPS.
Enhanced PurePulse heart rate tracking with greater accuracy during exercises like cycling, intervals and running
Inbuilt storage lets you store 300 songs on device, or downloading and listening Pandora stations, Spotify playback
Sleep Score: Receive a nightly score in the Fitbit app for better insight into your sleep quality. Your score is based on heart rate (sleeping and resting), restlessness, time awake and Sleep.
Smart wake: Coming soon to all Fitbit smartwatches, smart wake uses machine learning to wake you during an optimal time of your sleep cycle while in light or REM sleep, based on a pre-selected 30-minute interval, so you wake up feeling more refreshed.
Sleep Mode: Simultaneously disable your screen display and silence notifications for a night free of disturbances. Sleep Mode can also be used anytime you don't want to be interrupted, like during a workout or in a meeting.
Estimated Oxygen Variation Graph: Coming soon, this graph will provide users with an estimate of the variability of oxygen levels in their bloodstream. The data is derived from a combination of the red and infrared sensors on the back of your device. Being aware of short-term variations in the oxygen levels in your bloodstream may indicate variations in your breathing during sleep
5+ days of battery life with normal use
The Fitbit Versa 2 is priced at Rs. 20,999 for the black with a carbon case, petal with a copper rose aluminum case and stone with a mist grey case. The Versa 2 Special Edition is priced at Rs. 22,999 in navy and pink colors with copper rose aluminum case and smoke with a mist grey case. It roll out globally beginning September 15, 2019. In India it will be available from Reliance Digital, Croma, Helios and other major retailers offline and online on Amazon and Flipkart.