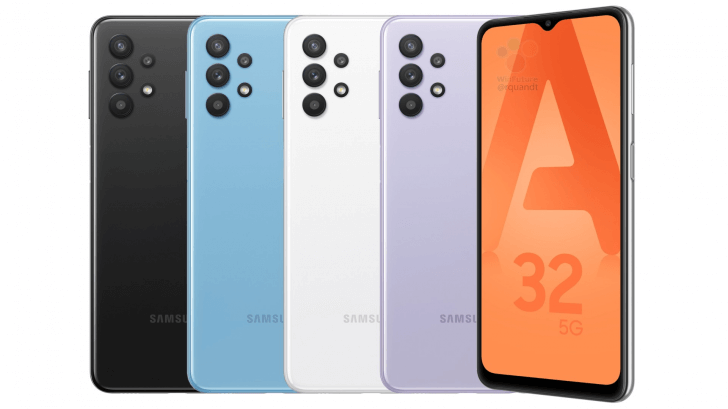 The 5G is not only intended for Samsung's flagship series the S-Series and Note Series, Samsung is planning to introduce 5G to the A-series line of smartphones. The Galaxy A32 will be the latest device in the range that gets the 5G, and it will also be the cheapest 5G smartphone from Samsung. WinFuture has issued a series of press releases showing the A32 in all its glory, and for the most part, it looks decent.
The first thing most of you notice about the A32 is the unusual camera setup at the rear. In its more expensive Note20 and S20 smartphones, the camera modules at the rear are placed in a raised dedicated module that is large and protrudes out of the body, while that's not the case with the Samsung A32. People with trypanophobia may not like this design. WinFuture assumes that the main sensor will be 48 MP, with additional sensors for ultra-wide and macro recordings. The back would be made of plastic and would be available in white, black, light blue, and light purple.
On the front panel, the 6.5 LCD screen with a teardrop notch. The edges are quite wide, especially at the bottom, but that's normal for a budget phone. The fingerprint sensor is placed on the side because the LCD screen used does not support in-display fingerprint sensor.
The Galaxy A32 5G model would be equipped with a MediaTek Dimensity 720 chipset, 4 GB RAM, and 64 or 128 GB storage. There will also be a cheaper 4G model as well.
This story is developing and we shall add more information as we have it.