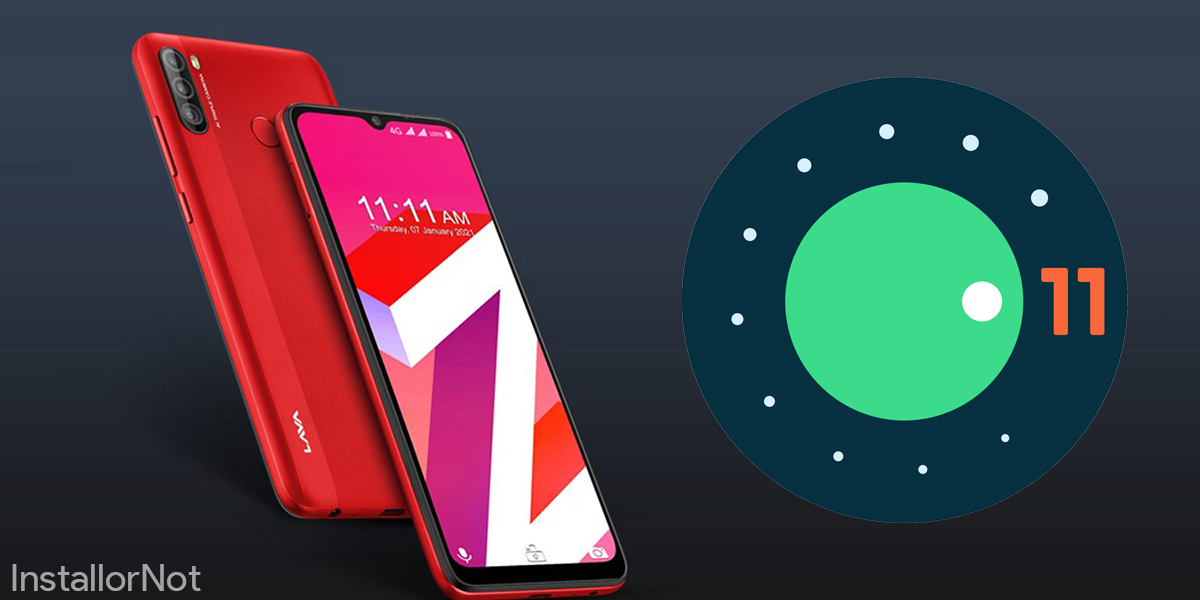 Last year, Lava returned to the Indian smartphone market with the introduction of launched its new Z series smartphones and a whole new approach of user-customizable smartphones called myZ phone. The new Z series consists of the Z2, Z4, and Z6. Both the Z4 and Z6 sported almost similar specs but the only difference was the RAM and storage. MyZ was a customizable smartphone in which you can customize storage, RAM, and cameras, being them variants of the Z4 and Z6. For example, in Z4 you will get triple cameras, 4GB RAM and 64GB ROM, but with MyZ you can pair dual camera, 4GB RAM, and 128GB Storage as per your usage, and later if your usage is more and need an upgrade within one year, you can upgrade the RAM or Storage in Lava Service centers.
Today Lava has finally revealed its Android 11 rollout plans for its Z4, Z6, and MyZ triple-camera variants. The device will start receiving the Android 11 update from July 25th, 2021. They also added that the Z2 and other variants of MyZ will get the Android 11 update within few months. The users will automatically receive a new notification regarding the update as soon as it is ready. Users are also recommended to check for updates starting from July 25th, 2021 as sometimes the notifications may not come due to server issues. The update will be a staged rollout so all the devices aren't expected to get the update on the same date.
If we talk about the Android 11 itself, the new Android major version will bring all the Android 11 features like screen recording, chat bubbles, dark mode scheduling, digital well-being, user privacy, a better media controller, and an easy conversation and notification manager. Lava also added that the update has been developed by its strong R&D with Indian Engineers and they have committed to invest more in R&D and provide consistent Android updates. Now lets check out the changelog of the Android 11 update.

Changelog of the Android 11 update:
Managing Conversation & notifications

There are now three notification categories: Conversations, Alerting, and Silent.
The Conversations section, houses all your conversations meaning any app where you are directly communicating with someone else, including text messages and chats within other apps.
The Alerting and Silent sections act as they have before in Android 10. You can also easily silence notifications from certain apps, which would push all future notifications to the Silent section.

Built in Screen recorder

This gives you an easy access to recording anything being done on the screen and its built right into Android 11 so you don't need an extra app. Record with sound from your mic, your device or both.

Media controls

With Android 11, the media player has been moved to the Quick Settings section for easy access. When you swipe down your notification drawer, the media controller will be pretty small. It will show you the app it's related to, cover art, basic controls, and on which system the media is playing. If you pull down again on the drawer, the alert expands.

User Privacy: One time permission and auto- reset

This will give users more control over their privacy. In android 10, it asks a user permission only when they first install an app. But in Android 11's case, you can give one-time permissions to apps that need your mic, camera or location. The next time that the app needs access, it must ask for permission again. The permission gets revoked as soon as that app is closed. So the user's data is always safe.

Chat bubbles

Chat while multitasking. With this new feature, you can pin conversations in form chat bubbles so that they always appear on top of other apps and screen so that you can access the chat anytime or anywhere.

Tools that predict what a user want

Smart reply: The phone device's replies to be sent for a text on the basis of your usage
Smart folders: This is for a user to organize their apps in folders like Work, Fitness, Food, Games etc

Camera

3P Performance optimizations: The phone's camera works even better on 3rd party photo sharing apps like Snapchat and Instagram.

Notification history

This feature is to restore any swiped notifications that might have been swiped by mistake. You can check those notifications received in the last 24 hours.

Dark mode scheduling

After the simplistic Dark mode in Android 10, this time android gives an option to schedule it as per your requirement. Users can schedule the dark theme using one of two different metrics:
Users can schedule a dark theme to turn on or off when the sun sets or rises.
Users can also set up a custom schedule for dark mode activation if you wish.

Digital wellbeing

Bedtime mode: Bedtime mode quiets your phone when it's time to go to sleep. Schedule it to run automatically or while your phone charges as you rest. Your screen switches to Greyscale and your notifications go silent with Do Not Disturb.
Clock: The new bedtime feature in Clock helps you set a healthy sleep schedule. Track screen time at night and fall asleep to calming sounds. Then wake up to your favorite song. Or use the Sunrise Alarm that slowly brightens your screen to start the day.