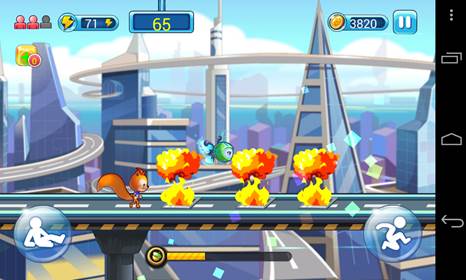 UC Web, the developers of UC browser have entered the mobile gaming segment launching its first mobile game – UC Crazy Run. The game will be exclusively available on www.9Game.com for the first week, eventually rolling out on Google Play Store from next week. The endless running game features amazing graphics and futuristic city background.
The game is easy to play making it an entertaining way to kill time. In the game, the player controls a fast-running squirrel by jumping and sliding on tracks to collect coins, diamonds and pine cones, as well as to collect tools and items. The collected coins, diamonds and pine cones can be used to get and upgrade power-ups, while the tools and items can be used to upgrade the squirrel to get extra powers. For instance, the rocket can make the squirrel run two times faster than normal. There are many maps and scenarios that will have to be unlocked as the game proceeds.
Players of UC Crazy Run can earn 20,000 coins in the game if they download UC Browser and another 20,000 coins by signing up for a UC account. Highest scores can be shared on Facebook or Twitter pages, which will give players an opportunity to win prizes.