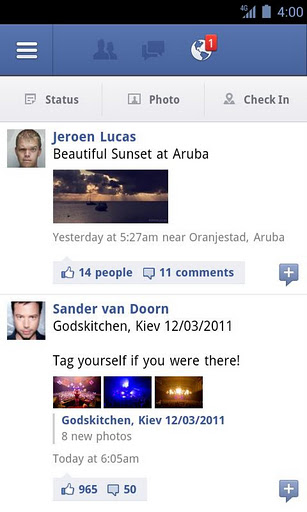 Facebook has updated it's app for Android devices, the update was announced on 8th December on their blog. This app features a new improved UI, and better performance in terms of speed and smoothness.
According to Facebook, What's new in this version:
Navigate anywhere, fast: Get to your groups, apps, pages, and settings with a single press

Search and you will discover: Look through friends, subscribers, apps, and pages

See your friends tags on pictures and zoom: New photo viewing experience

Faster notifications: Get alerted in real time with new push notifications

Games & Apps: Play games and access your favorite apps on the go

Access to mobile timeline (If you already have a timeline)

Access to friend lists and subscriptions
The app is now available you can grab it here. And do stay tuned, we shall soon be doing a review of Facebook for Android.